The more things change, the more they stay the same.
The often true notion would be of little comfort to the parents and friends of the Slidell High School varsity football team, who anxiously waited for their favorite players to emerge from the home locker room on a Thursday night (In St. Tammany Parish) the public schools close the Friday of the annual Parish-Wide fair, and all of the High School games are played on Thursday instead of (Friday). Many of those waiting for players wear photo buttons; large, round, pinned-on glossy photographs of their sons, boyfriends, uncles, nephews… whatever. The buttons make it easier to find particular players, and act as conversation pieces while waiting.
Once again, as far as the Mandeville (2-3, 1-1) -Slidell (3-1, 1-1) 7-5A rivalry is concerned, things have not changed. As usual, Slidell is loaded with big, strong, athletic, and well-coached players. As usual, Mandeville escapes with a close win.
To say that the Skippers are a frustrated football team would be an understatement. Head Coach Guy Lecompte could use the fact that he saw 28 seniors graduate from his 2008 1-loss squad as an excuse, of course he watched 27 seniors do the same after the 2007 season. The big difference in 2009 is experience.
"When we started this season, we had a lot of guys without a lot of game experience," said Lecompte. "We needed to turn things around… we were 1-3 coming to Slidell. We need to win the rest of our games."
The Skippers have only lost 3 regular-season games over the pat two seasons. In 2009, they matched that total in just 4 games, all of which were at home.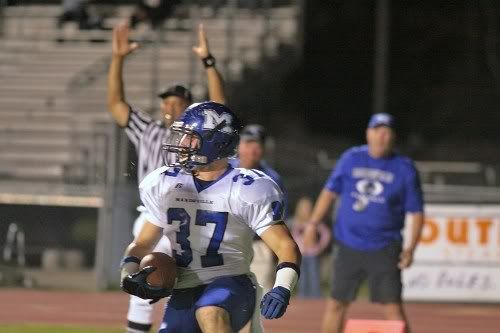 Mandeville Senior
Kris Rice
, who visited Louisiana with team mate Zach Ferger for the Cajuns' opener against Southern University, had a huge game for the Skippers. In addition to double digit tackles, Rice forced a fumble, recovered it, intercepted a pass, and caught his first pass as a Skipper… of course it was a touchdown.
"Kris has been playing well all year," Lecompte explained. "He's got game experience on a team with a lot of players who don't have game experience, he's a leader on this team and he plays like one.
"The whole team was motivated for the Slidell game. The whole team played hard until the end of the game. They've been (playing hard the whole game) all season," added Lecompte, "this time it was enough to get the win in a big game against a good team."
As Jedi Master Yoda would say, 'A good team Slidell is, but change a game turnovers will.'
"You can't turn the ball over 5 times in a game and expect to win," said Slidell Head Coach Artie Liuzza.
Two of the State of Louisiana's best players play for the Tigers.
Armand Williams
, a 6-foot-3 185 lb wide receiver for Slidell, is a game changer. He has legit 4.5 speed, a 12 foot broad jump, and doubles as a dunking machine for the basketball team.
"I have over 30 offers," said a deflated Williams after the Slidell loss. "I have trouble remembering all the schools. I'm headed up to
Northern Illinois
tomorrow for a visit,
Arkansas State
is really interested an wants me to come up to a game, there was a coach here from
Nebraska
this week to watch me at practice, Louisiana called and wants me to come over there… but I can drive there and take an unofficial visit… I only get 5 official visits. My favorite so far though is
Tulsa
."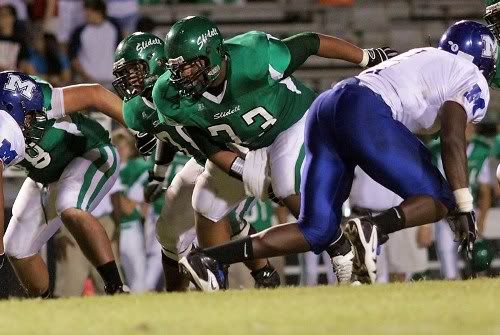 The other top 50 Tiger player is
Alex Hill
. At 6-foot-4 305 lbs, he is one of the most athletic centers in the country, and is holding a ton of offers himself.
"Louisiana wants me to take a visit," Hill stated. "But I haven't decided what I'm going to do yet."
With Big 12 offers and a recent visit to
Auburn
, things look bright for Hill. He and Williams are unquestioned leaders of their team, and will likely be impact players on the next level. Slidell, despite the loss to Mandeville, is off to a great start and Hill and Williams are a big part of that. That won't change.
All photos provided by Paul Angelle Sports Photography