The Cajun football staff will need to add several quality linemen to this year's class on both sides of the ball. One such lineman is St. Augustine High's
Byron Williams
in New Orleans. The 6'4" 325 pound Williams has flown under the radar this season, after camping at
LSU
and
Alabama
this past summer as well as the Scout.Com Army Combine. William's father, Byron Williams Sr. spoke to the Cajun Redzone about his son's recruitment.
Williams Sr. - "He has had interest from some big schools like Alabama, LSU and Mississippi State, but a few state schools have started to focus on him now. ULL and Southern are two that come to mind recently; Southern has already offered and I understand ULL is close to making an offer to him."
While Byron Williams has stayed focused on academics and football, decisions on recruiting visits are looming in the near future.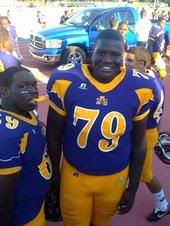 Williams Sr. –"His academics are fine, we haven't received his first ACT test scores yet, but I'm confident he will do fine. As for visits, he and Coach Johnson will be sitting down and discussing the programs of interest. He really doesn't have any favorites right now, so he will be considering most of the schools I mentioned earlier."
Byron Williams Sr. was a former coach in high school football and understands the recruiting process and the value of education.
Williams Sr. – "As a former high school coach, I understand how the recruiting process works and the importance of stressing academics to young people. Byron is a good student, he understands that education comes first and football second. As for his recruitment, I've tried to stay out of it and allow Byron to make his own decisions. I'm here if he needs any guidance and Coach Johnson will help him as well."
The Cajun RedZone will have more on Byron Williams in the upcoming weeks.