Like many high school athletes, the 5'9", 170 pound
Reynaldo Young
was asked by his coach to move to running back due to the lack of experience at the position this year. While Young was recognized as an All-District kick returner and defensive back after last season, but no one would have imagined he would have over 600 yards and 7 tds in just five games this season. It's not just the numbers, but the fact that Reynaldo Young raised his game against better competition, out rushing national recruit
Kenny Hilliard
230 yards, to 217 yards in a matchup earlier this season.
Young -
"Yea, they were hyping him before the game and really didn't talk about some of the other athletes playing in the game. I wanted to go out and show them I was capable of playing at that level and helping my team win."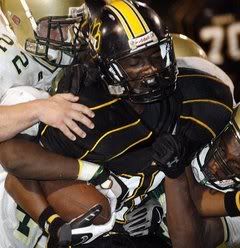 Young was ranked in the top ten in the state in rushing after the first three games. Reynaldo had a 54-yard touchdown run in the victory over St. James and a 72-yard run in the last week's victory over Carencro. Coach Dauterive mentioned in a recent article, "If he gets a crease, he can take it all the way."
Young's ability on the football field has attracted the attention of college football recruiters early this season. Reynaldo visited Louisiana on an unofficial visit to watch the Cajuns defeat Kansas State at Cajun Field.
Young -
"The atmosphere was great during the game and we stayed until the end to watch the Cajuns come back to win. I could see myself playing on that turf at Cajun Field and I really liked the facilities as well. I know they are looking for a few running backs, so I wouldn't mind playing in that offense. On that turf my speed would fit right in with what they are doing in that offense."
What have the Cajuns told Reynaldo Young and how much interest have they expressed in him?
Young -
"After the game, coach told me they would like to see my film from the first few weeks of the season, so I think there are enough highlights in my first four game of the season to see what I'm capable of doing on the field."
Some observers that have not seen Young play until recently compare him to former teammate
Luther Ambrose
, what does he think of that comparison?
Young -
"I've heard those things, but Luther is a little taller then I am. But I believe my speed and quickness is as good as Luther's in the open field. So yes, I can see some resemblance in to him in my abilities."
The Cajuns are not the only program showing interest in Reynaldo Young's services.
Young -
"Besides UL,
Arkansas State
and
Louisiana Tech
has shown interest in me. McNeese State and Southeastern Louisiana have both offered me in the past month."
Reynaldo has some work to do in the class room to become eligible.
Young -
"I scored a 16 on my first ACT test, but I've scheduled my second test date. I'm working on my core because I didn't realize what exactly is needed to become eligible. I have a 2.5 GPA right now."