"Desire and preparation… combined with good reaction time, strength, and quickness," Casey explained as the things that give him an edge on the football field. I feel that I am a student of the game and I have a keen sense of where I need to be at all times… which allows me to get myself into the right position to execute in the most physical way possible." This student of the game models his play after former
LSU
and Detroit Lions lineman Eric Andolsek http://lafourche.com/sports/andolsek.htm.
"I've watched numerous clips and game film of (Andolsek's) play," explains D'Angelo. "I feel that I am a student of the game and I have a keen sense of where I need to be at all times… which allows me to get myself into the right position to execute in the most physical way possible."
Donnie D'Angelo, Casey's father, loves to watch his son play football.
"It's been great to see (Casey) develop and get better over the years," said the older D'Angelo. "He has been a 3-year starter, and I've seen so much improvement year over year… this year he was named as one of four permanent team captains."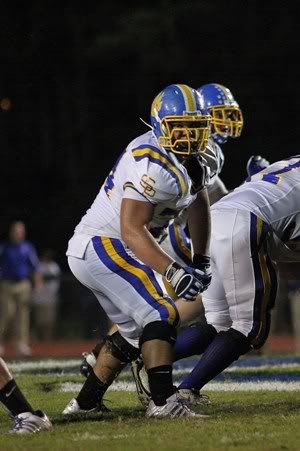 "I have 13 pancake blocks so far this year," explained Casey when asked if he's improved his game. "I had a total of 15 all of last year. "I owe a lot to my position coach, Joe Dickens," Casey added. "He shaped me into the player and person that I am today."
Familiar with Lafayette, Casey has friends at Louisiana from St. Paul's. Donnie remarked about the Ragin' Cajun program and the school's open atmosphere and the potential for success. "I love that town," Donnie said of Lafayette.
Casey attended camp at USM, SLU, and
SMU
. He was the MVP-Best Overall Lineman at the USM Camp. No offers yet, but the schools showing the most interest in him right now are Jacksonville State, USM, SMU, McNeese and SLU.
With and 21 on his ACT and a 3.25 GPA, the only negative he hears from recruiters, and they all say it, "They wish I was 6'3," shrugged Casey. Casey D'Angelo runs a 5.0 40yd, benches 385, squats 500, and has a 290 power clean. His hobbies include weightlifting, golf and music.
"He has a great work ethic, good instincts and good techniques," added Donnie. "He excels in the classroom and on the field. If he gets the opportunity to play at the next level, it will be strictly up to Casey where he chooses to go. "I'll be there to provide all the necessary guidance he needs to make the right decision."
Casey wants to go to graduate school after earning a degree in Physical Therapy. He'll find out then that desire and preparation were two good things.
Paul Angelle Sports Photography
http://www.printroom.com/ViewGallery.asp?userid=pirogue&gallery_id=1772654