QUICK FACTS:
Louisiana-Lafayette Ragin' Cajuns
All-Time Series: 20-0-0
Stadium: Cajun Field (31,000)
Conference: Sun Belt
First Meeting: 1902, LSU 42, ULL 0
Last Meeting: 2002, LSU 48, ULL 0
Head Coach: Ricky Bustle, 72-43 at FSU and overall, 9 years
2005 in Review: 6-5, 5-2 Sun Belt
Final '05 Ranking: Not ranked
Off. / Def. Systems: Multiple / 4-3
Returning Starters: 16; 7 offense, 8 defense, punter
Last Bowl Appearance: 1970 Grantland Rice Bowl
Last Conference Championship: 1994, Big West
RETURNING LEADERS
Rushing: Tyrell Fenroy – 179 rushes, 1053 yards, 12 TD
Passing: Jerry Babb – 119-74-3, 859 yards, 3 TD
Receiving: Derrick Smith – 22 catches, 250 yards, 2 TD
Tackles: Mark Risher – 59 TT (20S, 39A)
2006 SCHEDULE
Date Opponent '05 Result
S-2 at LSU ---
S-9 at Texas A&M ---
S-23 North Carolina A&T ---
S-30 Eastern Michigan ---
O-7 at Houston ---
O-18 at Florida Atlantic L, 28-10
O-28 Middle Tennessee W, 13-10
N-4 at Troy W, 31-28 (ot)
N-11 at North Texas W, 31-28
N-18 Florida International W, 28-7
N-25 Arkansas State L, 39-36
D-2 Louisiana-Monroe W, 54-21
***
Head to Head
ULL QB vs. LSU LB
Jerry Babb vs. Ali Highsmith
Quarterback Jerry Babb is no doubt the most versatile athlete of the field for the Ragin' Cajuns. A talented prep star at St. Thomas More High School, Babb played in eight games a year ago and finished third on the team in rushing offense with 400 yards on 65 carries and four touchdowns. Babb did complete 74 of 119 passes for 859 yards and three touchdowns, unfortunately those were the only three touchdowns thrown by any QB for the Cajuns last year. Highsmith grew into one of the SEC's most feared linebackers a year ago. Expect him to make things tough on Babb.
ULL RB vs. LSU DL
Tyrell Fenroy vs. Glenn Dorsey
The Ragin' Cajuns led the Sun Belt Conference last season in rushing offense and finished seventh in the nation on the ground. Tyrell Fenroy played a big part in that leading Cajuns ground attack with 1,053 yards on 179 carries and 12 touchdowns. But don't expect Fenroy, the best running back by far in the Sun Belt, to chew up yardage against this Tiger defense. Glenn Dorsey is poised to become LSU's nest great defensive tackle and he will be on the lookout for Fenroy on Saturday.
***
Player to Watch: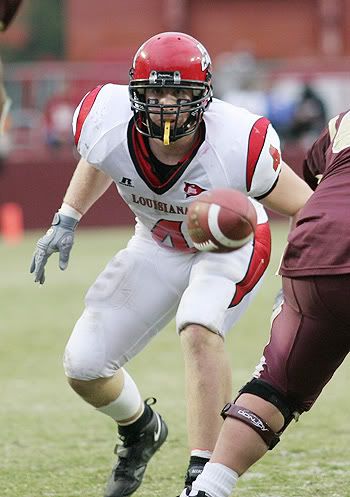 Mark Risher
LB, Junior * 6-1, 227
St. Thomas More HS * Lafayette, La.
Why it is important to stop him?
Junior linebacker Mark Risher leads all returning Ragin' Cajun tacklers from a year ago with 59 tackles. He isn't the tallest of linebackers, but has a wide frame 227-pound frame and is excellent against the run. Risher leads a Louisiana-Lafayette defense that returns eight starters from 2005's championship team.
Who has to stop him?
LSU has a talented group of fullbacks – mainly Jacob Hester and Shawn Jordan – that will pick up Risher in the backfield when the ULL linebacker comes on blitzes, that is if Risher can make it through LSU's thick midsection of the offensive line consisting of Will Arnold, Brett Helms and Brian Johnson. Also, LSU running backs Alley Broussard and Justin Vincent should also come in contact with Risher as well on the ground.