Never before in the Tigers' 114-year history has that been accomplished. And of course, no LSU coach has ever gotten off to a faster start than Les Miles, who is now 21-4 since succeeding Nick Saban.
On the other hand, however, none of those notches on the Tigers' gun belt in either 2005 or 2006 have resulted in an SEC title. Which brings up the lingering aggravation about this season: In LSU's loss at Auburn, where an explosive offense inexplicably played close-to-the-vest football, the Bayou Bengals managed to score just three points against a defense that gave up multiple touchdowns to such opponents as Tulane, Ole Miss, and Alabama – teams LSU beat by an average of 33-7.
That afternoon of Sept. 16 on The Plains of Alabama, in the 7-3 defeat, was the only time LSU failed to score a touchdown in the Miles era. And that was against an opponent that has turned out to be just pretty good instead of the invincible Goliath some thought at the time. For an LSU team that would go on to score just under 400 points for the season, that game is still a head-scratcher.
But that failure to dent the Auburn end zone, and the half-dozen hairline calls that all went Auburn's way, haunts the rest of the Bayou Bengals' season.
Think about it this way: LSU lost another game, to Florida, and one the Tigers deserved to lose after turning the ball over five times. So throw it out. But even with that loss, if the Tigers had scored one touchdown against Auburn they'd be 11-1 right now, SEC West champions, and in the mix for the national championship game.
Instead, they're 10-2, perceived as an underachieving SEC team, and keeping their fingers tightly crossed in the hope that they can slip into a BCS bowl.
Of course, give the Auburn defense the credit for playing well enough to prevail, but it's hard not to think LSU's strategy – and a couple of questionable calls – didn't play a role.
That defeat two-and-a-half months ago colors LSU's entire season, even with all of its 10 victories.
* * *
Les Miles' 21-4 record – with the possibility of a major bowl still in the offing – is the continuum of a memorable Tiger run. Since 2000, between the regimes of Nick Saban and Miles, the Tigers have a cumulative 69-20 (.811) record with two SEC titles, one national championship, and victories in four of six bowl games.
In LSU's first 104 years of football, LSU had a total of four 10-victory seasons. In the last six seasons, the Tigers have had four more.
This, my friends, represents a time Tiger football fans will remember for a long time to come.
Still, it needs to put in context. Former athletic director Joe Dean said he was out driving recently and heard a sports talk show host call the Saban era "LSU's Golden Age."
"I knew that wasn't right," Dean said, "so I went home and looked a couple of things up. Saban was here five years, and in that time LSU won two SEC titles and a national championship but lost 16 games (48-16, .750). The last four years Paul Dietzel was our coach and the first season of Charlie McClendon (1958-62), LSU won two SEC titles and a national championship and lost a total of eight games (44-8-2, .851)."
Dean's point was not just that it's easy to recall recent events compared to those of nearly a half century ago, but also the weight of the accomplishment is critical. Saban, by his own admission when he was here, inherited a crop of good players from Gerry DiNardo.
Dietzel did not.
LSU had just three winning seasons in the decade before the No. 1 team of 1958. Dietzel had to recruit and build the football from the ground up, which he did, and that became the foundation of the program LSU has today.
"Nick Saban," said Dean, who was AD when the coach was hired, "did a fabulous job for LSU. But I wish some of the younger media people would realize that the latest is not always the greatest."
* * *
How do these things get perpetuated?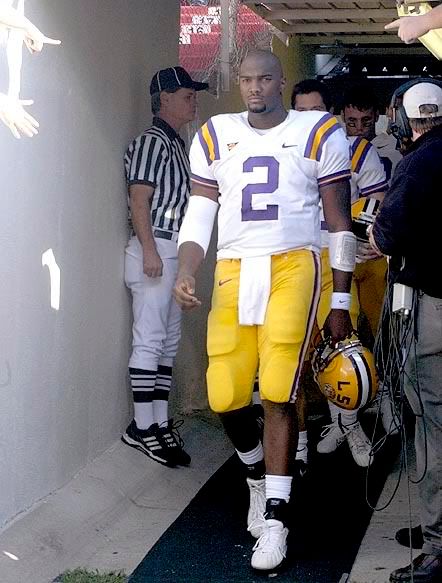 CBS' Gary Danielson said during the LSU-Arkansas telecast Friday that the last two weeks (Tennessee and Ole Miss) were the "signature games" of JaMarcus Russell's career, parroting what was said when the Tigers beat the Vols late in the game.
What about the Alabama game of a year ago, when he threw the winning touchdown against a highly ranked opponent in overtime, or the Arizona State game of 2005 when he connected on a 39-yard pass on fourth-and-10 with just a couple of minutes remaining?
He entered this season with "signature games." Listen, the man has guided LSU to eight fourth-quarter victories in his career. When JaMarcus leaves LSU, he'll have a basketful of wins bearing his imprint. …
And what about ESPN's Kirk Herbstreit picking Arkansas because the Hogs are "the most balanced team in the SEC?" We're all entitled to a bad pick, but anyone who watched the telecast Friday knew Arkansas had a tremendous running offense and a solid defense.
But the Hogs were anemic in the passing game, which led to their downfall. If you can run but can't pass, you're not "the most balanced team in the SEC."
---
Marty Mule' can be reached at MJM981@Bellsouth.net.