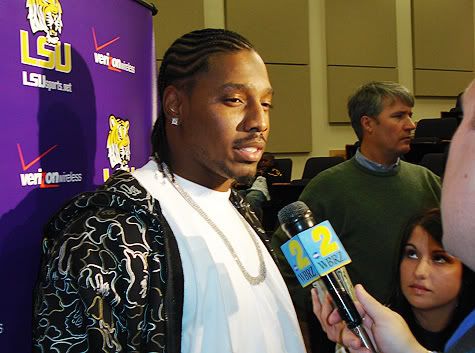 LSU
wide receiver
Dwayne Bowe
: On not playing in the Rose Bowl... "Not the Rose bowl, but the Sugar Bowl is the next best thing. We are happy to be there. For me, I came as a freshman and played in the Sugar Bowl and now as a senior I will leave with the Sugar Bowl. It is a great feeling."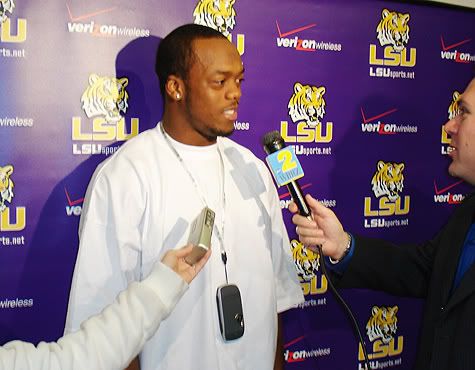 LSU wide receiver
Craig Davis
: On playing
Notre Dame
in the Sugar Bowl... "I think we are up for the challenge. We are ready to handle the situation we are about to go into. Notre Dame is a great team. They have great coaches and great players. We have the same thing over here. It is going to be a hard fought battle."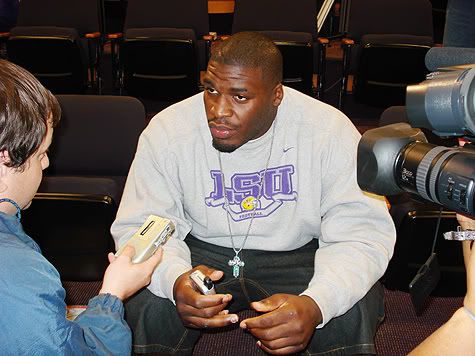 LSU defensive tackle
Glenn Dorsey
: On if he is disappointed they are not going to the Rose Bowl... "I was a little disappointed because I have never been to California and I was looking forward to going out to the west coast, but last season we had the same record and didn't get a BCS invite. We are just happy for this opportunity."
LSU coach Les Miles: On how he feels the atmosphere will be for the Sugar Bowl... "The idea that we already have 25 thousands tickets sold for the Sugar Bowl already, we look forward to playing there. It is going to be a great venue and certainly there are a number of family members and friends that could have not made that west coast trip. They are going to be able to go down to New Orleans and enjoy this game - I promise."
LSU free safety
LaRon Landry
: On what he thought after the outcomes of Saturday's games... "I understood that our plans on going to the Rose Bowl were probably going to be altered. It is not that big of a deal, because we are still playing a good team in Notre Dame. We had a great season and look forward to this opportunity. We are going against a team with a Heisman trophy candidate at quarterback and I am excited about the challenge."
LSU defensive end
Chase Pittman
: On going to the Sugar Bowl... "We are really excited on where we are right now. We know we still have to work hard and prepare for this game. There aren't too many teams that I would rather play in this game than Notre Dame."
LSU quarterback
JaMarcus Russell
LSU coach Les Miles: On if there should be a playoff system in the BCS... "I think if
Florida
would have been put on the outside looking in, than we would be talking about changing the system. The good news is the No. 1 versus No. 2 right now is the way most of the country sees it. I always want the SEC champion to have a shot at playing for the national championship. As long as that happens I think the system is working for our benefit."
LSU strong safety
Craig Steltz