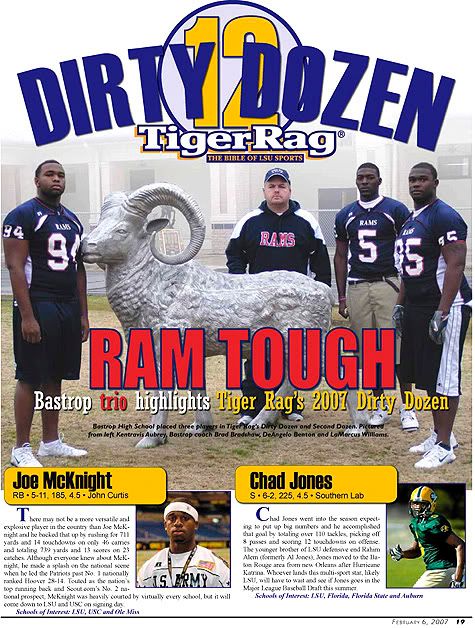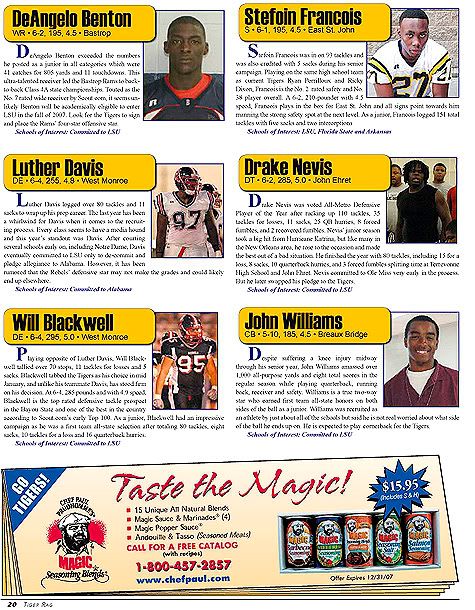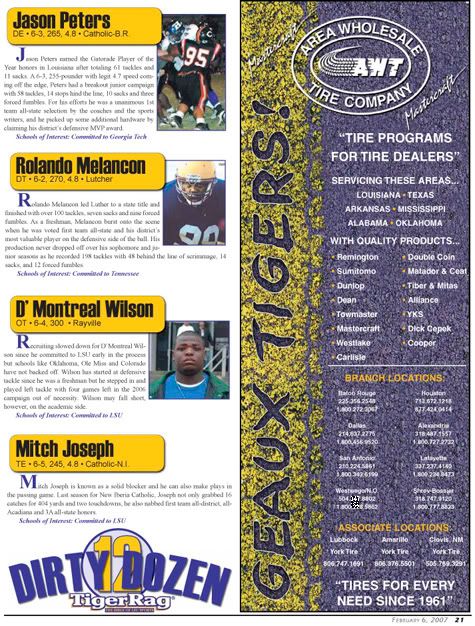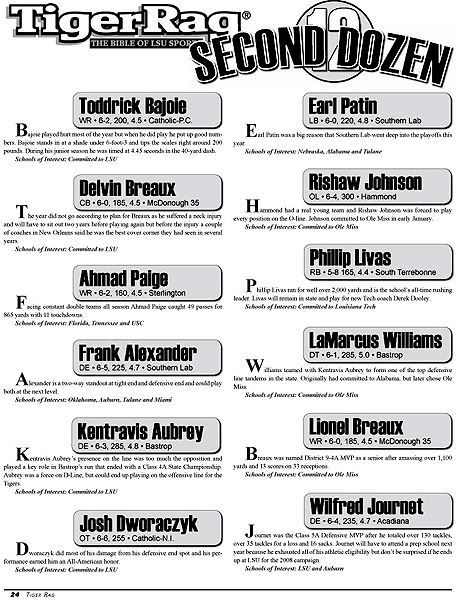 RB Joe McKnight
5-11, 185, 4.5
John Curtis
There may not be a more versatile and explosive player in the country than Joe McKnight and he backed that up by rushing for 711 yards and 14 touchdowns on only 46 carries and totaling 739 yards and 13 scores on 23 catches. Although everyone knew about McKnight, he mad a splash on the national scene when he led the Patriots past No. 1 nationally ranked Hoover 28-14. Touted as the nation's top running back and Scout.com's No. 2 national prospect, McKnight was heavily courted by virtually every school, but it will come down to LSU and USC on signing day.
Schools of Interest: LSU, USC and Ole Miss
S Chad Jones
6-2, 225, 4.5
Southern Lab
Chad Jones went into the season expecting to put up big numbers and he accomplished that goal by totaling over 110 tackles, picking off 8 passes and scoring 12 touchdowns on offense. The younger brother of LSU defensive end Rahim Alem (formerly Al Jones), Jones moved to the Baton Rouge area from new Orleans after Hurricane Katrina. Whoever lands this multi-sport star, likely LSU, will have to wait and see if Jones goes in the Major League Baseball Draft this summer.
Schools of Interest: LSU, Florida, Florida State and Auburn
6-2, 195, 4.5
Bastrop
DeAngelo Benton exceeded the numbers he posted as a junior in all categories which were 41 catches for 805 yards and 11 touchdowns. This ultra-talented receiver led the Bastrop Rams to back-to-back Class 4A state championships. Touted as the No. 7 rated wide receiver by Scout.com, it seems unlikely Benton will be academically eligible to enter LSU in the fall of 2007. Look for the Tigers to sign and place the Rams' four-star offensive star.
Schools of Interest: Committed to LSU
DE Luther Davis
6-4, 255, 4.8
West Monroe
Luther Davis logged over 80 tackles and 11 sacks to wrap up his prep career. The last year has been a whirlwind for Davis when it comes to the recruiting process. Every class seems to have a media hound and this year's standout was Davis. After courting several schools early on, including Notre Dame, Davis eventually committed to LSU only to de-commit and pledge allegiance to Alabama. However, it has been rumored that the Rebels' defensive star may not make the grades and could likely end up elsewhere.
Schools of Interest: Committed to Alabama
6-4, 295, 5.0
West Monroe
Playing opposite of Luther Davis, Will Blackwell tallied over 70 stops, 11 tackles for losses and 5 sacks. Blackwell tabbed the Tigers as his choice in mid January, and unlike his teammate Davis, has stood firm on his decision. At 6-4, 285 pounds and with 4.9 speed, Blackwell is the top rated defensive tackle prospect in the Bayou State and one of the best in the country according to Scout.com's early Top 100. As a junior, Blackwell had an impressive campaign as he was a first team all-state selection after totaling 80 tackles, eight sacks, 10 tackles for a loss and 16 quarterback hurries.
Schools of Interest: Committed to LSU
S Stefoin Francois
6-1, 195, 4.5
East St. John
Stefoin Francois was in on 93 tackles and was also credited with 5 sacks during his senior campaign. Playing on the same high school team as current Tigers Ryan Perrilloux and Ricky Dixon, Francois is the No. 2 rated safety and No. 38 player overall. A 6-2, 210-pounder with 4.5 speed, Francois plays in the box for East St. John and all signs point towards him manning the strong safety spot at the next level. As a junior, Francois logged 151 total tackles with five sacks and two interceptions
Schools of Interest: LSU, Florida State and Arkansas
DT Drake Nevis
6-2, 285, 5.0
John Ehret
Drake Nevis was voted All-Metro Defensive Player of the Year after racking up 110 tackles, 35 tackles for losses, 11 sacks, 25 QB hurries, 8 forced fumbles, and 2 recovered fumbles. Nevis' junior season took a big hit from Hurricane Katrina, but like many in the New Orleans area, he rose to the occasion and made the best out of a bad situation. He finished the year with 80 tackles, including 15 for a loss, 8 sacks, 10 quarterback hurries, and 3 forced fumbles splitting time at Terrevonne High School and John Ehret. Nevis committed to Ole Miss very early in the process. But he later swapped his pledge to the Tigers.
Schools of Interest: Committed to LSU
5-10, 185, 4.5
Breaux Bridge
Despite suffering a knee injury midway through his senior year, John Williams amassed over 1,000 all-purpose yards and eight total scores in the regular season while playing quarterback, running back, receiver and safety. Williams is a true two-way star who earned first team all-state honors on both sides of the ball as a junior. Williams was recruited as an athlete by just about all of the schools but said he is not real worried about what side of the ball he ends up on. He is expected to play cornerback for the Tigers.
Schools of Interest: Committed to LSU
DE Jason Peters
6-3, 265, 4.8
Catholic-B.R.
Jason Peters earned the Gatorade Player of the Year honors in Louisiana after totaling 61 tackles and 11 sacks. A 6-3, 255-pounder with legit 4.7 speed coming off the edge, Peters had a breakout junior campaign with 58 tackles, 14 stops hind the line, 10 sacks and three forced fumbles. For his efforts he was a unanimous 1st team all-state selection by the coaches and the sports writers, and he picked up some additional hardware by claiming his district's defensive MVP award.
Schools of Interest: Committed to Georgia Tech
6-2, 270, 4.8
Lutcher
Rolando Melancon led Luther to a state title and finished with over 100 tackles, seven sacks and nine forced fumbles. As a freshman, Melancon burst onto the scene when he was voted first team all-state and his district's most valuable player on the defensive side of the ball. His production never dropped off over his sophomore and junior seasons as he recorded 198 tackles with 48 behind the line of scrimmage, 14 sacks, and 12 forced fumbles.
Schools of Interest: Committed to Tennessee
OT D' Montreal Wilson
6-4, 300
Rayville
Recruiting slowed down for D'Montreal Wilson since he committed to LSU early in the process but schools like Oklahoma, Ole Miss and Colorado have not backed off. Wilson has started at defensive tackle since he was a freshman but he stepped in and played left tackle with four games left in the 2006 campaign out of necessity. Wilson may fall short, however, on the academic side.
Schools of Interest: Committed to LSU
TE Mitch Joseph
6-5, 245, 4.8
Catholic-N.I.
Mitch Joseph is known as a solid blocker and he can also make plays in the passing game. Last season for New Iberia Catholic, Joseph not only grabbed 16 catches for 404 yards and two touchdowns, he also nabbed first team all-district, all-Acadiana and 3A all-state honors.
Schools of Interest: Committed to LSU
The "Second Dozen"
6-2, 200, 4.5
Catholic-P.C.
Bajoie played hurt most of the year but when he did play he put up good numbers. Bajoie stands in at a shade under 6-foot-3 and tips the scales right around 200 pounds. During his junior season he was timed at 4.45 seconds in the 40-yard dash.
Schools of Interest: Committed to LSU
6-0, 185, 4.5
McDonough 35
The year did not go according to plan for Breaux as he suffered a neck injury and will have to sit out two years before playing again but before the injury a couple of coaches in New Orleans said he was the best cover corner they had seen in several years.
Schools of Interest: Committed to LSU
WR Ahmad Paige
6-2, 160, 4.5
Sterlington
Facing constant double teams all season Ahmad Paige caught 49 passes for 865 yards with 11 touchdowns.
Schools of Interest: Florida, Tennessee and USC
6-5, 225, 4.7
Southern Lab
Alexander is a two-way standout at tight end and defensive end and could play both at the next level.
Schools of Interest: Oklahoma, Auburn, Tulane and Miami
6-3, 285, 4.8
Bastrop
Kentravis Aubrey's presence on the line was too much the opposition and played a key role in Bastrop's run that ended with a Class 4A State Championship. Aubrey was a force on D-Line, but could end up playing on the offensive line for the Tigers.
Schools of Interest: Committed to LSU
OT Josh Dworaczyk
6-6, 255,
Catholic-N.I.
Dworaczyk did most of his damage from his defensive end spot and his performance earned him an All-American honor.
Schools of Interest: Committed to LSU
LB Earl Patin
6-0, 220, 4.8
Southern Lab
Earl Patin was a big reason that Southern Lab went deep into the playoffs this year.
Schools of Interest: Nebraska, Alabama and Tulane
6-4, 300
Hammond
Hammond had a real young team and Rishaw Johnson was forced to play every position on the O-line. Johnson committed to Ole Miss in early January.
Schools of Interest: Committed to Ole Miss
5-8 165, 4.4
South Terrebonne
Phillip Livas ran for well over 2,000 yards and is the school's all-time rushing leader. Livas will remain in state and play for new Tech coach Derek Dooley.
Schools of Interest: Committed to Louisiana Tech
6-1, 285, 5.0
Bastrop
Williams teamed with Kentravis Aubrey to form one of the top defensive line tandems in the state. Originally had committed to Alabama, but later chose Ole Miss.
Schools of Interest: Committed to Ole Miss
6-0, 185, 4.5
McDonough 35
Breaux was named District 9-4A MVP as a senior after amassing over 1,100 yards and 13 scores on 33 receptions.
Schools of Interest: Committed to Ole Miss
DE Wilfred Journet
6-4, 235, 4.7
Acadiana
Journet was the Class 5A Defensive MVP after he totaled over 130 tackles, over 35 tackles for a loss and 16 sacks. Journet will have to attend a prep school next year because he exhausted all of his athletic eligibility but don't be surprised if he ends up at LSU for the 2008 campaign.
Schools of Interest: LSU and Auburn