The brash, hard-nosed disciplinarian at Bastrop High School has made quite a name for himself in the football coaching ranks in the Bayou State. Part of that reputation has been built by leading the Rams to back-to-back Class 4A state championships and a perfect 29-0 record over the past two seasons.
The other side is not quite so bright.
Bradshaw's name was smeared across newspapers, Internet message boards and on talk radio shows across the country after Bastrop was forced to forfeit the 2005 state title. The Rams were found guilty of illegally recruiting five student-athletes from Port Sulphur in the wake of Hurricane Katrina by the Louisiana High School Athletic Association.
The LHSAA ruled the Rams had to give back the Class 4A state championship trophy then deemed three of the five remaining players ineligible for competition in the 2006 season. Bastrop's story spread like wildfire across the country. The story was splashed across the front pages of the LA Times, the New York Times, USA Today and Bradshaw appeared on the likes of Cold Pizza, the Dan Patrick Show and The O'Reilly Factor.
Bradshaw contends they did not illegally recruit the players, however, in the chaos following Hurricane Katrina, the players contacted current Bastrop assistant coach DeCarlos Holmes, a former assistant at Port Sulphur. In a nutshell, the players had no place to go and they were familiar with Holmes and wanted to come to Bastrop.
However, they had no way of getting to the small north Louisiana town on their own due to the fact they were scattered across south Louisiana and southeast Texas in shelters.
Holmes aided in transporting the players to Bastrop, which eventually led to the Rams being stripped of the state title following an unblemished 14-0 mark in 2005.
Bradshaw had no problem forfeiting the state championship, but pled with LHSAA officials not to punish the student-athletes. Following an intense two-week period, the LHSAA succumbed to enormous pressure and re-instated Randall Mackey, Jamal Recasner and James Brown following a two-week suspension. Mackey and Recasner remained in Bastrop following the 2005 season, but Brown returned to Plaquemines Parish where he re-joined old teammates at the new South Plaquemines High School.
The Rams, led by future LSU Tigers DeAngelo Benton and Kentravis Aubrey, then ran the table compiling a perfect 15-0 record. Bastrop culminated a horrific season with a 28-14 win over Archbishop Shaw in the Class 4A state championship game, which for Mackey and Recasner, was extra special considering it was played in the Louisiana Superdome in New Orleans.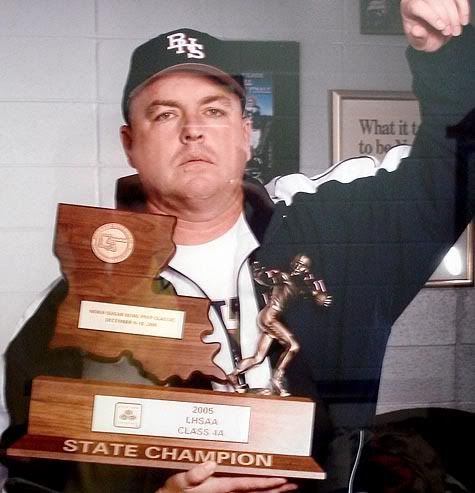 Bastrop coach Brad Bradshaw poses with Class 4A state championship trophy. (Marq Mitcham/Bastrop Daily Enterprise)
With all of that being said, that is what you do know about Brad Bradshaw. Now is the part you may not.
Prior to Bradshaw being hired as head coach of the Bastrop Rams, the program had been downtrodden for two decades. Bastrop hadn't been to the playoffs in 20 years and hadn't sniffed a district championship in 23 seasons. The two years prior to Bradshaw's first season as head coach, the Rams went 0-10 and 2-8. The facilities were deteriorated and there was very little exciting about football in Morehouse Parish.
But all that changed in 1997.
Bradshaw led the Rams to an 8-5 record in his initial season at the helm, the program's first district title since 1974 and the school's first playoff appearance since 1977. The Rams lost to Eunice in the quarterfinals capping off on the greatest turnarounds in the history of football in Louisiana.
Since then, Bastrop has won seven more district championships; made three other trips to the quarterfinals, another to the semis and have now won 29 straight games and back-to-back state championships.
More impressive than Bradshaw's 103-25 record in 10 seasons at Bastrop High School, is the fact he has been responsible for sending more than 70 student-athletes to the college ranks. In his entire coaching career, including coaching stints in Mississippi prior to arriving at Bastrop, Bradshaw has single handedly sent over 100 players to the college ranks.
Bradshaw has had his share of players come to LSU. From his first team in 1997, Solomon Lee came to LSU as part of Gerry DiNardo's Tigers. After being riddled with injuries, Lee finally broke through and played an active role at fullback for the 2001 SEC Championship team.
Other Bastrop Rams who have played at LSU consist of Marcus Yanez (2000) and Claude Wroten (2004-05). Two other former Rams, the aforementioned Benton and Aubrey, are on their way to LSU.
Wroten is one of two Bradshaw-coached players who are currently playing in the NFL. Wroten and former Arkansas-Pine Bluff tight end Brian Jones are the only two former Rams in the professional ranks. Wroten is a defensive tackle for the St. Louis Rams while Jones is a tight end for Jacksonville.
Bradshaw has interesting philosophies when it comes to getting his players placed in college. First and foremost, he said you do not shy away from any opportunity.
"We don't close the door to anyone, a coach that is," Bradshaw said. "Naturally, when the coach from LSU comes up, it is a big event because of who he is. But we are going to treat a Division III coach the same way."
It is well known that some high school coaches make decision for a player, assessing a player's skill level and determining what his chances are of reaching the next level. Bradshaw does it much different.
"Our main objective if one of them (a player) wants to go (to college), we will find them a spot," Bradshaw said. "If they listen to what I tell them do, most of the time it works out."
While it isn't possible for every player to play at the Division I level, Bradshaw says that doesn't matter.
"Genetically, everyone can't go to LSU," Bradshaw said. "You just have to accept that. Sometimes a player isn't big enough, fast enough, whatever. But there are some places where they can go, where they can have a better opportunity to improve their life."
When asked is there a potential college player on every high school team out there, he wholeheartedly concurred.
"Yes!" Bradshaw exclaimed. "I have never coached anywhere, haven't ever seen a program where I couldn't get somebody placed somewhere. I don't think places like that exist. I think that could happen, but I don't believe it."
And with that attitude, Bradshaw has placed more players in college than just about anyone out there.
"72 (at Bastrop) I believe," Bradshaw said. "In my career, I am not sure, but it is well over 100."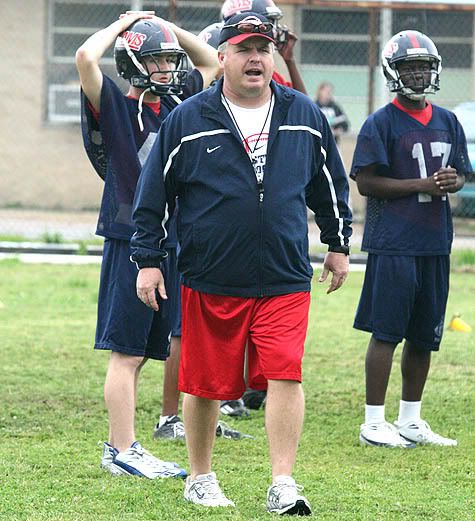 Bastrop coach Brad Bradshaw puts the Rams through spring drills. (Marq Mitcham/Bastrop Daily Enterprise)
Bradshaw said the process begins early in the high school careers of these student-athletes.
"I try to identify those kids when they are sophomores and see if it is an avenue that they would like to explore," Bradshaw said. "Then I try and explain to them that it is not what it is made out to be. If you are going to give up your body or that school, you better come out of there with a degree. It is an equal tradeoff, the higher level you go, the more it revolves around football. Your performance is key. It is like a job. I try to explain that to them and see if they want to make that commitment.
"It all looks great on television, but that isn't exactly how it is. To play at that high level, you really have to love the game of football."
And just how does Bradshaw showcase his athletes?
"A lot of people do it with film. We are not fortunate enough to have great film equipment. The way we do it here is build it off personal relationships so when a kid comes out of here; they know he has been coached hard before."
One of the things Bradshaw said he and his staff try and do is be honest with the player and not get his hopes up for something that might not happen.
"We are probably more brutally honest than anyone else," Bradshaw said. "A letter from a college means absolutely nothing. It means you got on a mailing list somewhere. I am not trying to shatter their dreams, but we do tell them if you are not this, this or this, you aren't going to this place. We stress to them not to shut the door on someone who will take you, someplace who will take a 6-0 offensive lineman."
Bradshaw explained this scenario when telling a story about Jackie Skipper. A 5-11, 270-pound offensive lineman, Bradshaw said Skipper was the bets o-lineman Bastrop had ever had. However, his height was a factor. Bradshaw explained Skipper was passed over by more than a few schools before he finally landed at Arkansas-Pine Bluff.
After four years, Skipper was just named the recipient of the Rimington Trophy, for the top center in Division I-AA.
"I'll do the best I can to help these kids here," Bradshaw said. "I want to help kids, not just here but across the state. When a college coach comes in here, I'll tell them about kids I have seen in other places that might not get the exposure that others do. That gives someone an opportunity to get better, to better their lives because that is what we are in it for."
Don't let Bradshaw's roots fool you. A native of Mississippi, Bradshaw played football at Ole Miss before a knee injury ended his Division I career. He finished his playing days at Arkansas-Monticello. Growing up a Rebel fan, the 10th-year Bastrop coach said his attitude has changed over the years.
"I have become an LSU football fan," Bradshaw said. "It used to be I would watch LSU to see what Solomon (Lee) was going to do, or what Claude (Wroten) was going to do. The LSU fans are so intense. I have gained so much more respect for LSU since I have been here and learned things about them that I did not know before."
Bradshaw has obviously learned a great deal about LSU and it shows as Bastrop has grown into a pipeline of talent for the Tiger football program.
---
Brad Bradshaw (10th Year)
Head Coach
Bastrop High School
1997 8-5* 4A Quarterfinals
1998 10-4* 4A Semifinals
1999 6-5* First Round
2000 7-4* First Round
2001 8-3 First Round
2002 11-2 4A Quarterfinals
2003 12-1* 4A Quarterfinals
2004 12-1* 4A Quarterfinals
2005 14-0* 4A Champions#
2006 15-0* 4A Champions
Bradshaw record at Bastrop: 103-25
* denotes district title
# 2005 title forfeited