Assistant coaches are yelling, balls are being dropped, overthrown and lots of confusion.
That was the case Saturday afternoon when
LSU
's class of incoming freshmen took to the practice field for the time this afternoon at the Charles McClendon Practice Facility.
All 24 members of the Tigers' signing class along with selected veterans and walk-ons took part in a 4:15 workout Saturday afternoon, the second practice of the day.
While the focus of the workout did center around the newcomers, one of LSU's veterans drew the most attention.
Ryan Perrilloux
, who had been serving a suspension since a minor run-in with the law in June, returned to action Saturday afternoon. The sophomore signal caller had his suspension revoked at Friday night's team meeting by coach
Les Miles
.
Perrilloux, along with true freshman
Jarrett Lee
and walk-on freshman TC McCartney, took part in passing drills under the watchful eye of offensive coordinator
Gary Crowton
. Perrilloux was as sharp as a tack during the drills delivering the ball with a little extra zip. Needless to say, Perrilloux must have been finally getting to release some pent up frustration.
Lee threw the ball fairly well. He looked a little thicker than he did on his high school highlight tapes, but surprisingly shorter. Lots of eyes were on the nation's top high school receiver from a year ago –
Terrance Toliver
. Toliver put on a show catching the ball, but looked much to thin to right now to play. The hands and speed were good, but he has the build of a young Brandon LaFell.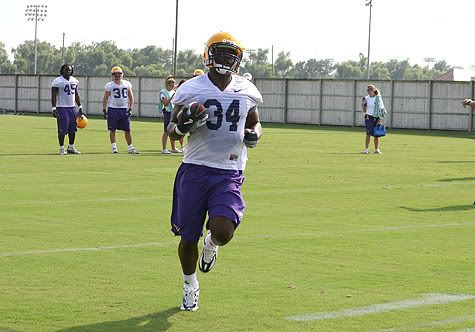 Steven Ridley
While much of the attention centered around the quarterbacks, the real show stopper was down among the running backs. Holy Steve Ridley Batman!!! There was some talk this young man might move to linebacker, but looks like an all-American running back. Not only was he tall, he was thick and ran with hellish determination (see photo gallery) posted on front page. What a manchild!!
It was worth the time to stop by the defensive back drills and get an up close look at
Chad Jones
. Jones is everything he was billed to be and more. Big, strong, physical and walks with an almost intimidating lean.
Equally as impressive as Jones was
Shomari Clemons
. After sitting out a season, it looks as if Shomari spent much of that season in the eight room. Quite impressive, especially when defensive backs coach
Doug Mallory
pitted Jones and Clemons head to head.
Shomari Clemons going head to head with Chad Jones
Clemons, however, did draw the ire of the brash Mallory who barked out, "Clemons you'd better run faster than that, or else I'm going to put you down there with the defensive linemen!"
One interesting note looking at the roster, among the offensive linemen was No. 61 Trey Helms out of Stuttgart, Ark. Obviously a walk-on, the 6-4, 265-pound o-lineman is the younger brother of junior center
Brett Helms
.
Stay tuned for Jeremy Kenny's Opinions & Observations.