Yesterday afternoon when we first walked onto the field one of the first things you noticed was the new field goal post running around catching balls named
Terrance Toliver
. But both Toliver and
Jared Mitchell
were absent from today's afternoon session as both were said to be in the locker room receiving treatment. Offensive lineman
Andrew Decker
was also absent from this afternoon's practice.
There were also two new faces at practice this afternoon in walk-on LB Lydell Smith and walk-on CB Orlando Gunn. Walk-on offensive lineman Richard Dugas was someone I forgot to include in my rundown of yesterday's practice, but he was at practice both yesterday afternoon and again this afternoon.
And now a few things I observed while at practice this afternoon:
- The offensive line was changed up a little this afternoon from yesterday's practiced. As I mentioned earlier, Andrew Decker was not at practice this afternoon, so
T-Bob Hebert
was now the 1st center. Cole Louviere now lined up first at RT.
Max Holmes
was first at LG.
Ernest McCoy
was now the backup at RT and
Jarvis Jones
was now backing up the LT.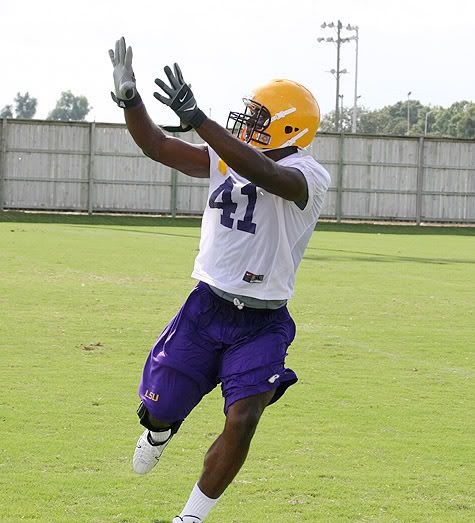 Jordon Corbin
- For the majority of the time we were allowed in practice this afternoon the defense was lining up as a full 11 man unit working on formations and pre-snap calls and adjustments. The DL from left to right was
Will Blackwell
,
Drake Nevis
,
Kentravis Aubrey
, and Sidell Corley. The LBs were
Derrick Odom
,
Ace Foyil
, and
Jeremy Benton
. The CBs were
John Williams
and
Phelon Jones
, with
Stefoin Francois
and
Chad Jones
at the two safety spots. Like I said, they were mostly working on where to line up and different pre snap audibles, so there wasn't really much action stemming from this.
Josh Jasper
puts a foot into a kick
-
Andrew Crutchfield
and Josh Jasper were both working on one of the back fields with new walk-on long snapper Joseph Crappell. At first both were working on punting. I don't know if they were working on something in their technique or what, but neither looked very good punting the ball. They would both kick it from the goal line and the ball would travel about 35 yards with very little hang time and almost always very wobbly coming off their foot. But they looked much better later when they switched to place kicking. They lined up from about 40 yards away and on the hash marks and both were knocking the balls through with relative ease and plenty of distance to spare. Of course there was no defense rushing them and no pressure on them, but they were both much more impressive doing this than when they were punting the ball under those same conditions.
- The WRs were working a lot more on intermediate routes this afternoon instead of just the short little screens and slants from yesterday. As I said in the beginning of the report, both Terrance Toliver and Jared Mitchell were absent from today's afternoon practice session, so now Josh McManus stepped up first in WR drills, and again he was very impressive and didn't look anything at all like a walk-on.
Demetrius Byrd
looked very good in drills today and ran very good routes, and the coaches took notice. At one point they were running post-corners and the first couple guys ran the route wrong. Coach McCarthy said "Demetrius get up there and show them how it's done." Byrd got up and ran a perfect route and was commended for it.
-
Ryan Perrilloux
had a strong practice again this afternoon. He was very accurate on all his throws and had a nice zip going on his ball. It's very nice to see that he was obviously working hard to keep up and be prepared physically during his absence from the team and not just sitting around. Maybe that's a sign some people are looking for to indicate he is maturing and becoming more of a leader.
Steven Ridley
- The RBs were working on running counter plays in one of their drills.
Stevan Ridley
was working at tailback, perhaps out of necessity because if he was at fullback that would leave Murphy as the only TB with three FBs. Regardless, Ridley looked no less explosive in taking handoffs than Murphy or the guys from this morning for that matter. We have yet to see what kind of speed he has, but from what we have seen so far in terms of build and acceleration/explosiveness, there is nothing to indicate he couldn't play TB in the SEC.
That's all for today's afternoon practice. Be sure to check back throughout the week.