It is never easy to replace a legend.
Either senior Matt Flynn or sophomore Ryan Perrilloux are about to find that out first hand.
Both players waited patiently in the wings as JaMarcus Russell set record after record on his way to compiling a 25-4 record as a starter.
Now, with Russell gone to the NFL, whoever wins the job will be responsible for leading the Tigers without much drop-off.
"They've just gotta step-up," Crowton said. "Because those are great players and we want to get back to that caliber."
Crowton said it may be tougher than people think, however.
"It may take just a little bit of time to get those guys going, but fans here are not gonna be very patient for those guys to grow," Crowton said.
Crowton believes Flynn has what it takes to win in the nation's toughest conference.
"He's proven himself in big games," Crowton said. "He just has to do it week-in and week-out because he's capable."
Flynn's only real playing time came in the 2005 Chick-Fil-A Bowl when he stepped in for the injured JaMarcus Russell. But he made the best of the opportunity.
Flynn threw for 196 yards and two touchdowns and also ran for 39 yards on his way to being named the game's Offensive MVP.
Flynn played sparingly in 2006 in mop-up duty for Russell attempted just 20 passes on the year for two scores and an interception.
Flynn does not have Russell's arm strength, but let's face it, who does? What Flynn does have, however, is the ability to move around in the pocket and even take off if need be.
Nipping at Flynn's heels is the sophomore superstar, Perrilloux.
While most people saw Russell as the QB with the arm and Flynn as the QB with the legs – Perrilloux is the QB with both.
Perrilloux accounted for more than 5,000 yards of offense as a senior at East St. John High School and 67 touchdowns – 30 passing and 37 on the ground.
But so far, the cons have outweighed the pros in Perrilloux's LSU career.
Perrilloux has been a media feeding frenzy since he first arrived at LSU three years ago. The unproven signal-caller has all the talent in the world, but his lack of good judgment off the field could cause him to lose even more playing time.
Crowton said the gifted Perrilloux must seize the day in order to seize the quarterback job.
"He has to put himself in a position when you give him the opportunity, he has to make the most of it," Crowton said. "He's very capable of that."
True freshman Jarrett Lee comes to LSU as a big-time signee with big-time potential out of Flynn's home state of Texas.
The 6-2, 190-pound Lee completed 64 percent of his passes in 2006 for 28 touchdowns on his way to being named the District 18-4A MVP.
Most importantly, Lee ran the spread offense while at Brenham High School. The same offense coach Crowton employed while at the University of Oregon.
- Keith Claverie
2007 Quarterbacks
11 Ryan Perrilloux QB 6-3 222 So. SQ Reserve, La (East St. John HS)
12 Jarrett Lee QB 6-2 190 Fr. HS Brenham, Texas (Brenham HS)
13 Jimmy Welker QB 6-3 229 Sr. SQ Tarzana, Calif. (Notre Dame HS)
14 Andrew Hatch QB 6-3 210 So. Tr. Henderson, Nev. (Harvard U.)
15 Matt Flynn QB 6-3 228 Sr. 3L Tyler, Texas (Robert E. Lee HS)
17 TC McCartney QB 6-3 206 Fr. HS Boulder, Colo. (Fairview HS)
22 Jeremy Bunting QB 5-10 180 Jr. SQ Tioga, La. (Tioga HS)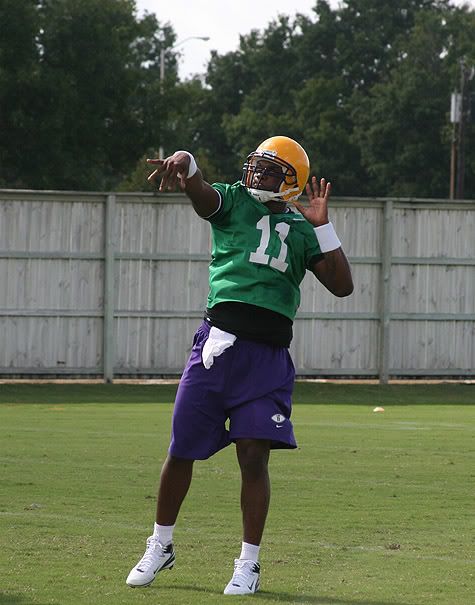 Ryan Perrilloux
INSIDE THE HUDDLE
Quarterbacks
Returning Starter: n/a
Departed Starter: JaMarcus Russell
Projected New Starter: Matt Flynn
Best Player: Depends on who you ask. For the past three seasons, Matt Flynn has been a fan favorite. Even while JaMarcus Russell was ranked among the nation's most efficient passers with the strongest arm in college football, fans called for Flynn. Now Flynn is at the controls, but troubled sophomore Ryan Perrilloux might actually be better.
Wildcard: No doubt the wildcard among the quarterbacks is Perrilloux. While he has committed no major offenses, his minor brushes with mischief makes him a possible liability. While talented, Perrilloux could end up costing the Tigers.
Rising Star: With Perrilloux's future constantly up in the air, true freshman Jarrett Lee could find himself in the spotlight. While a bit slim at 6-2, 190, Lee comes to LSU as one of Texas' best prep quarterbacks last year.
Most Improved: Tiger fans can only hope Matt Flynn has improved during the offseason and can step under and be ready to play at a high level. That will be a must considering the Tigers play No. 8 Virginia Tech in the second week.
Top Newcomer: Lee will likely see some action as a true freshman, depending on the Perrilloux situation. He is LSU's only incoming quarterback.
Top NFL Prospect: Although Flynn has just one career start under his belt, some NFL experts think he could be a mid-round draft pick next spring.
Extra Points: Matt Flynn played in 10 of 13 games last season, completing 12 of 20 passes for 133 yards, two touchdowns and one interception… Ryan Perrilloux saw action in five games, completed 1 of 5 passes for 10 yards.
- Matt Deville
Matt Flynn
TIGER RAG LAGNIAPPE
Matt Flynn
Matt Flynn is the youngest of five children, all of whom are quite successful. Flynn's siblings occupations include a doctor, professor, car dealership owner and Broadway actress. Flynn's dad, Alvin, was a quarterback for Baylor in the 1960s. His senior year at Tyler-Lee, Flynn led the Red Raiders to the state semifinals, playing the final four games with a broken foot.
- Matt Deville