It didn't take long to notice a new addition to the varsity workout this morning. True freshman
Chad Jones
, Scout.com's No. 1 ranked safety last year, was taking part in drills with the veterans this morning.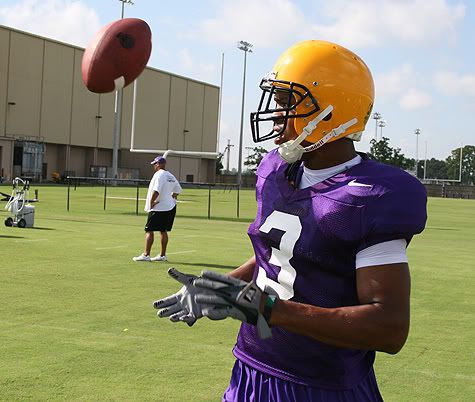 Chad Jones at practice this morning
After months of speculation as to what Jones would do after being selected in June's Major League Baseball Draft, there was still some concern when the players reported last Friday. If the events of the morning workout today have any indication as to Jones' future at
LSU
, the 6-3, 222-pound safety will be very much in the mix in his true freshman season.
Chad Jones (left) going against
Harry Coleman
While LSU is already quite talented at the safety spot with
Curtis Taylor
,
Craig Steltz
,
Danny McCray
and Harry Coleman primed and ready, toss someone like Jones into the mix and the talent level as well as ability rises to ridiculous levels. Plus, don't forget about
Shomari Clemons
(6-2, 220), who while a true freshman on the roster, has a mature body and is ready for action after sitting out last season with eligibility issues.
Sure
LaRon Landry
will go down as arguably the best safety in school history, but the post-Landry era is taking on an already impressive shape. Players like Jones, Clemons,
Jai Eugene
, Danny McCray,
Chris Hawkins
,
Phelon Jones
,
Stefoin Francois
and
Ron Brooks
; the list goes on and on.
Chris Mitchell
, who missed Sunday's workout and wore a green, "non-contact" jersey yesterday, was back at full speed today getting his regular reps with the wide receivers.
It was discussed at length here yesterday about LSU's talent and depth on the defensive line. We'll go on a little more today about the most talented defensive front in the nation.
Coach
Earl Lane
gets physical
When coach Earl Lane was hired to replace Karl Dunbar prior to the 2006 season, there were some who questioned Miles' decision. Lane had been out of college coaching for a while and his most recent collegiate stint had been at
South Florida
. But after watching Lane work with the defensive linemen, his hiring just looks better and better.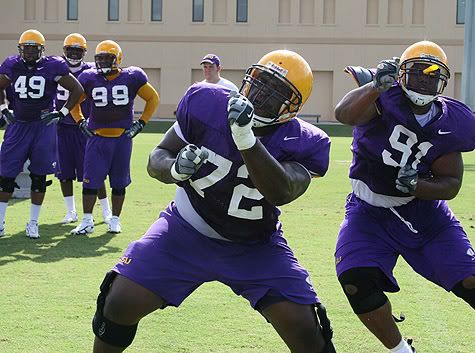 Glenn Dorsey
(72) and
Charles Alexander
(91) doing punching drills
It seems everyday Lane has the defensive linemen doing some sort of different drill singling out one specific technique. Yesterday, he had the D-Linemen running all sorts of cone drills, even running mini-laps around two huge hula-hoop style rings placed on the ground. This morning, the big guys were doing swim-move drills and practicing punching drills.
And make no mistake, Lane was right there in the middle of the drill taking part with his linemen. One thing can be said for both of LSU's line coaches, both Lane and offensive line coach Greg Studrawa, there are very hands on.
O-Line coach Greg Studrawa and
Will Arnold
Speaking of Studrawa, he was observed putting in some serious one on onetime with preseason all-American right guard Will Arnold. We have mentioned several times about Arnold's play at the right guard spot. He admitted he has never played on the right side of the line before – ever. So it is apparent Studrawa is taking extra time to work with Arnold one-on-one on every technique in every drill.
Offensive coordinator
Gary Crowton
talked at length with Tiger Rag on Monday about his days at
Louisiana Tech
and the time he spent with Biletnikoff Trophy winner
Troy Edwards
and the things they did with that high-flying La. Tech offense. Don't even think Crowton is about to institute a run-and-shoot or spread offense at LSU. However, he is spending lots of time with this wide receiving corps.
Crowton along with
Early Doucet
Where Jimbo Fisher was a quarterbacks guru and spent most of his days at LSU developing
Rohan Davey
,
Matt Mauck
and
JaMarcus Russell
. Crowton seems to be more of a wide receivers guy. We talked yesterday at length at how he worked with Brandon LaFell on running a perfect route. Today, again, he worked extensively with the wideouts on route running, but also did a great deal of teaching explaining not only the route, but why the route is run a certain way and the affect it has on other parts of the play.
Considering the wide receiver talent LSU currently has on the roster and the younger players like
Demetrius Byrd
and
Terrance Toliver
coming in, Crowton has plenty of clay to mold.
There were quite a few NFL scouts on hand at practice today. Representatives from the
Oakland Raiders
,
St. Louis Rams
,
New York Jets
,
Houston Texans
and the
Denver Broncos
took in the morning workout.
Was this
Nick Saban
?
Also observing practice was a helicopter which spent most of the first five periods circling overhead. It was unclear who was in the helicopter or what exactly they were doing, but it did get the attention of coach
Les Miles
, who was noticed gazing upward several times. At one point, he called an LSU official over from the sideline and pointed toward the sky.
Some of the media nearby joked it was Nick Saban or Tommy Tuberville getting a birds eye view of practice.
That's all for this morning. Stay tuned for this afternoon's report from the last Freshman workout. Tomorrow, the entire team will be assembled for the first full squad workout. Also, the team will don full pads for the first time tomorrow.
Check back to TigerRag.com after lunch for interviews with players following this morning's workout.