Going into the 2006 season, LSU figured to rely heavily on veteran tailbacks Justin Vincent and Alley Broussard.
But with Mr. Reliable, Joseph Addai, in the NFL and the seniors not playing up to snuff, the Tigers employed a running back-by committee approach.
According to offensive coordinator Gary Crowton, LSU fans will see much of the same in 2007.
"We'll have a real strong stable of backs," Crowton said. "You really have some good choices here. You just gotta see who gets on fire and gets hot and then you gotta feed them the ball."
LSU shared the ball a great deal last season, but the duo of Jacob Hester and Keiland Williams rose to the occasion – and the starting spots.
Hester carried the ball a combined 55 times in his first two seasons in purple and gold for just two touchdowns. In 2006, the Shreveport native rushed for a team-best 440 yards and six touchdowns. He also added 35 catches out of the backfield and three scores for good measure.
Hester's breakout game came just two games into the year against the University Arizona. The Evangel High School alum accumulated 96 all-purpose yards and two scores in the Tigers 45-3 victory.
It took the true freshman Williams a little longer to get rolling in the 2006 campaign.
Williams came to LSU as a five-star recruit from Virginia's Hargrave Military Academy but only carried the ball nine times through the Tigers' first six games.
But in the unfriendly confines of the University of Tennessee's Neyland Stadium, Williams hit his stride.
No. 5 carried the ball 17 times for 53 yards and one score in the 28-24 thrilling victory. He followed that performance up with 79 yards and a touchdown against the University of Alabama in Tiger Stadium.
Williams finished the season second on the team in rushing with 436 yards and five touchdowns in just nine games while averaging an impressive 5.7 yards-per-carry.
Hester and Williams should see more carries as the Tigers work with a new starting quarterback and young receivers.
Crowton said another sophomore-to-be could share a great deal of the load in 2007.
Charles Scott got hot early in his LSU career playing in five of the Tigers first six games and running wild against the University of Tulane to the tune of 101 yards and two scores.
After that game, however, Scott only carried the ball 11 more times in the next eight games.
Crowton said both Scott and Williams, who are both 5-11 and in the 220-pound area, are the prototypical backs for the Southeastern Conference.
"In this league there's gonna be a lot times when you're gonna play smash-mouth football and you're gonna have to have big physical backs," Crowton said.
If the Tigers ever want to throw a new look at a defense, they will likely look to redshirt freshman Richard Murphy.
Crowton described the 6-1, 198-pound Murphy as the only true shifty back on the LSU roster and said he could see playing time very early in his LSU career.
Murphy led all rushers with 85 yards on 11 carries and showed big-play ability with an 18-yard touchdown scamper in the spring game.
Toss in true freshman Steven Ridley and the Tigers have a running back for every style.
- Keith Claverie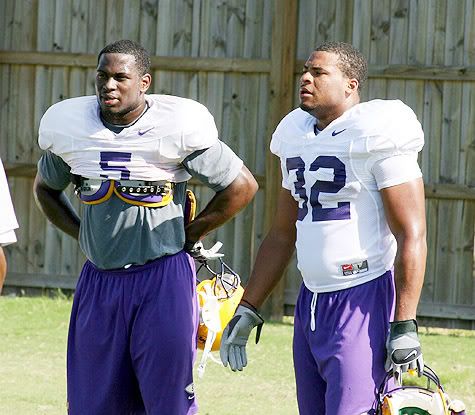 Keiland Williams and Charles Scott
2007 Running Backs
5 Keiland Williams RB 5-11 223 So. 1L Lafayette, La. (Hargrave Military Acad.)


18 Jacob Hester RB/FB 6-0 228 Sr. 3L Shreveport, La. (Evangel HS)
26 Richard Murphy RB 6-1 198 Fr. RS Rayville, La. (Rayville HS)
28 R.J. Jackson RB 6-0 209 So. SQ Houston, Texas (Westside HS)
30 Chad Baniecki FB 6-1 223 Jr. SQ Seton, Ariz. (Seton HS/Mesa CC)
31 Renaldo McClinton RB 5-10 182 Fr. RS Shreveport, La. Byrd HS
32 Charles Scott RB 5-11 221 So. 1L Saline, La. (Jonesboro-Hodge HS)
34 Steven Ridley FB 5-11 209 Fr. HS Natchez, Miss. (Trinity Episcopal)
40 Shawn Jordan FB 5-11 241 Sr. 2L El Paso, Texas (Riverside HS)
45 Quinn Johnson FB 6-2 238 Jr. 1L Edgard, La. (West St. John HS)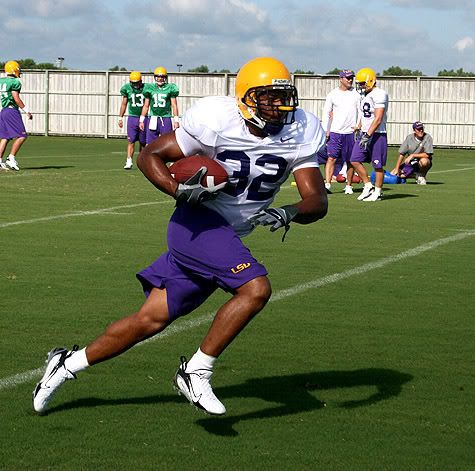 Charles Scott
INSIDE THE HUDDLE
RUNNING BACKS
Returning Starters: RB Keiland Williams, RB Charles Scott, FB Jacob Hester
Departed Starters: RB Justin Vincent
Projected New Starters: RB Richard Murphy
Best Player: While four different players started at running back last season, including 13 starts by Jacob Hester at either tailback or fullback, Keiland Williams proved to be the Tigers' best back. Williams was second on the team with 436 yards on 76 carries, five TDs and 5.7 yards per game, but Williams averaged a team-high 48.4 yards per game and was the Tigers hottest back in the last quarter of the season.
Wildcard: RB Steven Ridley possesses the speed and brute strength to be a star immediately. Can he break through LSU's already crowded cabin on running backs?
Rising Star: RB Richard Murphy on a show during the spring, capped off by a sparkling performance in the spring game. Others say Murphy, a slashing type runner, is the best of the bunch.
Most Improved: After playing a big role in the offense in the first half of last season, Scott sort of faded down the stretch. The sophomore back showed major signs of life in the spring and should be a major factor this fall.
Top Newcomer: LSU did not sign a single running back in the 2007 class.
Top NFL Prospect: Considering the pounding a running back takes at the NFL level, Williams is most likely the top prospect. At 5-11, 223, this sophomore has the frame and speed to star at the pro level.
Extra Points: Richard Murphy red-shirted last season after arriving to camp late due to NCAA Clearinghouse issues… Jacob Hester is a distant cousin of NFL great Terry Bradshaw… Charles Scott was named Louisiana's Mr. Football following the 2005 season.
TIGER RAG LAGNIAPPE
Richard Murphy
Talk about bouncing back, Richard Murphy went down with a torn ACL at the end of junior year at Rayville High School. That season he rushed for an eye-popping 2,107 yards and 24 touchdowns. His senior season, Murphy came back to run for 1,559 yards and 22 touchdowns. His mark of 7,059 career rushing yards ranks sixth all-time in Louisiana prep history. Murphy was also the Class 2A state javelin champion in 2006.