In the first days of this Fall Camp, the coaches could be seen doing more teaching than actual coaching.
LSU
's assistant coaches spent the first few days talking to the younger players offering instruction.
Well, now the heat is on.
After getting the afternoon off yesterday, the Tigers were back in full pads again this morning for an 8:45 practice and will return to the practice fields this afternoon at the Charles McClendon Practice Facility for a 4:05 workout.
Several players were held out of yesterday's workout. Many of those players were again absent this morning.
Glenn Dorsey
missed his second straight practice with some sort of minor "leg thing" as
Les Miles
described it yesterday. Miles said it really was "nothing" and did not elaborate on if it was the same leg that slowed Dorsey through second half of last season.
Miles did confirm yesterday that
Jared Mitchell
is out with a bum shoulder and he remained out of commission this morning. He practiced on Tuesday in a green jersey but was a no show this morning for the second straight day.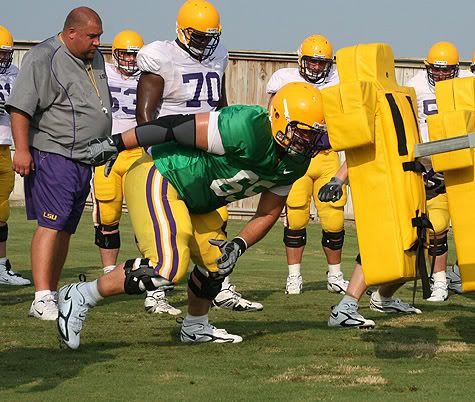 Lyle Hitt
was back today, but wearing green
If things couldn't get thinner on the offensive line,
Will Arnold
, who told Tiger Rag on Monday that he was playing at about 85-percent, missed Thursday morning's workout. Lyle Hitt, who was out yesterday, was back in action today, but was wearing a green jersey.
Others missing practice this morning were defensive end
Kirston Pittman
and cornerback
Chevis Jackson
. It was Jackson's second straight practice at which he was absent.
The debate raged on throughout yesterday evening on local radio talk shows about the status of
Ryan Perrilloux
. The argument didn't revolve around his suspension or if he will continue on with the team, rather how long will Les Miles keep him listed as the third string quarterback.
It is quite obvious that he is ahead of true freshmen
Jarrett Lee
in terms of talent and ability, but Miles demoted Perrilloux to third string after coming back from his two-month suspension from the team. It is apparent Miles wasn't going to allow Perrilloux to waltz back into camp as the No. 2 quarterback. It was a move designed to humble the quite-confident sophomore signal caller.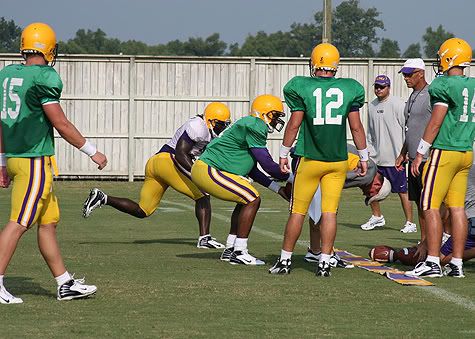 Ryan Perrilloux took most all of the second string snaps this morning. As you can see,
Matt Flynn
just finished his rep and Jarrett Lee (12) is waiting for his turn under center.
Miles was questioned on Wednesday afternoon about Perrilloux's status after he was observed taking some of the second string snaps during individual drills on Wednesday morning. It is merely speculation, but Perrilloux was observed taking most all of the second string snaps in this morning's workout, albeit during only the three periods in which the media was allowed to say.
It is very difficult to speculate on who is running with the ones and twos during the brief time in which the media is allowed to observe, especially since the press is not allowed to see any sort of "team" drills. However, in this opinion, Perrilloux is very much on his way back – if he isn't there already – to being the No. 2 quarterback behind Matt Flynn.
Terrance Toliver
continues to impress
We talked at length on Tuesday about how well Perrilloux is throwing the ball this Fall Camp and he displayed another impressive showing this morning. Again, his best throw was a deep route to true freshman Terrance Toliver. Toliver continues to show why he was the nation's No. 1 prep wide receiver a year ago as tabbed by Scout.com. He has tremendous pass-catching ability and commands a presence on the field. Expect him to play this year.
We told you yesterday about the travails of
Chris Mitchell
. His woes continued this morning as wide receiver coach DJ McCarthy rode the sophomore receiver hard again this morning. On more than one occasion Mitchell struggled catching the ball.
O-line coach Greg Studrawa
And speaking of riding someone hard, offensive line coach Greg Studrawa was all business this morning. True freshman offensive lineman
Josh Dworaczyk
felt the brunt of Studrawa's criticism. During sled drills, the o-line boss was most displeased with Dworaczyk's effort and made him do four straight reps on the sled. After he was finished, Studrawa then barked, "you keep that up and you'll be doing up-downs all day."
Moving over the defensive backs, where it isn't nearly as rough as in the trenches, coach
Doug Mallory
spent the majority of the three periods we observed working on different coverage packages, mostly nickel and dime.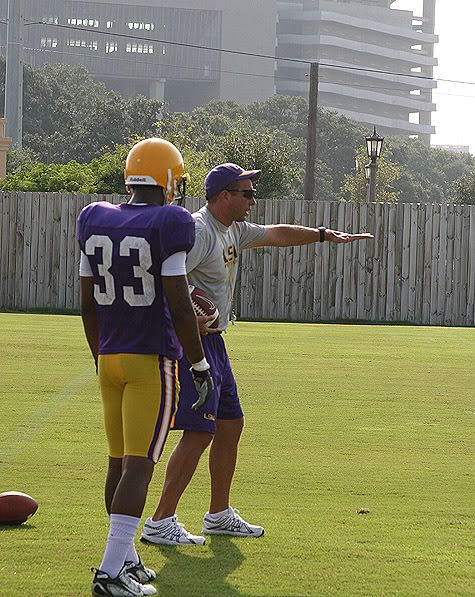 DBs coach Doug Mallory along with
Tyson Andrus
As usual, the starting backfield consisted of
Curtis Taylor
and
Craig Steltz
at the safeties and
Jonathan Zenon
at one corner. With Chevis Jackson absent,
Jai Eugene
moved up with the first string. When the second string took the field,
Harry Coleman
and
Stefoin Francois
lined up at the safety spots while
Ron Brooks
and Tyson Andrus were at the corners. Obviously, Andrus moved up to the second unit as Eugene went to No. 1.
Phelon Jones
and
Danny McCray
lined up at the nickel and dime back slots.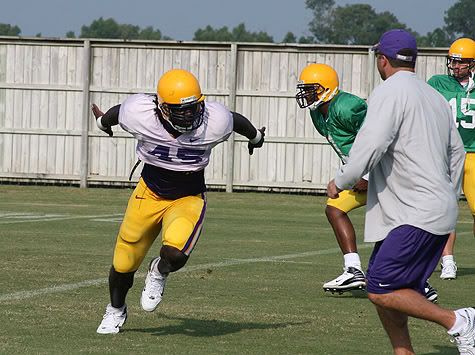 Quinn Johnson
The last stop was over with the running backs. The quarterbacks worked with the full and tailbacks on different style handoffs, but mostly the drill was designed to help the fullbacks with their blocking assignments.
Jacob Hester
and
Shawn Jordan
will split time as the starting fullback, but you can't help but be impressed with Quinn Johnson. The former linebacker is a manchild in the backfield. Too bad he won't ever get a chance to run the ball. He is a beast.
That's it for this morning. A photo gallery will be up soon and we'll have another practice report this afternoon.
All photos by Matt Deville