The team will go through only one practice today as they prepare for the first scrimmage of the 2007 Fall Camp, which will be held tomorrow afternoon in Tiger Stadium.
After several players missed yesterday's practices, most of them were back in action today.
Will Arnold
,
Chevis Jackson
and
Kirston Pittman
all returned to drills this morning.
Lyle Hitt
who was wearing a green jersey yesterday was back at full speed today.
Will Arnold was back today
Missing from today's workout was
Glenn Dorsey
,
Kentravis Aubrey
,
Richard Murphy
and
Jared Mitchell
. Dorsey seems to have strained a hamstring. He told Scott Rabalais from the Baton Rouge Advocate that the injury was very minor and had no correlation with his leg injury from a year ago. Rabalais told Tiger Rag this morning that Dorsey said if they had to play a game tomorrow, he would be able to play. He is being held out for precautionary reasons only.
On the field this morning, there was more news surrounding
Ryan Perrilloux
. He came out to workouts with his left knee shrouded in a wrap. He looked fine going through preliminary passing drills. However during the second period, he was seen limping away from the drill toward coach
Les Miles
and Jack Marucci. His chin strap was unbuckled and the sophomore signal caller was wincing noticeably.
Ryan Perrilloux tweaked a knee today
Miles asked what was wrong and Perrilloux was overheard saying something to the effect of "I can't get it worked out." Obviously he was talking about his knee as he was favoring it when he walked.
Perrilloux walking it off
After walking it off for a few minutes, Perrilloux returned to the area of the drill, but did not take part. During period three, he did step in and took some snaps during handoff drills with the running backs, but he never threw another pass while the media was inside.
While Perrilloux was sitting out,
Jarrett Lee
stepped up and started taking snaps. At one point, Perrilloux, who again was taking second string snaps today, stepped in to take snaps and kind of bumped Lee out of the way.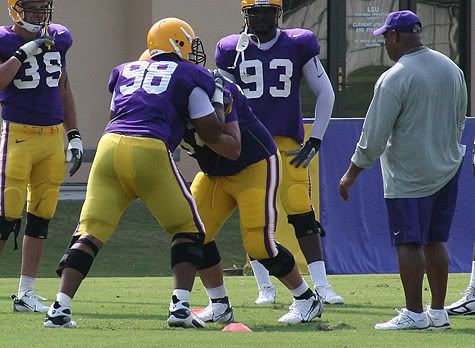 Today's D-Line drills
Moving over to the defensive line, we have talked about coach
Earl Lane
's defensive line drills. He had another interesting drill today in which the D-Lineman actually were holding onto each other as if an offensive lineman was grasping their jersey. Then they had to wrestle away from the other one. See above photo.
Tommy Hodson
The Tigers were paid a very special visit this morning when former
LSU
great quarterback Tommy Hodson showed up for today's workout. He was accompanied by another ex Tiger standout, LSU associate athletic director Verge Ausberry.
Stay tuned to TigerRag.com for a wrap-up of a noon press conference with les Miles. We fill you in on Perrilloux's knee situation then.