LSU
concluded its first week of 2007 Fall Camp and now prepare for the first scrimmage of two-a-days tomorrow in Tiger Stadium.
Miles said the Tigers will go through a dress rehearsal in the morning to prepare for tomorrow afternoon's first test. He added that the scrimmage will consist of 36 live snaps. However, he said there could be additional "thud-up" snaps following the live action.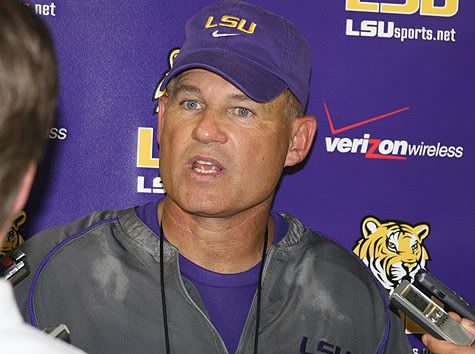 Several players have missed practices this week and Miles said he was still debating on who will be kept out of the scrimmage. He did say, however, that
Matt Flynn
wouldn't take part in the scrimmage.
"There is really no need," Miles said. "I already know what he can do."
Glenn Dorsey
has missed two days of practice with a sore hamstring. However, Miles said he hasn't determined whether or not he will be excluded from the workout.
He did say that
Will Arnold
, who missed some days as well, would be a part of the scrimmage. Miles said he wanted Arnold to experience "live snaps."
On the injury front,
Jared Mitchell
continues to miss practice with a bruised shoulder. Miles said again he couldn't believe that this injury has affected Mitchell this severely and added that Mitchell is beginning to fall behind.
On injury Miles did downplay was one to the left knee of
Ryan Perrilloux
. We saw Perrilloux limping off the field this morning, but Miles stressed that it is nothing but soreness steming from "a lot of practices."
Flynn experienced a bad case of "camp arm" last season, but Miles said there has been no signs of that in this Fall Camp session. Miles expounded on the fact saying Flynn has worked with offensive coordinator
Gary Crowton
and tweaked his mechanics to ensure no soreness this time around.
Click the links below to hear the interview in its entirety.