If that is the case, LSU should be setting the tone quite a bit in 2007.
The Tigers' defensive front would have had a great deal of talent returning without Dorsey, but when the 6-2, 299-pound tackle decided to pass on first-round money and return for his senior year, defensive coordinator Bo Pelini said it was a big boost.
"I thought he was the best D-tackle in the country last year," Pelini said. "I don't for see anybody passing him up the coming year."
Pelini added he was not too surprised Dorsey came back for one more year in purple and gold.
"I just don't think he felt it was the right time to go," Pelini said. "I think he wanted to come back for his senior year. He felt like he had some unfinished business."
Dorsey does not have all the much left to finish considering he finished third on the team in tackles and registered 8.5 tackles-for-loss and three sacks.
The competition to line up next to Dorsey will be a fierce one between some big-time players – and not just big in talent.
Two juniors, 6-3, 294-pound Charles Alexander and 6-1, 295-pound Marlon Favorite, are the top two contenders to play alongside Dorsey.
"Both played significant minutes and had good years for us and I expect bigger things from them," Pelini said.
Pelini also said former five-star prospect, sophomore Al Woods and his 6-4, 314-pound frame should see some playing time in 2007.
In his first year as a starter, defensive end Tyson Jackson did not disappoint following his Freshman All-SEC season in 2005.
The 6-5, 292-pound Jackson recorded 8.5 sacks in 2007 and is only getting better after receiving the Tony Caston Performance Award for outstanding defensive performance in spring drills.
Pelini said he believes in the junior end as well.
"We feel is as good a defensive end as there is in the country," Pelini said.
Jackson said he was pleased with his spring showing and added he is ready to be more of a leader in 2007.
"Starting off the spring I think I did pretty good," Jackson said after the Tigers Spring Game. "I still have some work to do this year to move up, but I think I did pretty well. Glenn Dorsey was out for the spring (with a leg injury) so I thought it was my role as a leader to step up and start making plays."
The Tigers did lose two-year starter Chase Pittman on the other end, but Pelini said he is confident sophomore Rahim Alem and senior Kirston Pittman can fill in.
"We have a lot of talent there," Pelini said. "We feel real good about the talent and the depth that we have up front."
The competition to play on the LSU defensive line could be felt at the annual LSU Spring Game.
Seven linemen notched sacks in the contest, not including the injured Dorsey, but one Tiger tried especially hard to claw into the starting lineup.
Junior Tremaine Johnson had three tackles for loss, including two sacks, for the White team in a losing effort.
- Keith Claverie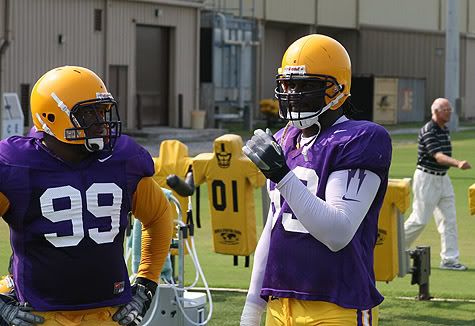 Marlon Favorite and Tyson Jackson
2007 DEFENSIVE LINE
39 Caleb Angelle DE 6-4 245 Sr. SQ Breaux Bridge, La. (Breaux Bridge HS)
47 Tremaine Johnson DE 6-2 273 Jr. 2L Galena Park, Texas (Galena Park HS)
49 Kirston Pittman DE 6-4 254 Sr. 2L Garyville, La. (East St. John HS)
69 Anthony Zehyoue DE 6-1 249 Sr. SQ Baton Rouge, La. (McKinley HS)
72 Glenn Dorsey DT 6-2 299 Sr. 3L Gonzales, La. (East Ascension HS)
75 Kentravis Aubrey DL 6-3 285 Fr. HS Bastrop, La. (Bastrop HS)
84 Rahim Alem DE 6-3 252 So. 1L New Orleans, La. (St. Augustine HS)
90 Ricky Jean-Francois DE 6-3 281 So. 1L Miami, Fla. (Carol City HS)
91 Charles Alexander DT 6-3 294 Jr. 1L Breaux Bridge, La. (Breaux Bridge HS)
92 Drake Nevis DL 6-1 285 Fr. HS Marrero, La. (John Ehret HS)
93 Tyson Jackson DE 6-5 292 Jr. 2L Edgard, La. (West St. John HS)
94 Will Blackwell DE 6-4 293 Fr. HS West Monroe, La. (West Monroe HS)
95 Lazarius Levingston DE 6-4 258 Fr. RS Ruston, La. (Ruston HS)
97 Al Woods DT 6-4 314 So. 1L Elton, La. (Elton HS)
98 Sidell Corley DE 6-4 270 Fr. HS Mobile, Ala. (McGill-Toolen HS)
99 Marlon Favorite DT 6-1 295 Jr. 2L Harvey, La. (West Jefferson HS)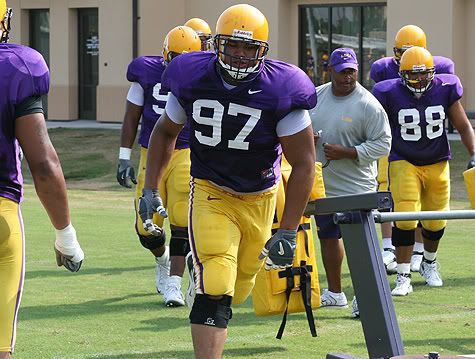 Al Woods
INSIDE THE HUDDLE
DEFENSIVE LINE
Returning Starters: DE Tyson Jackson, DT Glenn Dorsey, DT Marlon Favorite, DT Charles Alexander
Departed Starters: DE Chase Pittman
Projected New Starters: DE Rahim Alem
Best Player: If it hadn't been for a stress fracture in his left shin bone, Glenn Dorsey would have made it five first round draft picks for LSU from last season's team. But Dorsey is back and is a shoe-in for all-American. He is a consensus preseason all-American.
Wildcard: Kirston Pittman has spent the better part of the last three season nursing some type of injury. Things were looking up before an Achilles tendon injury last summer ended his 2006 season before it even began.
Rising Star: Al Woods reported late to fall camp last summer because of delays in the NCAA Clearinghouse, therefore the Elton, La. native got a late start. However, look for this manchild to be in the mix as a sophomore.
Most Improved: One has to think this is Woods as well. He has improved leaps and bounds since reporting to camp late last year.
Top Newcomer: Since Joseph Barksdale moved over to the offensive line, Sidell Corley is considere the top newcomer to this defensive front. The 6-4, 270-pound Mobile, Ala. native still won't likely see the field this year due to the depth of talent at this position.
Top NFL Prospect: This, like Doucet at wide receiver, is a no brainer. Dorsey would have been a top 15 pick following his junior year.
Extra Points:
Marlon Favorite is considered to be one of the best rappers on the field… Glenn Dorsey played the second half of last season with a fractured leg.
Rahim Alem
TIGER RAG LAGNIAPPE
Rahim Alem
True freshman free safety Chad Jones is expected to bypass professional baseball and arrive at LSU in August. When Jones, who was the No. 1 prep free safety in the country last year, gets to LSU, he will join brother Rahim Alem. It will be the first set of brothers to play on the same LSU team since Kevin and Craig Steltz teamed up in 2005.