Miles said the scrimmage consisted of 36 total plays, 18 ran by the first and second teams respectively. He added there were 20 thud snaps and special teams snaps as well.
Will, Arnold,
Richard Murphy
,
Jared Mitchell
and
Glenn Dorsey
did not take part in the scrimmage. He did say everyone should be back in action by Monday.
Temperatures were near 100 degrees in Baton Rouge Saturday afternoon and Miles said the workout was "taxing" and it "wasn't an easy day."
After saying on Friday
Matt Flynn
wouldn't likely play in the scrimmage, the senior quarterback did take part completing 5 of 9 passes for 97 yards and a touchdown.
Second team signal caller
Jarrett Lee
completed 4 of 6 passes for 60 yards and led the Tigers on what Miles called "a very nic two-minute drive."
Ryan Perrilloux
completed only 1 of 4 passes.
Miles said the Tigers didn't run the ball particularly well, but credited LSU's defense on "being a bit stingy."
Miles did say the star of the scrimmage was true freshman Steven Ridley, who led all rushers with 70 total yards.
The coach complimented rookie wideouts
Terrance Toliver
and
Demetrius Byrd
for making some nice grabs. He added they are in the thick of landing the third reciver spot. Miles did say the best four wide receivers at this time are
Early Doucet
, Brandon LaFell, Toliver and Byrd.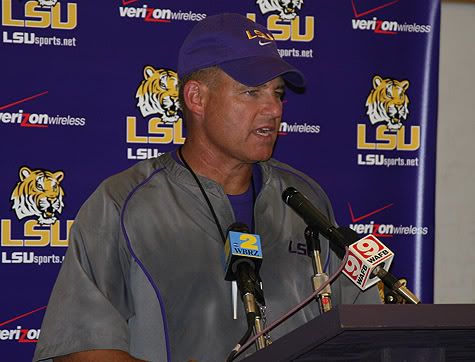 On the defensive side of the ball, Miles said
Kirston Pittman
stood out with three sacks. He did say Pittman easily got around some of the Tigers' freshmen offensive tackles.
"Those are true freshmen offensive linemen, in that stadium, going against that defense," Miles said. "I am not going to get on them too hard."
Miles said
Chad Jones
looked impressive on special teams and will gets lots of chances to play immediately.
The Tigers are off tomorrow as the annual Media/Fan Day activities are held in Tiger Stadium. Miles and Co. return to work Monday morning.
Click on the links below to hear Miles' comments in their entirety.