After taking Sunday off in honor of
LSU
's annual Media/Fan Day, the Tigers returned to the practice fields at the Charles McClendon Practice Facility bright and early Monday morning.
LSU coach
Les Miles
will put his team through two workouts today before the Tigers go through a light scrimmage tomorrow afternoon in Tiger Stadium. The final scrimmage of Fall Camp will be held on Saturday in the stadium as well LSU breaks camp on Sunday.
One of the major storylines of this Fall Camp has been so many different players missing drills due to injuries and fatigue. Two players who missed multiple workouts last week were back in action this morning as
Jared Mitchell
and
Glenn Dorsey
took part in this morning's practice.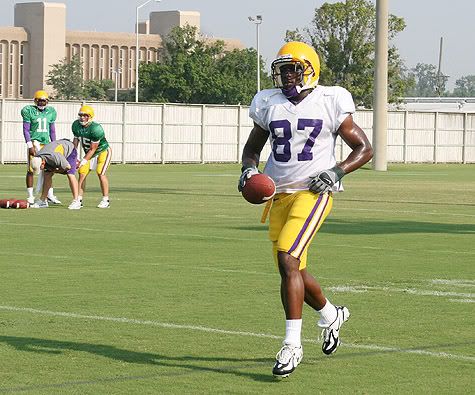 Jared Mitchell was in action today
Mitchell had been nursing a bruised shoulder, which at first didn't project to be much cause for concern. However, Mitchell had made just two practices prior to this morning's workout due to the injury which Miles described as surprisingly bothersome. Mitchell told TigerRag.com on Sunday that he would be back today and at full strength – and he was right. Mitchell was even without a green jersey.
Dorsey had been out with a strained hamstring, which he sustained last Thursday. He missed two straight workouts and was held out of Saturday's scrimmage. While the injury wasn't considered serious, he was held out for precautionary measures. This morning, however, he was back full speed.
Players missing from this morning's workout were wide receiver Brandon LaFell, offensive lineman
Will Arnold
as well as linebackers
Perry Riley
and
Jacob Cutrera
. Riley, unlike Cutrera, was seen at practice, but was wearing only a jersey and was seated on the sideline.
Both sustained injuries during Saturday's scrimmage. Riley is expected back soon, but Cutrera is nursing an injured shoulder and is expected to be out longer. Miles did say he should be back in time for preparations for the season openers at
Mississippi State
.
It is a bit of a mystery as to the whereabouts of LaFell, who seemed fine at Sunday's Media Day. There was one green jersey to report as sophomore linebacker
Ace Foyil
donned a green shirt.
As for general observations, for the first time so far this Fall Camp, we got a good look at some complete defensive line drills, where all four linemen were running together at the same time. In the past, it was mainly individual drills or D-ends and D-tackles working together exclusively.
Judging by this morning's drill, the first team defensive line (from left to right) consisted of DE
Tyson Jackson
, DT
Charles Alexander
, DT Glenn Dorsey and DE
Tremaine Johnson
.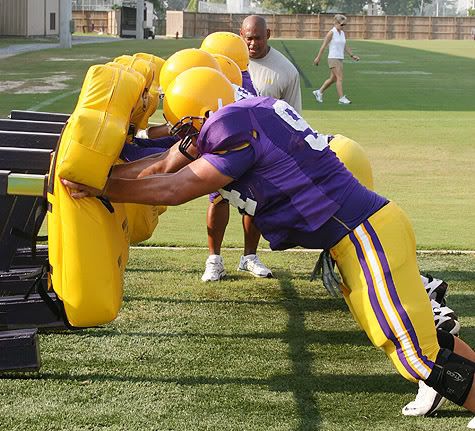 Will Blackwell
was running as the second team left defensive end
There was a bit of a surprise on the second unit as true freshman Will Blackwell lined up as the second string left defensive end. To his right, the rest of the line consisted of DT
Al Woods
, DT
Marlon Favorite
and DE
Rahim Alem
.
Moving over to the offensive side of the practice field, with LaFell out of the lineup this morning,
Terrance Toliver
was running in the No. 2 spot behind
Early Doucet
. Jared Mitchell was the No. 3 wideout followed by
Trindon Holliday
.
During handoff drills between quarterbacks and running backs, we got a good look at the first through fourth team packages.
Matt Flynn
led the first teamers handing off to
Jacob Hester
will
Keiland Williams
blocking out of a split back set.
Matt Flynn hands off to Jacob Hester with Keiland Williams leading the charge
The second team backfield consisted of
Ryan Perrilloux
handing off to
Richard Murphy
with
Shawn Jordan
lead blocking, also from the split backfield set.
The third team consisted of
Jarrett Lee
giving the ball to
Charles Scott
with
Quinn Johnson
blocking. And finally, the fourth team had quarterback Andrew Hatch giving the ball to Steven Ridley with Johnson again running as the fullback.