These middle men are the LSU linebacking corps. And they may be the fastest middle men in the country.
Led by senior Ali Highsmith, the starting Tiger linebackers all return and look better than ever.
"We got everybody back," defensive coordinator Bo Pelini said. "That's a tremendous thing for us."
The 6-1, 225-pound Highsmith may not be the biggest guy on the field, but he can pack a bunch.
After a tremendous highlight-filled sophomore campaign including 75 tackles, four sacks and three forced fumbles, the Miami native had a solid, but somewhat disappointing 2006 season with just 53 tackles.
Highsmith will again roam at the Buck Linebacker spot and if he can return to his 2005 form, the Tiger defense could be even more formidable.
Another senior will head up the Will Linebacker spot in Luke Sanders.
Sanders solidified his spot in the starting lineup in the third game of the season against Auburn recording eight tackles including six solos.
Sanders is by far the biggest of the three starting linebackers at 6-5, 235-pounds and is known around the weight room as a workout fanatic being able squat more than 500 pounds.
Sanders also excels in the classroom as a two-time member of the SEC Academic Honor Roll.
Junior Darry Beckwith will man the Mike Linebacker spot for the Tigers in 2007.
Beckwith, built more like Highsmith at 6-1, 232-pounds, had a stellar sophomore season finishing second on the team with 55 tackles, two sacks and an interception to boot.
Beckwith showed no signs of a drop-off in the annual Spring Game leading the White team with eight tackles.
All three starters played a fast-paced almost reckless style of football in 2006. Don't expect much to change in the 2007 campaign.
History shows that LSU linebackers pride themselves on their versatility – sophomore Jacob Cutrera is no exception.
Cutrera, who can play inside or outside linebacker, came to LSU as one of the top defensive prospects in Louisiana.
Cutrera, who racked up 17 tackles-for-loss, lead Acadiana High School to its first ever class 5A State Championship appearance two years ago.
The 6-4, 227-pound Cutrera enrolled at LSU early and has been working hard ever since recording 37 tackles in 2006 in just 11 games.
If any of the afore-mentioned starters needs a break, the Lafayette native will be there to step in.
Several other underclassmen will challenge the three starters for playing time all season long.
"Those freshmen are ready to come on and play significant minutes," Pellini said.
Those freshmen are the redshirted Derrick Odom and Kelvin Sheppard.
All four are likely to step-in at a moment's notice, but Pelini has a simple formula to see who gets the most playing time.
"It depends on who can be mature enough and show the work ethic," Pellini said. "You have to come in ready to roll to be able to show that you can play in this defense. Expectations are high."
Another new Tiger looking to make an impact somewhere on the defensive side of the field is West Monroe native Shomari Clemons.
Clemons is a rare talent with defensive back speed, but linebacker size. Surely, Pelini will find some place for the 6-2, 220-pound hybrid-defender.
Ali Highsmith
2007 LINEBACKERS
7 Ali Highsmith LB 6-1 225 Sr. 3L Miami, Fla. (Central HS)
11 Kelvin Sheppard LB 6-3 228 Fr. RS Stone Mountain, Ga. (Stephenson HS)
17 Shomari Clemons LB 6-2 220 Fr. HS West Monroe, La. (West Monroe HS)
35 Luke Sanders LB 6-5 235 Sr. 2L West Monroe, La. (West Monroe HS)
43 Lydell Smith LB 5-10 208 Fr. HS Shreveport, La. (Evangel HS)
48 Darry Beckwith LB 6-1 232 Jr. 2L Baton Rouge, La. (Parkview Baptist HS)
52 Ace Foyil LB 6-3 229 Jr. SQ Mandeville, La. (Mandeville HS/Tulane)
54 Jacob Cutrera LB 6-4 227 So. 1L Lafayette, La. (Acadiana HS)
56 Perry Riley LB 6-1 220 So. 1L Ellenwood, Ga. (Stephenson HS)
57 Derrick Odom LB 6-2 202 Fr. RS Jackson, Miss. (Callaway HS)
58 Jeremy Benton LB 6-1 227 Jr. SQ Monroe, La. (Quachita HS)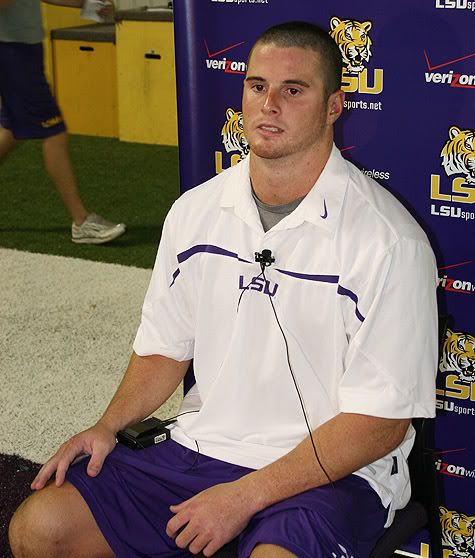 Luke Sanders
INSIDE THE HUDDLE
LINEBACKERS
Returning Starters: LB Ali Highsmith, LB Luke Sanders, LB Darry Beckwith
Departed Starters: n/a
Projected New Starters: n/a
Best Player: Some publications have Highsmith listed among all-American teams and rightly so. The senior linebacker has been among the leading tacklers in the SEC for the past few years. Highsmith also projects to be a first-day draft pick next season.
Wildcard: Shomari Clemons' arrival at LSU was delayed a year because of academics. The true freshman from West Monroe is listed as a linebacker, but he could spend some time at safety as well.
Rising Star: Jacob Cutrera enrolled early at LSU in the spring of 2006 and has showed dramatic improvement during his first year-plus at LSU. One of the larger backers for LSU, expect the 6-4 Cutrera to be LSU's next big-time linebacker.
Most Improved: Perry Riley drew praise from both Les Miles and defensive coordinator Bo Pelini in the spring. Riley, along with Cutrera, Kelvin Sheppard and Derrick Odom are the future of the LSU linebacking corps.
Top Newcomer: Other than the delayed arrival of Clemons, LSU did not sign a linebacker in the 2007 class of recruits. Clemons could play both linebacker and safety at LSU. Steven Ridley was said to be a linebacker prospect, but he projects to see the field at fullback.
Top NFL Prospect: Highsmith is the more heralded at the position, but Beckwith might be a better pro prospect. Beckwith is as physical a player as you are going to find and no one will deny he is the team's hardest hitter.
Extra Points: Ali Highsmith is the cousin of former Miami Hurricane and NFL veteran Alonzo Highsmith… Both Luke Sanders and Shomari Clemons each attended West Monroe High School, the same school as former LSU great Bradie James… Sanders' father, Casey, is the school's heralded strength coach.
TIGER RAG LAGNIAPPE
Darry Beckwith/Ali Highsmith
A year ago, one of the Tigers' biggest question marks was the lack of depth at linebacker. Now, the position is one of the team's biggest strengths. Beckwith and Highsmith combined to record 128 total tackles a year ago. Beckwith was second the team with 65 stops while Highsmith logged 63.