But last Sunday, we caught up with
Matt Flynn
at
LSU
Media Day and chatted with the Tigers' fifth-year senior quarterback. Here are some comments from Flynn as well as an audio interview TigerRag.com conducted with the Tyler, Texas native.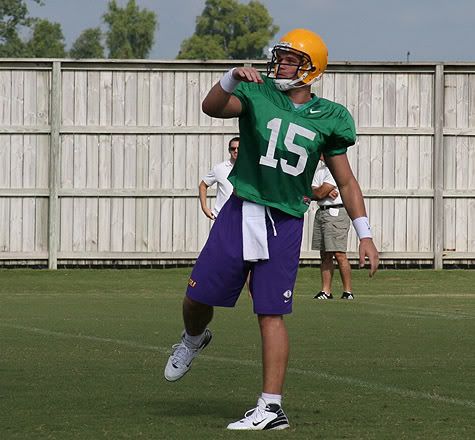 (Photo by Matt Deville)
On living up to the expectations of being the starting quarterback on the # 2 ranked team in preseason …
"I've been here for five years, and I feel like every year there are expectations, and I think every year expectations grow. So, you learn to deal with that and you learn how to play with it. You just can't focus on what people are saying. We as a team have to get together and come up with goals for ourselves.
"We know there are expectations, but we have expectations for ourselves. You just have to look past it, take it one day at a time, one game at a time. We think we have a special team this year, and we can do something very good and very special. If we keep working and stick together, we can accomplish it."
On his relationship with new offensive coordinator Gary Crowton …
"Me and Coach Crowton have developed a very close relationship. We've worked a lot together studying film. Just me and him sitting down and going over plays and reading defenses. He's taught me a lot about just the game in general, not just specific plays. We are getting on the same page and building some chemistry.
"I know what he's going to want before the play even starts. It's good that that's going to happen, that me and him can be on the same page. I think it's going to help the offense in general."
On Brandon LaFell, who he feels is the wide receiver who made the most improvements over the summer …
"At the end of spring, over the summer and through camp, he's come out. I'm telling you, he's going to be very good receiver. He's going to help this team, and he's going to be one of the key points of this offense."
On Early Doucet …
"I feel very confident with Early Doucet. It's obvious, if I need a big play or a big first down, I'm going to look to him first. There's no doubt about that. He's proven throughout the years that he can make big plays. I feel fortunate that I have him out there. It makes my job a little bit easier."
(Photo by Matt Deville)