LSU has developed a reputation as one the toughest and most aggressive defensive backfields in the country.
One big reason for that swagger was safety LaRon Landry.
For four years Landry patrolled the Tigers secondary making his presence felt.
With the All-American Landry and three-year starter Jessie Daniels gone, defensive coordinator Bo Pelini said LSU has the talent and experience to bounce back and remain one of the top defensive teams in the land.
"We feel like we have the talent there to make the replacement," Pelini said. "We have the guys in place to get everything done that we need to get done."
Filling in as strong safety will be senior Craig Steltz.
The 6-2, 204-pound Steltz has seen significant playing time in his four years in purple and gold and even tied for the team lead in interceptions in 2006 with four and finished seventh in tackles with 42.
"At the end of the year we felt like Craig Steltz was a third starter anyway," Pelini said. "We feel real good about the strong safety spot."
The experienced Steltz should take over the role of "Quarterback of the Defense" after being recognized with the Mike Miley Award in the spring for outstanding leadership on defense.
The honor of replacing Landry at free safety will belong to vastly improved junior Curtis Taylor from Franklinton.
The 6-3, 204-pound Taylor sat behind Landry for two seasons and learned his hard-hitting, versatile style.
Another possibility at safety is incoming freshman phenom Chad Jones.
The five-star prospect, Jones, comes to LSU as the No. 1-rated safety in the nation by Scout.com.
Jones is a big body at 6-3, 222-pounds and if he decides to go to LSU instead of playing professional baseball, he could see the field immediately and make fans forget about Landry sooner-than-later.
"We feel good about the guys who are stepping up to take (Landry's) place," Pelini said.
At cornerback, the Tigers return perhaps the best duo in the country in seniors Chevis Jackson and Jonathan Zenon.
Zenon burst onto the scene in his first season as a starter last year recording three interceptions (two returned for touchdowns) in the Tigers first two games.
Jackson, going into his third year as a starter, is a very physical player who racked up 46 tackles, 14 pass break-ups and two interceptions in his 2006 campaign.
A year ago, LSU got an extremely pleasant surprise when cornerback Jai Eugene chose to stay in-state over heading to the University of Michigan and the Big Ten.
Eugene redshirted in 2006, but Pelini said the Destrehan native is everything he is advertised to be and should develop into another top-notch Tiger defender.
"We have some inexperience as far as the backups are concerned, but Jai Eugene is a guy who's gonna be a heck of a football player in time," Pelini said.
Eugene and sophomores Chris Hawkins and safety Danny McCray are the top candidates for the nickel back spot in 2007.
Depending on whether Pelini wants a true corner in the spot or a more hard-hitting, physical-type player will decide who gets the job.
Either way, Pelini does not seem too worried.
"It's gonna take some time to see who's gonna step up to be that third corner and really the fourth corner, but I think that will all play out in time," Pelini said. "But the talent is there. The competition will be great and I think it will make us all better in the long-run."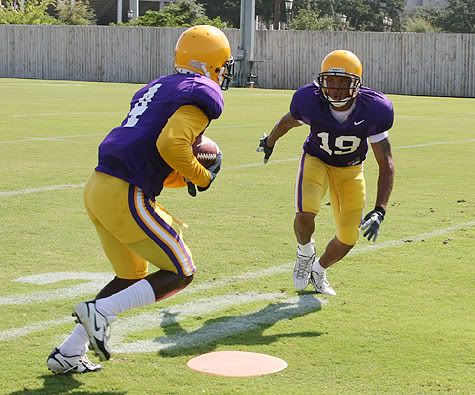 Jonathan Zenon (19)
2007 DEFENSIVE BACKS
3 Chad Jones S 6-3 222 Fr. HS Baton Rouge, La. (Southern Lab HS)
4 Jai Eugene CB 5-11 184 Fr. RS St. Rose, La. (Destrehan HS)
14 Ron Brooks DB 5-11 180 Fr. HS Irving, Texas (MacArthur HS)
16 Craig Steltz S 6-2 204 Sr. 2L New Orleans, La. (Archbishop Rummel HS)
19 Jonathan Zenon DB 6-0 176 Sr. 2L Breaux Bridge, La. (Breaux Bridge HS)
21 Chevis Jackson DB 6-0 190 Sr. 3L Mobile, Ala. (St. Paul's HS)
23 Stefoin Francois DB 6-1 200 Fr. HS Reserve, La. (East St. John HS)
24 Harry Coleman S 6-2 205 So. 1L Baldwin, La. (West St. Mary HS)
25 Phelon Jones DB 5-11 195 Fr. HS Mobile, Ala. (McGill-Toolen HS)
27 Curtis Taylor DB 6-3 204 Jr. 2L Franklinton, La. (Franklinton HS)
29 Chris Hawkins DB 6-1 181 So. 1L Walker, La. (Walker HS)
31 John Williams CB 5-11 175 Fr. HS Breaux Bridge, La. (Breaux Bridge HS)
33 Tyson Andrus DB 6-0 170 So. SQ Lafayette, La. (Northside HS/Ole Miss)
44 Danny McCray S 6-1 205 So. 1L Houston, Texas (Westfield HS)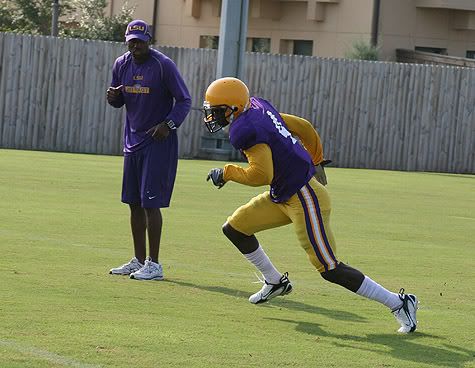 Jai Eugene
INSIDE THE HUDDLE
Defensive Backs
Returning Starters: CB Jonathan Zenon, CB Chevis Jackson
Departed Starters: FS LaRon Landry, SS Jessie Daniels
Projected New Starters: FS Curtis Taylor, SS Craig Steltz
Best Player: Jackson has will be entering his third season as a starter for LSU at cornerback. After a rocky start in 2005, Jackson grew into one of the SEC's best corners a year ago.
Wildcard: Jai Eugene's arrival at LSU was shrouded in controversy. After de-committing from Michigan, Eugene arrived in Tiger Town touted as an impact player. After a wrist injury slowed him during fall camp last August, Eugene red shirted. He is expected to factor into the mix this season at corner.
Rising Star: Sophomore Danny McCray took his lumps last season as a freshman. However, the extremely physical 6-1, 205-pound safety was impressive during spring drills and is now in the two-deep.
Most Improved: Taylor has some pretty big shoes to step into, but the junior free safety has patiently waited his turn and now is the time. Blessed with an impressive physique, the 6-3, 205-pound Taylor should fit in nicely in the void left by LaRon Landry.
Top Newcomer: Chad Jones was heralded as the nation's top safety last year coming out of Baton Rouge's Southern Lab School. The younger brother of Tiger defensive end Rahim Alem, Jones, a standout baseball player, was selected in the 13th round of the major League Baseball Draft by the Houston Astros.
Top NFL Prospect: With his speed and build, Taylor could be a monster in the NFL. Time will tell at LSU just how good he could be at the next level.
Extra Points: Taylor's younger brothers Brandon (CB) and Jhyryn Taylor (WR), both seniors at Franklinton High School, have already committed to LSU… Craig Steltz is listed as a new starter at safety. However, he started the Sugar Bowl last season in place of suspended Jessie Daniels.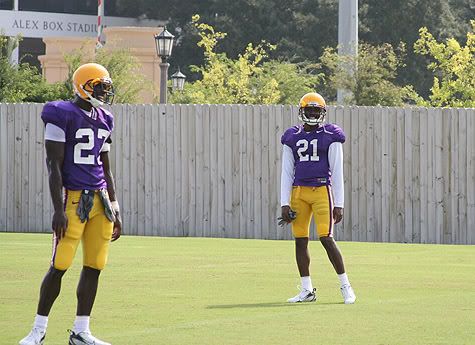 Chevis Jackson (21)
TIGER RAG LAGNIAPPE
Phelon Jones
It caused quite a stir when Mobile, Ala. native Phelon Jones spurned in-state offers from Nick Saban and Alabama choosing Les Miles and the Tigers over the Tide. Bama made a late pushed, but Jones declined an invitation to visit Tuscaloosa. A 6-0, 190-pound cornerback, Jones will play a big role next year when the Tigers lose three of four starters in the secondary.