As upbeat as
Les Miles
was following last Saturday's scrimmage, it was completely the opposite after Tuesday's drills as the Tigers' head coach was noticeably agitated when he addressed the media.
Miles said the scrimmage consisted of 100 snaps, including 32 snaps for the first team, 32 for the second team and roughly 25 special teams reps. However, unlike last Saturday, the scrimmage wasn't live and consisted of "thud" snaps.
Miles said the scrimmage "lacked the intensity" of a live workout and that the team wasn't nearly as sharp as they were last Saturday.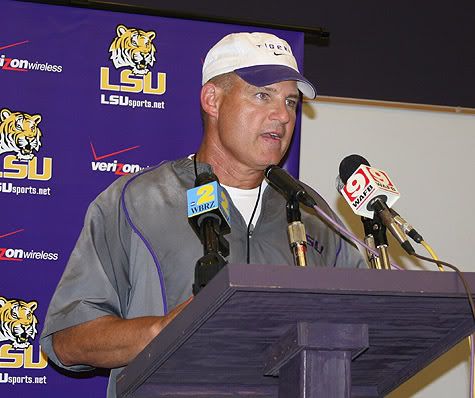 Miles said from an offensive standpoint
Matt Flynn
made some nice throws and that
Early Doucet
was sharp but that "they didn't get him the ball enough." The defense, he added played pretty well.
He indicated that "if we eliminate pre-snap penalties and hold onto the football, if we do those things, we can be pretty good on offense." This means, of course, the Tigers committed lots of penalties and fumbled the football too often in this scrimmage. No doubt these two things aggravate a coach the most.
Glenn Dorsey
returned to action and played the entire scrimmage after sitting out of practice at the end of last week with a strained hamstring. Miles did indicate
Will Arnold
took part in the scrimmage and saw action on 12 snaps.
"We wanted him to play only six snaps and he got 12," Miles said.
Arnold has said several times throughout camp that he has been uncomfortable playing on the right side of the line. Miles indicated Arnold played left tackle in the scrimmage today.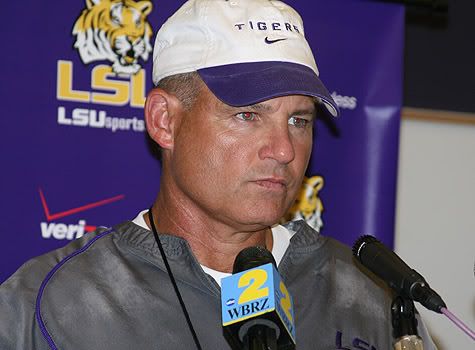 The heat was again a factor as temperatures exceeded the 100-degree mark. But Miles dismissed the heat as an excuse.
"If heat is the only deal, we are in good shape," Miles said. "But we are going to have to play an opponent in that heat."
Tight end
Richard Dickson
was held out of the scrimmage but Miles expected him to be back at practice tomorrow. Brandon LaFell missed Monday's practices because he was attending a funeral, but Miles indicated he would was back today.
He said
Terrance Toliver
and
Demetrius Byrd
struggled from "newcomer mistakes" on Tuesday, but he did not say their status as being among the team's top receivers had changed.
On a whole, Miles said "I don't know if we ran the ball or threw the ball better than the other. But the defense had a pretty good grip on us today."
He added, "this scrimmage probably meant less than last Saturday. It was basically to show which guys are getting it."
Click the links below to hear Miles comments in their entirety.
(Photos by Matt Deville)