You could tell that all these practices have been wearing on the team as they looked a bit sluggish this morning. In fact as we were walking out of practice, coach
Les Miles
jumped on five players for not hustling to their next drill and made all five of them run and touch the fence on the far side of the practice fields, and then run all the way back. The five guys will remain nameless, but none of them were players that are expected to contribute much this year.
Glenn Dorsey
and
Al Woods
were missing from this morning's workout, along with
Jacob Cutrera
,
Mark Snyder
, and Jordon Corbin.
Richard Dickson
was practicing in a green jersey again this morning.
Drake Nevis
lost his green jersey from yesterday and was back in the defensive purple jersey.
Chad Jones
worked out with the running backs this morning
When we first walked in to practice this morning an unfamiliar purple jersey was jogging towards us with the running backs. That purple jersey turned out to be Chad Jones. He started with the running backs this morning and went through their rope drills before moving back over to the defensive backs. It could have just been Jones messing around since he was only there for a short time, but with him already running with the starters in those nickel packages and what we've heard about him possibly returning kicks, would it really be that surprising to see him carry the ball a few times this year? Also,
Keiland Williams
still had the visor on his helmet today.
Charles Scott
The offensive line was once again doing sled drills for the majority of time we were at practice. However towards the end I did see them group together with the tight ends to work on different blocking schemes.
The defensive line was working on pass rushing drills again this morning. Their first drill worked on starting their pass rush and getting off the ball quick when it's snapped. Then they did another drill where four or five blocking dummies were lined up about five feet apart, and they had to weave through the dummies working on their rip moves.
The linebackers also did some interesting drills this morning. They started with the sled like every morning, but then they went to a drill working on breaking down before tackling a ball carrier in open space. They actually "thud" tackled each other in this drill, which is really the first contact we have seen all camp.
After this drill they worked on covering the running backs out of the backfield. Also it appears
Shomari Clemons
has officially moved to linebacker as he has been there the last few days. Some thought it may have just been because Riley and Cutrera were out, but Riley has been back the last two days, and Cutrera plays in the middle while Clemons is outside so they shouldn't have any effect on the other.
Ron Brooks
(14)
The defensive backs were again working on that nickel coverage drill this morning, except this time it was mostly the backups. On the right side Ron Brooks was the cornerback,
Danny McCray
was the safety, and
Jai Eugene
was the nickel. On the other side
Chris Hawkins
was the corner,
Harry Coleman
the safety, and Chad Jones the nickel. Later on in the drill Brooks and Eugene switched positions. What I found interesting about this drill was
Chevis Jackson
kneeling on the side watching Ron Brooks' on every play and giving him feedback or instruction after each rep.
It's always good to see the older guys putting in the extra effort to take young guys under their wing. Also, everyday I've been at practice this week coach
Bo Pelini
has been working strictly with the defensive backs. In fact he is the one throwing the ball during these nickel drills. I don't know if that's a sign that he's concerned with the play of the defensive backs, or maybe it's just that he feels completely comfortable with where the defensive line and linebackers are and doesn't feel he needs to watch over them as much.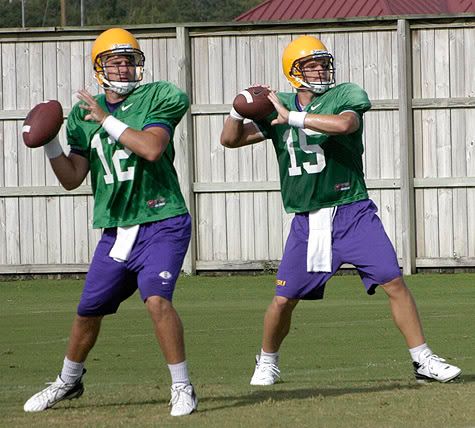 Matt Flynn
(15) shown here with
Jarrett Lee
(12) was back in action this morning
Matt Flynn was back in action this morning throwing passes like normal, so apparently the rumors about him getting two days of rest turned out to be true. He didn't appear to be suffering from any type of arm trouble as he still had the same velocity on his passes and was still accurate.
When I watched the wide receivers this morning they were working on different blocking drills out of trips receiver sets, so there's not really much to report there.
That's it for this morning's practice. Check back this evening for the afternoon practice report and also a recap of coach Miles' meeting with the media in preparation of tomorrow's scrimmage.