LSU 38, Mississippi State 0
STARKVILLE, Miss. – Turning to what little experience it has on offense as a guide and relying on its defense to keep its opponent at bay, LSU still managed to shut out Mississippi State, 38-0.
Senior running back Jacob Hester, given the start by LSU coach Les Miles because the Tigers season opener was on the road against a conference divisional opponent, didn't disappoint. On the first play from scrimmage, Hester lined up next to quarterback Matt Flynn in a shotgun formation, took a handoff, and rumbled through the heart of the Bulldogs defense 72 yards for a touchdown to put the Tigers ahead 7-0.
Following that one-play scoring drive, however, LSU's offense went stagnant for the remainder of the first half until Hester busted another long run. This time he covered 78 yards for his second touchdown of the night. In the interim, the Tigers defense contributed a 31-yard scoop-and-score, and Colt David hit a 29-yard field goal to help put LSU up 24-0 at the break.
Flynn finished the night hitting on just 4-of-11 passes for 56 yards with one touchdown and one interception, while Hester carried seven times for 161 yards and two scores.
Early Doucet hauled in two receptions for 42 yards and was joined in the receiving corps by Brandon LaFell and Terrance Toliver. LaFell and Toliver's only receptions went for touchdowns of 48 and six yards, respectively.
"You aren't going to beat many teams with 120 yards of total offense," Mississippi State coach Sylvester Croom said. "Turnovers always hurt, and the four we had really hurt us tonight."
Michael Henig completed 7-of-14 passes for 80 yards with no touchdowns and two interceptions to comprise the bulk of the Bulldogs' frail passing attack. Running back Anthony Dixon was limited to just 35 yards on 18 carries, and Tony Burks' four catches for 35 yards led Mississippi State's receivers.
On its second possession of the third quarter, LSU padded its lead with a four-play, 45-yard drive when Flynn hit Toliver at the goal line on a six-yard strike. That play was set up by a 35-yard pass to Doucet.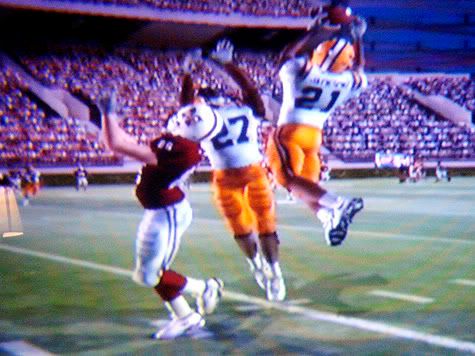 With a commanding lead, Miles sent in embattled LSU quarterback Ryan Perrilloux to run the offense for the remainder of the night, and he didn't disappoint. Perrilloux connected on his first and only two passes of the game, the second of which was a 48-yard strike to LaFell to extend the lead to 38-0.
In total, the Tigers outgained the Bulldogs on offense, 282-120, and won the turnover battle by two. Because of the two, one-play scoring drives by Hester, LSU held onto the ball a total of just 6:43, as compared to Mississippi State's 13:17.
How the ESPN/USA Today Coaches' Poll fared.
(1) USC 49 Idaho 13
(2) LSU 38 Mississippi St. 0
(3) Florida 63 Western Kentucky 6
(4) Texas 59 Arkansas State 7
(5) Michigan 56 Appalachian State 21
(6) West Virginia 45 Western Michigan 7
(7) Wisconsin 34 Washington State 14
(8) Oklahoma 53 North Texas 10
(9) Virginia Tech 49 East Carolina 0
(10) Ohio State 59 Youngstown State 7
(11) Louisville 59 Murray State 7
(12) California 24 (15) Tennessee 31
(13) Georgia 42 Oklahoma State 14
(14) Auburn 10 Kansas State 7
(15) Tennessee 31 (12) California 24
(16) Rutgers 49 Buffalo 3
(18) Penn State 31 Florida International 3
(19) Nebraska 31 Nevada 3
(20) Arkansas 49 Troy 3
(21) Florida State 49 Clemson 14
(23) Boise State 55 Weber State 7
(24) Hawaii 41 Northern Colorado 0
(25) Texas A&M 77 Montana State 3
How the SEC fared.
SEC EAST
(3) Florida 63 Western Kentucky 6
(13) Georgia 42 Oklahoma State 10
Kentucky 27 Eastern Kentucky 7
South Carolina 62 UL-Lafayette 7
(15) Tennessee 31 (12) California 24
Vanderbilt 52 Richmond 14
SEC WEST
Alabama 42 Western Carolina 7
(20) Arkansas 49 Troy 3
(14) Auburn 10 Kansas State 7
(2) LSU 38 Mississippi State 0
Mississippi 28 Memphis 25
Mississippi State 0 (2) LSU 38