After awhile, they stop hearing the horror story of how Gerry DiNardo brought back the magic and then made it disappear. After awhile, fans stop being grateful that double-digit wins every season is the norm. They expect championships.
Les Miles
has led
LSU
to back-to-back 11-win seasons and has two chances to make it three with the SEC Championship Game and a bowl game still looming. But the feeling of disappointment in Baton Rouge cannot be denied, and it will unlikely be quelled with a conference title. All that will do is put LSU in
New Orleans
one week earlier than they were supposed to be there, in all likelihood playing
Hawaii
in the Sugar Bowl instead of
Missouri
or
West Virginia
for the BCS National Championship.
A loss Saturday will mean the winningest senior class in LSU's history will have never won the SEC. A national championship is already off of the board, and now the SEC is the goal. A loss Saturday will throw the Tigers' bowl picture into complete turmoil, just as it will much of LSU's fan base.
The losses and near misses are becoming increasingly difficult for fans to swallow.
Don't expect them to simply look forward to 2008 if LSU falls to
Tennessee
Saturday. They'll likely be hoping that Miles' SEC tenure ends with the same opponent it began with in 2005.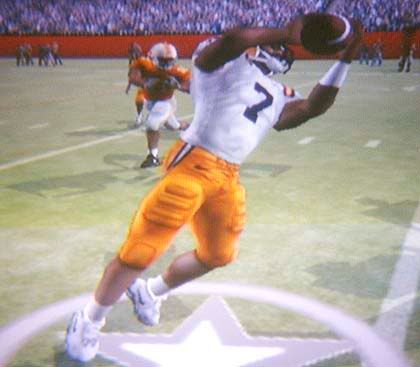 LSU 28, Tennessee 7
VIRTUAL ATLANTA – Virtual LSU wasted little time before jumping out ahead of Virtual Tennessee in the SEC Championship Game, scoring on two touchdown passes from
Matt Flynn
to Brandon LaFell en route to a 28-7 victory.
With a strong start, the Virtual Tigers seemed to leave little doubt that their seniors were not going to settle for ending their collegiate careers without at least one SEC Championship. By the midway point of the second quarter, Virtual LSU fans were already making plans to be in New Orleans for the Sugar Bowl.
"I can tell you this: I liked how we played on both sides of the ball out there today," Virtual LSU coach Les Miles said. "Group of guys who refused to stay down and came back with a lot of fight in them after last week."
Just four plays into the game, the Virtual Tigers got the scoring started when Flynn found LaFell behind the Virtual Volunteers defense on a streak pattern that went for 53 yards for a score just a little over a minute into the game. The pass capped a four-play, 73-yard drive.
Following a three-and-out, Virtual LSU took over on its own 46-yard line. Flynn relied heavily on tight end
Richard Dickson
to gain yardage, including on a third-and-10 when he hit him for 17 yards to keep the drive alive. After a sack that put the Tigers in a third-and-long situation, Flynn went to senior
Early Doucet
for a gain of 15 yards that gave LSU a first down at the Tennessee 13-yard line. Three plays later, Flynn hit LaFell on a curl in the end zone to finish off an 11-play, 54-yard drive that lasted 2:48 to extend the Tigers' advantage to 14-0.
Flynn would finish the day completing 13 of 20 passes for 184 yards and two touchdowns, but he had two interceptions as well. In relief after an injury to Flynn,
Ryan Perrilloux
completed his only pass attempt for a 50-yard touchdown.
Jacob Hester
led the Virtual Tigers' ground game with seven carries for 81 yards and a score, while LaFell led the receiving corps with four catches for 77 yards and two touchdowns. Dickson had four catches for 53 yards, Doucet added three for 40 yards, Hester had two receptions for 14 yards, and
Demetrius Byrd
contributed one catch for 50 yards and a score.
For Virtual Tennessee,
Erik Ainge
completed 11 of 18 passes for 207 yards and a touchdown but was intercepted four times.
Arian Foster
managed just 16 yards on the ground. Kenny O'Neal proved to be the real thorn in the Virtual Tigers' paw with six catches for 179 yards and a touchdown, but an injury knocked him out in the third quarter.
The Virtual Volunteers answered on their second possession of the game with a three-play, 83-yard drive that was capped on a third-and-seven when Ainge found O'Neal on an 80-yard pass that saw the Tennessee receiver beat
Chevis Jackson
down the field. But after stopping the Tigers, Ainge threw an interception. On their ensuing possession, LSU added another score.
Facing a third-and-six on that drive, Flynn rushed 11 yards for a first down but was knocked out of the game. Perrilloux stepped in and, although he was hit as he released the ball, connected with Byrd downfield for a 50-yard score to put the Tigers ahead, 21-7, with 1:28 to go before halftime.
After a three-and-out to start the second half, Virtual Tennessee appeared to be on a march to cut into the Tigers' lead when O'Neal got hurt. Four plays later, the Volunteers turned the ball over on downs when
Marlon Favorite
stopped Foster in the backfield on a fourth-and-one at the Tigers 37-yard line.
LSU would add its final score of the night two possessions later. Following an Ainge interception, Hester took a handoff on a counter to the left side and raced 61 yards for a score to all but assure the victory