NEW ORLEANS – After a month of anticipation, it's finally time to get the show on the road.
The LSU Tigers and Ohio State Buckeyes arrived in New Orleans Wednesday evening as both teams begin making final preparations for the BCS National Championship Game.
Kickoff is set for 8 p.m. ET on Jan. 7 in the Louisiana Superdome.
"I can tell you this, we're awfully happy to be here," said LSU coach Les Miles on Wednesday evening. "Everything we've done really since we've arrived was set to end us back here, New Orleans, on this day.
The Tigers made the short trek from Baton Rouge to the Big Easy after a week of practice. It is the second straight season and fourth time in the last seven years LSU will play its postseason bowl game in the Superdome.
The Tigers played in three Sugar Bowls facing Illinois in 2001, Oklahoma in 2003 and Notre Dame in 2006. The matchup with the Sooners was, like Monday's date with Ohio State, for the national title.
Miles made reference to the Tigers 41-14 thrashing of Notre Dame a year ago and said it was the ultimate goal for the team to return to the Crescent City for the BCS Championship Game this year.
"This football team certainly is thrilled to be back in New Orleans," Miles said. "We have a great affinity for the city. We understand how important it is to our school, certainly to our state. Of course, we've had some wonderful experiences here and look forward to participating fully in this championship series."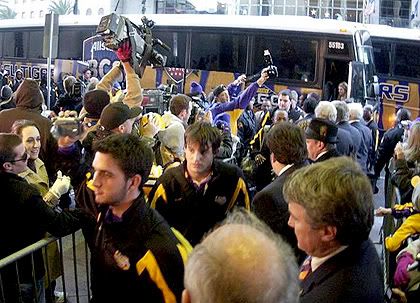 Tigers arrive in New Orleans on Tuesday evening. (SFranz/LSU)
It is the second time this season LSU has played within the confines of the Superdome. The Tigers defeated Tulane 34-9 back on Sept. 29. But as happy as Miles and the Tigers are to be back in New Orleans, the third year head coach isn't one to get to cozy with the apparent homefield advantage, playing just 60 miles from the LSU campus.
"I don't know that home field advantage affects outcomes of games, to be honest with you," Miles said. "I can tell you we will enjoy this venue. We did last time we were here. We enjoy going to lunch in this city. This will certainly be at home, much more comfortable than our opponent. I don't know that it actually affects the final score."
It is Ohio State's first appearance in the Sugar Bowl since beating Texas A&M 24-14 on Jan. 1, 1999. It was the second of consecutive trips to the Big Easy after the Buckeyes lost to Florida State on Jan. 1, 1998.
It is, however, Ohio State's second consecutive trip to the BCS National Championship Game and third appearance in the title tilt since 2002. A year ago, the Buckeyes ran into a buzz saw in the Florida Gators and went down in flames 41-14.
Needless to say, the Buckeyes are chomping at the bit a little bit to get back on the field.
"I'm sure they are," said Ohio State coach Jim Tressel of his team being back in the title game. "Knowing them, they are. We practiced on Monday morning. And then they were off yesterday. And they were chomping at the bit on Monday morning, because it's something about your football clock goes off in your head around January 1st. It's time to play and I know they're anxious to play."
Tressel's team will have been 51 days without playing a game since the Buckeyes 14-3 win over Michigan on Nov. 17. But Tressel talked about the excitement of being back in game preparation mode and how arriving in New Orleans got the adrenalin pumping.
"To feel the feel of New Orleans as we landed here and see how excited they are, and just finished a successful Sugar Bowl and they have a chance to host the title game and they're so excited about the progress that's been made and the people that have pitched in and made a difference in this community," Tressel said. "It's going to be great for our young people to experience this and see this, the city they've read so much about. And so we're excited to get to work."
As for his initial feelings about the opponent, Tressel complimented the Tigers for battling through a tough slate all the while dealing with a rash of injuries.
"The thing I love about them is they're tough," Tressel said. "They went through a season, a bunch of injuries, had a brutal schedule. They had some balls bounce the wrong way, taken into overtime. Playing without some of their best players at times and withstood all that.
"To me they have great toughness and great maturity. Because you can't do that without
both of those things. Now, they're very talented in every possession. Tremendous skills, tremendous ability to do a lot of different things."
And Miles, a native of Ohio and former Michigan Wolverine, gave his initial assessment of the Buckeyes and minced no words in saying how impressed he and his team are with Tressel's club.
"We've watched them," Miles said. "We understand the abilities that they have. They have number one ranked defense in the country. Maybe the best linebacker in college
football. Tremendously capable front. Very fast physical secondary. Their offense, again, maybe the best offensive line in college football, and a great tail back, quarterback that makes few mistakes, very tall, long-armed guy, quality receiving group.
"There is no weakness to this Ohio State team. I compliment Jim Tressel, during his seven years there, averaging 10 wins, it's a tremendous accomplishment. Of course, this team is 11-1.
"This team played in this very game a year ago. Very talented team. Certainly they are the number one team in the country."
Both the Tigers and Buckeyes will participate in team workouts on Thursday morning. Ohio State will use the facilities at Tulane University while the Tigers will operate in the Louisiana Superdome.