Miles' hat draws a lot of attention. People like to joke he wears a high hat. Some call him the "Mad Hatter" referencing his gutsy calls on the gridiron. Others merely refer to him as "The Hat."
Considering
LSU
is facing
Ohio State
for the national championship, one popular slogan has arisen calling the game "The Hat vs. The Vest," talking about Buckeye coach Jim Tressel and his trademark vest.
Miles talked about his hat and said he wears it to work everyday.
"I gotta be real honest with you," Miles said. "My father was an old baseball coach in youth sports, and I started wearing caps with him. And I was a baseball player growing up, back when there was always a nice superstructure to the front part of the hat, if you recall. Kind of vertical."
Miles, who tends to sway toward old-school coaching from his Big Ten roots, said some of the older coaches wore the high hat as well.
"A lot of coaches wore hats that way," Miles said. "If you look at the old pictures of Charlie McClendon and Schembechler and Bill McCartney, if you look at a lot of pictures, you can see that the hats really have changed. And have come down a little flatter in the front. It's kind of important to me that there's just a little high-rise on the front end of that hat. So my hats aren't as old by design as some, but I like a traditional cap, if you don't mind."
Miles did say he chooses to take the hat off from time to time.
"It doesn't stay on my head all the time," Miles said. "I put it in the locker occasionally."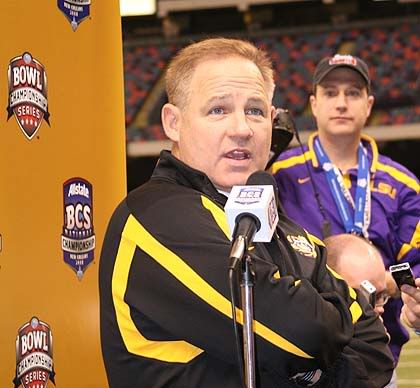 Miles admitted he wasn't all that aware of how much fun people have with the hat. He was playfully agitated as the media continued pressing about his headwear.
"I'm not aware of how much fun people have with the hat," Miles said. "See, like, turn around. See, he's got a hat that fits right on his head. Okay, to me that is a hat that you wear when you're working construction, right? You don't want to get it caught in anything and you keep it pulled down. And it keeps you clean, all the dust, flies. It's kind of a cap that covers your head. There's nothing dressy about that cap. That thing is just something you put on your head."
And why wasn't he wearing it on Saturday?
"Because I'm not coaching," Miles said. "I only wear it when I'm coaching. I don't go home and put my father's cap-- okay, give me the father cap. Put the father cap on. Occasionally when I've not gotten a shower I put a cap on (laughter). But honest to Pete, when I got into coaching, however long I've been a head coach, I've been wearing a hat. This is really the first time anybody's noticed."
But you can bet come game time in the Superdome on Monday, Miles will be sporting the highest of hats. "Yeah," Miles said. "It's what you do. Isn't there a lot of guys that wear caps? I watch guys every day who wear caps. It's exactly right. It's kind of a work issue, you know."
And as for Tressel's vest?
"Well, I suspect the vest keeps him warmer than the hat," Miles joked. "But just kind of game-day regiment and something that you're used to. Certainly I'll wear it (his hat) Monday night."