The hype surrounding the BCS National Championship game is suffocating, especially for the players and coaches in New Orleans. There are signs on every street corner. It's all over the television, radio and Internet.
There are people all over the place, in hotels, on the streets, in bars and restaurants and all they can talk about is the game. Both the
LSU
Tigers and
Ohio State
Buckeyes have been in the Crescent City since last Wednesday and all they have talked about is the game.
One press conference after another, sometimes more than one a day, the coaches and players have fielded question upon question from every media outlet and sportswriter possible. LSU quarterback
Matt Flynn
had a distant look in his eyes Saturday as reporters continued the long and painful question and answer session.
Ohio State quarterback
Todd Boeckman
and all-American linebacker
James Laurinaitis
were late for the Buckeyes portion of media day. Athletic department officials said they were detained and would arrive soon – and they did. Who was to know what was keeping them? It's likely they were postponing the scrutinizing yet mundane questions they had been asked for days upon end as long as possible.
And who could blame them? They aren't movie stars or politicians, they're football players. And football players play football.
It's been 36 days for the Tigers; 50 for the Buckeyes since they last played a football game. Ohio State's last outing was a 14-3 win over rival
Michigan
way back on Nov. 17. LSU punched its' ticket for the title game with a 21-14 win over
Tennessee
in the SEC Championship Game back on Dec. 1.
It's been a long time since these players beat on someone other than their teammates. Cabin fever and super-saturation of hype has to be setting in.
"Pent up," said LSU coach
Les Miles
in Sunday afternoon's final pregame press conference. "Trapped. Held Hostage. The coaching staff keeps looking at the calendar, are we playing today, are we playing today? Our team is ready to play."
After five weeks of buildup, the time has finally come for the No. 1 ranked Ohio State Buckeyes and the second-ranked Tigers of LSU to do battle for all the marbles. The teams will meet Monday night at 7 p.m. in the Louisiana Superdome in the BCS National Championship Game to determine college football's top dog.
"I couldn't think of a better way to end the college season than 1 playing 2 for the right to be 1," Miles said.
Miles and Ohio State coach Jim Tressel met with the media one final time Sunday at the Marriot Hotel and Convention Center for the last round of questioning about Monday's game. While many questions leading up to Sunday were more feature oriented and friendly, Sunday's press gathering had a more businesslike feel as LSU's third-year coach had on his game face.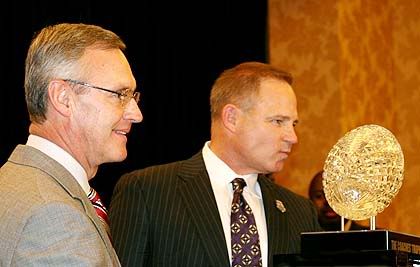 (Beth Bonner)
Before Miles dove into the heart of Monday's game, he commented on the amount of media exposure and the many different storylines developed by the media leading up to this game.
"It was really interesting, the media that surrounds this game," Miles said. "The number of stories that came out that reflected on our team and the efforts that the media went through, in my opinion, to get different quality stories, you know, surely added some color to the game. So I'd like to say thanks there. Of course, anything that you do in covering me, if you'd minimize that, I'd appreciate (laughter)."
Dispensing the pleasantries, Miles talked about how his team is healthy, rested and ready to play football again after what many would consider a roller coaster of a season for the LSU Tigers.
"And this team went through some highs and lows in the season," Miles said. "A lot of drama. A lot of injury. There were certainly issues. And they just kept finding a way to win, just kept finding a way to overcome hurdles and obstacles and feel very fortunate to be in this game."
Miles did address LSU's injury situation, which mainly surrounded players like quarterback Matt Flynn, defensive tackle
Glenn Dorsey
and running back
Keiland Williams
. He reported the Tigers will be playing at 100-percent on Monday, something that hasn't been the case since the second week of the season.
"I think you'll find that all the key participants of our football team are healthier than they've ever been and look forward to playing long and hard," Miles said.
Getting ready to close out his third season as head coach o the Tigers, Miles will be looking for his 34th win, as well as his third straight bowl victory. Under Miles, LSU has put together a very impressive postseason résumé the past two seasons in trouncing Miami 40-3 in 2005 and dispensing of
Notre Dame
41-14 in the Sugar Bowl a year ago. He said just because the game is for the national championship, the preparation will not change for any other game they have played at any other time.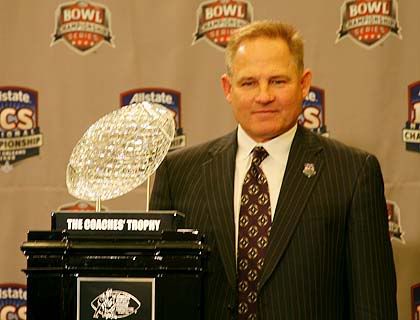 (Beth Bonner)
"I think the level of concentration, the focus, certainly is the one piece that we'll probably pick up, probably raise," Miles said. "But we've won 11 games with our schedule. And that schedule hasn't changed. And we're going to approach this game just like we've approached all the games that we've played. And we can't play football any differently because there's some kind of a magic name at the back end of it. You've just got to play it the way you play it. And we're going to worry about the ending after we get to that."
Almost like an if it's not broken, don't fix it mentality.
"If there was something that needed to be fixed, we'd be out there fixing it right now," Miles said. "We're going to approach this game and play this game like it's meant to be played, like we've played it in every game thus far."
As Miles sat and talked with the media, the BCS National Championship Trophy rested on the podium just a few feet away. Miles was asked about his life in football, after a long career, many coaching stops and a lot of hard work, what it would be like to hoist that trophy into the air Monday night.
"It would be tremendous," Miles said. "And it's not something that I want to focus on at this point, because, frankly, I'm focused on other issues right now. But certainly I'm respectful of that opportunity and I'd enjoy every second of the ability to hold that trophy up high."