In front 10,841 fans, the sixth largest crowd in school history, the
LSU
women bested the Lady Commodores in their SEC home opener.
The teams fought to a 41-41 draw in the second half. Those offensive fireworks were a far cry from the first 20 minutes.
The Lady Tigers jumped all over
Vanderbilt
early – starting off the game with an 18-2 run that had it looking like a possible blowout in the first eight minutes.
No. 11 LSU (13-3 2-0 SEC) cooled down drastically after the quick start though – making only one field goal in the last 10:03 of the first half of play. Luckily for the Lady Tigers, Vanderbilt could only must up ten first half points.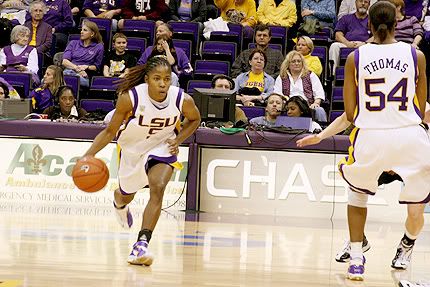 Erica White (Matt Reynolds)
"I thought we found a way to win," said LSU coach Van Chancellor. "We have been talking about two things, development and killer instinct. I thought today at one time we were going to have that killer instinct but that didn't come through. But we found a way to win and to get it done."
Through the Lady Tigers mid-first half drought, LSU uncharacteristically had five turnovers – a statistic they usually dominate their opponents in.
"That is the most frustrating part about coaching this team," Chancellor said. "It's a great team that does everything right, but you just don't know when those stretches are going to come. We had them 18-2, we get to the free throw line more than they do, we dominate them on the boards and in that stretch when we were up 18-2 and we turned the ball over like that. It was very unlike this team to turn the ball over like that."
The second half was a totally different story for both squads.
Vanderbilt – who shot a brutal 15.4 percent in the first half – turned it completely around in the last 20 minutes with a 66.7 percentage from the field.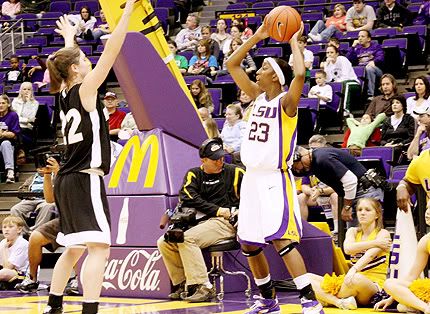 Allison Hightower (MattReynolds)
The Lady Tigers stayed steady, shooting 8 for 20 from the field in the first half and 12-25 in the second for a 44.4 field goal percentage for the game.
LSU was led by their All-American center
Sylvia Fowles
who punished No. 20 Vanderbilt (12-5 1-1 SEC) for 18 points and 11 rebounds while going 7 of 10 from the field all while being triple and even quadruple covered at some times during the game.
"If you ask me I think we got off to a good start, but me personally I think I got off to a bad start," Fowles said. "It was uncharacteristic of me to just throw the ball away when I was getting triple teamed early. I had to slow down and just let the game come to me and then everything worked out. Everyone was focused and we did what we had to do and what the coaches asked of us."
The Lady Tigers senior forward Ashley Thomas had eight points and eight rebounds – six of the boards on the offensive end. LSU outrebounded Vandy 37-25 in the contest.
"I thought tonight, offensive rebounding won the game for us," Chancellor said. "It's something we don't do particularly well in. I don't usually insist on certain players coming to the post game press conference, but I insisted on Ashley (Thomas). I thought her offensive rebounding when we were struggling and we were up five late in the game helped us hold on for the victory. I think Ashley Thomas is the unsung hero of our basketball team. She does more little things that don't show up on the stat sheet that help us out."
Afterwards Chancellor agreed that playing at home in front of a crowd of 10,841 was an extra spark that fueled the Lady Tigers second half performance.
"I though tonight I almost didn't recognize where our dressing room was today since we have been on the road so much lately," Chancellor said. "We came in today and the crowd and these kids here was like the energizer bunny for us. I think that really helped us at the end of the game."