Despite near-freezing temperatures over the weekend, almost 25,000 fans filed into a cloud covered Death Valley to bid one final adieu to the 2007
LSU
football team, the coaching staff and all that made a run to the national possible.
It was the second celebration of its kind in the last half decade as the Tigers are the only program to own two BCS National Championships.
It was an interesting gathering of personalities on Saturday that were assembled to pay tribute to coach
Les Miles
and his team's run to an improbable championship. While there was a common bond linking everyone in attendance together, there were many subplots intermingled into this celebratory convocation.
First and foremost, there were the players.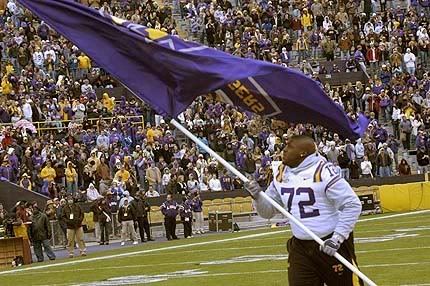 The last time this team was in Tiger Stadium, spirits were hardly as high as LSU thought its national championship aspirations had been dashed with a 50-48, triple overtime loss to
Arkansas
.
But on this day, there wasn't a sad face to be found. Players and coaches alike were all wearing wide grins as they were cheered on by the adoring masses.
One by one, the Tigers took the field, the seniors for the final time. Miles and his family, the first family of LSU, then emerged from the north end zone tunnel waving to the crowd as if English royalty.
Four of the team's most visible seniors joined Miles onstage to receive four national championship trophies.
Glenn Dorsey
, whose own hardware was on display, joined fellow seniors
Matt Flynn
,
Craig Steltz
and
Patrick Fisher
as they, along with Miles, hoisted the spoils of victory.
Flynn and Steltz both skipped the East-West Shrine Game to attend the celebration. The team's offensive MVP, running back
Jacob Hester
, wasn't able to make it. He was in Arizona training for the upcoming NFL Draft. Flynn did point out during his remarks that Hester called and wished he could be there.
Miles delivered a moving address to his team and fans, further solidifying the end of the
Nick Saban
debate. It seems so "old news" now to bring up LSU's former coach, especially since Miles has delivered the sport's top prize to Tiger Town.
Miles has proven his worth at LSU in the form of on the field success as well as loyalty. His spurning of his alma mater to remain in Baton Rouge shows his commitment to the university.
In a post-celebration interview with Jordy Hultberg, Miles further expressed his feelings about the team, what they accomplished in 2007 and the future beyond. There are still people who want to question Miles' coaching ability compared to that of his predecessor. But what Miles brings to the table is much, much more than Saban could have offered in the grand scheme of things.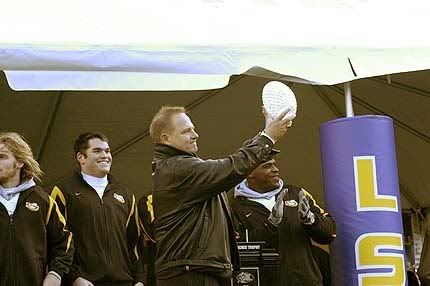 As far as pure coaching, maybe Saban does get the tip of the cap in some aspects. But Miles has proven to be a better leader overall. After displaying incomparable leadership during Hurricane Katrina and its aftermath, Miles has proven in his three plus years now as head coach to be a great motivator, judge of talent in selecting assistant coaches, a tireless and quality recruiter and an upstanding father and husband.
Miles is the complete package.
Getting back on the topic of Saturday's celebration, Saban was the only one of LSU's three championship coaches to be missing from the party. An 83-year-old Paul Dietzel joined Miles onstage in receiving a commemorative Jack Jaubert painting depicting the 2007 national champion Tigers.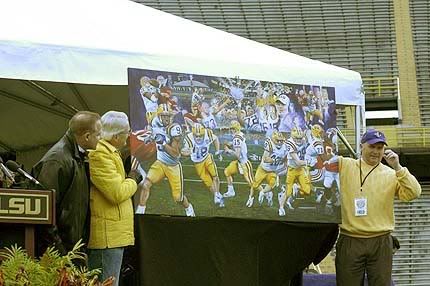 It would have been a nice touch to have Saban there to pose for a picture along side Miles and Dietzel. It's a rare occurrence to have a school with three national titles won by three different coaches separated by a half-century and be able to assemble them together.
But since Saban is the coach at
Alabama
, a picture of Miles and Dietzel would do.
Aside from the pageantry of Saturday's celebration, there was the political angle.
Anything in Louisiana is going to be shadowed by a political slant and a BCS Championship Celebration was no different.
Having been inaugurated just five days earlier, Louisiana's new governor Bobby Jindal was on hand to commend the Tigers on a job well done. The youngest governor in America, the 36-year-old Baton Rouge product capped off his first week in office with a bang.
Mayor Kip Holden delivered one of the celebration's most memorable lines. The wildly-popular and quick-witted Holden, who is Baton Rouge's first African-American mayor, said, referring to Saturday's bitterly-cold temperatures, "I went from a soul brother to a cold brother, to a fudgesicle."
Holden's comments brought thunderous laughter. The levity soon turned to tension when Chancellor Sean O'Keefe was introduced at the podium. You could feel the awkwardness in the stadium when O'Keefe stepped center stage. O'Keefe resigned last week under intense pressure from new LSU president John Lombardi.
The reception was a surprising one, even to O'Keefe. The crowd tossed aside their blankets and sprung to its collective feet offering O'Keefe a minute-long standing ovation.
Minutes later, outgoing athletic director Skip Bertman took the podium to smattering of applause and a chorus of boos. The fans' reaction was prompted by LSU's recent announcement that ticket prices would be raised incrementally over the next three years.
Above all of the hoopla on Saturday, Ron Higgins, a sports writer from the Memphis Commercial Appeal and president of the Football Writer's Association, stole the show.
A Baton Rouge native, an LSU alum and son of former LSU sports information director Ace Higgins, the veteran sports writer delivered the most entertaining address of the afternoon.
Stepping to podium, Higgins said "there's more people here than a
Tulane
home game."
He then detailed LSU's march to the national title, the Tigers reaching the pinnacle in a college football season that defied all logic. And he addressed the arguments offered by both
Georgia
and Southern California and how these schools contend they deserve a piece of the national championship.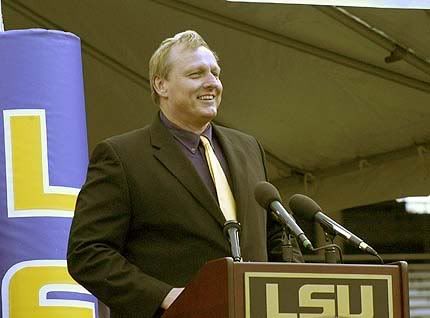 Higgins defined the difference between "good teams" and "great teams." Higgins said, "great teams don't lose to
Stanford
!"
The crowd roared as Higgins then added, "great teams at least win their own division in the conference!"
He then took a shot at "that Big Ten-loving Kirk Herbstreit" about the entire Miles to
Michigan
fiasco. Higgins said "Les Miles proved that a nice guy could win a national championship."
And that "Les Miles didn't have to go to Michigan to beat
Ohio State
. All he had to do was hop a bus to New Orleans."
Talk about objectivity in the media!
But for Higgins and the rest of the LSU faithful on Saturday, it was all about the Tigers.
---
Matt Deville is the editor of Tiger Rag. Reach him at matt@tigerrag.com.