The Tigers have lost seven games in a row, nine of their last 11, have opened SEC play with an 0-4 start and haven't won a game since a 67-61 victory over
Oregon State
on Dec. 29.
LSU
plays
Arkansas
at home Saturday night in hopes of breaking the current slide. The Tigers are in the midst of their worst losing streak since the 2001 season when LSU dropped nine in a row from Jan. 27 to Feb. 24.
The longest losing streaks the Tigers have endured in the last six seasons were six-game slides in 2002 and a year ago. LSU lost six straight games last season from Jan. 20 through Feb. 6. That streak began with a 72-52 loss at Arkansas.
Ironically, LSU beat the Razorbacks on Feb. 10 71-67 in Baton Rouge. Maybe LSU can change its luck.
The heat continues to rise on coach John Brady. Brady endured losing streaks in three straight seasons losing six in a row in 2002, five in a row in 2003 and four in a row in 2004. But he always managed to rebound late in the season and do enough to make the postseason and secure his job for another season.
When the Tigers won back-to-back SEC Western Division titles in 2005 and 2006 and captured the league title as well in 06 before finally reaching the Final Four, many felt Brady had done enough to insure his position in Baton Rouge.
But with last year's meltdown and this season's plummet to the bowels of the SEC West, Brady might be in trouble.
Does he have enough in the tank to rally for a late conference push to buy another year in the capital city? With injuries and attrition decimating the LSU roster, presently it appears Brady might not survive 2007.
LSU athletic director Skip Bertman gave Brady the kiss of death. After the LSU Board of Supervisors meeting last Thursday, Bertman said he still believes in the embattled basketball coach.
"I have a vote of confidence for Coach John Brady," Bertman said. "These things are normally looked at the end of the season, but I feel for John with all the injuries he's had and the academic casualty. It's hard to compete in the SEC when you lose players."
The fans aren't buying it though. You knew it was coming, but
www.FireJohnBrady.net
is up and running.
All speculation as to Brady's future aside, if the Tigers are to make some sort of run, they must look to a depleted lineup for production. In this stock report, we evaluate each player at this point in the season.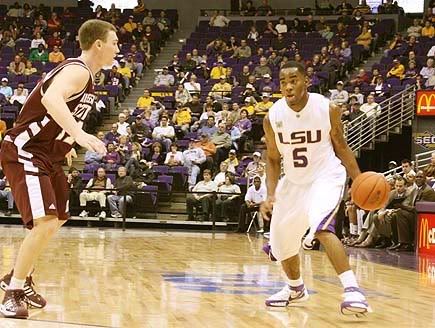 Marcus Thornton
Marcus Thornton
– [STOCK IS UP] When Thornton arrived in Baton Rouge, everyone knew he could score the ball. Through 18 games, all of which he has started; Thornton has scored 18.7 points, shooting 41.2-percent from the floor. He put up a season-high 27 points in a recent blowout loss at
Vanderbilt
. Despite the team's finish this season, Thornton could be in the running for an all-SEC nod.
Anthony Randolph
– [STOCK IS DOWN] The five-star prospect was expected to come in and be a major contributor for Brady's Tigers. Randolph is averaging 13.8 points per game and 8.6 rebounds, but teams are taking advantage of his size on the defensive end of the floor. Randolph plays soft inside and the meat of the SEC schedule could get to him. There are also rumors that he is growing more and more unhappy.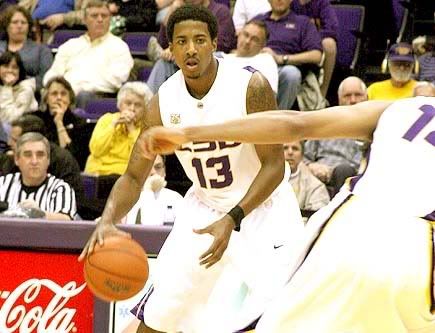 Terry Martin
Terry Martin
– [STOCK IS DOWN] Martin was expected to arrive at LSU a year ago and give the Tigers a deadly outside threat. Martin's play has been sporadic at best with an 8.9 point per average. He has taken 175 shots on the season making only 62, for an average of 35.4 percent. Against Vanderbilt, Martin took only five shots and scored seven points in 20 minutes of play.
Dameon Mason
– [STOCK HAS PLUMMETED] Mason was ruled academically ineligible two weekends ago. Fifth-year senior transfers have to maintain a certain grade point average in their final semester of eligibility. Mason missed the mark by a few hundredths of a point.
Garrett Temple
Garrett Temple
– [STOCK IS STEADY] Temple is just about the only consistent player on this LSU team. Not known as a great scorer, Temple is averaging 7.3 points per game in 33 minutes each outing. He is also averaging 3.8 rebounds and 3.2 assists per game.
Bo Spencer
– [STOCK IS DOWN] Spencer came to LSU after being ranked the No. 35 points guard in the nation by Scout.com. While Spencer has shown promise, the Tigers need more than his 5.0 point per game.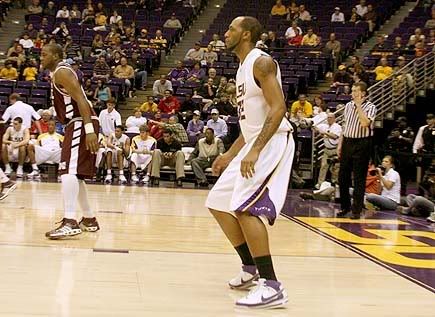 Quintin Thornton
Quintin Thornton – [STOCK IS UP] An early season injury cost Thornton some valuable maturing time, but lately the 6-8, 225-pound power forward has given LSU an extra big body under the goal.
Alex Farrer
– [STOCK IS UP] When Farrer came to LSU, he had project written all over him. But this 6-5 shooting guard has garnered more playing time as the season has progressed and he scored a career-high eight points against
Auburn
and followed it up with seven in the loss at Vanderbilt.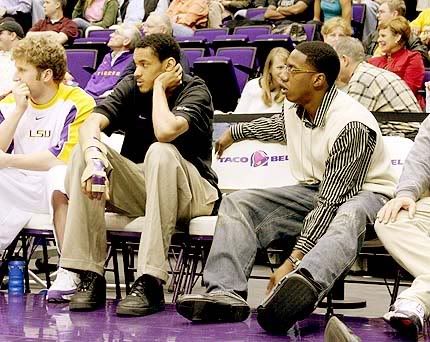 Chris Johnson (left) and Tasmin Mitchell
Tasmin Mitchell
– [STOCK HAS PLUMMETED] Mitchell was lost for the season after third game of the season in
Hawaii
with a stress fracture in his left foot.
Chris Johnson
– [STOCK IS UP] Johnson has missed the last three weeks with a wrist injury. He averaged 13.8 points per game through the first 13 games and could return to the lineup as soon as next week.
Garrett Green
– [STOCK IS DOWN] Green actually started the game at
Ole Miss
and played 13 minutes. This true freshman looks like a project and doesn't look physically ready fore the rigors of the SEC schedule.
(All photos by Matt Deville)