Rumors are swirling throughout the
LSU
community concerning Brady's future at the university.
Injuries and attrition have decimated the Tigers lineup. LSU is currently in the midst of a seven-game losing streak, which shows no signs of ending anytime soon.
In LSU athletic director Skip Bertman's weekly Cyber-Side Chat he stated earlier Thursday morning, "An evaluation of the men's basketball program will come at the appropriate time, so any speculation now about the future of the program is mere conjecture. What is important is that we throw our full support behind the LSU men's basketball team as they navigate the difficult Southeastern Conference schedule."
Brady, who was accompanied by
Tasmin Mitchell
,
Garrett Temple
,
Chris Johnson
and
Alex Farrer
, addressed the issues concerning his job at LSU as well as the status of the team. Brady said the best way to avoid failure is "to not give up hope."
The Tigers try to begin digging out of an 0-4 hole in SEC play when they host
Arkansas
Saturday night at 8 p.m. The game will be broadcast on ESPN Classic.
Click on the links below to watch Brady's press conference in its entirety.
OPENING STATEMENTS:
ON HIS FUTURE AT LSU: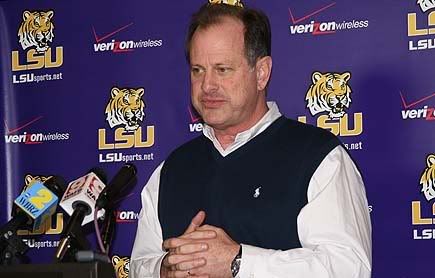 (Photos and video by Matt Deville)