DIRTY DOZEN
Chase Clement 6-5, 240, 4.7 Defensive End E. D. White Catholic HS (Thibodaux, La.)
Clement is the No. 14-rated defensive end in the nation by Scout.com, a four-star prospect, and Louisiana's top prospect in the Class of 2008. An all-state player from Thibodaux's E. D. White Catholic High School, Clement committed to Les Miles' LSU Tigers on Dec. 8. The nephew of former LSU All-American Eric Andolsek, Clement said he had his late uncle in mind when he pulled the trigger on the Tigers. "I know my uncle is watching over me and he wants me to do the right thing, and right now I know he is a happy Tiger," Clement said. It was widely speculated that Clement might choose Alabama over LSU, but he said that wasn't going to happen. "He (Andolsek) would be turning over in his grave," Clement said. "Everybody always told me that he would be rolling over in his grave if I went to Alabama." Much like his famous uncle, Clement is an imposing figure on the football field. "They (LSU coaching staff) like his size and they liked the way he caught the ball at camp," said E. D. White coach Kyle Lasseigne. "The first thing you notice with Chase is he is real intense and he knows the game. He is pretty big already, but he has some potential to fill out more, too. He is a pretty intense kid and he has some good bloodlines."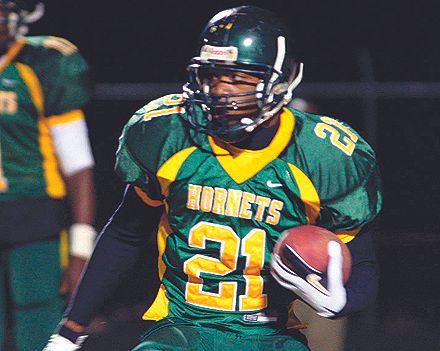 Chris Tolliver 6-1, 185, 4.5 Wide Receiver Rayville HS (Rayville, La.)
Tolliver was the state's top offensive prospect and was rated the No. 28 wide receiver in the nation and a four-star prospect by Scout.com. Known as a big play receiver that can stretch the field, Tolliver committed to LSU on Dec. 19. Tolliver said he chose the Tigers because he felt welcome in Baton Rouge. "The players treated me like I was a part of the family and the coaches showed me some things on how they would use me," he said. The people loved me when I went down there and made me feel like I was at home." Like E. D. White's Chase Clement, Tolliver chose LSU over Alabama. "It came down to LSU and Alabama, and after visiting the two back to back I came up with LSU. It was tough, but I know I made the right decision." Hailing from the northeast Louisiana town of Rayville, where he helped lead the Hornets to a 9-3 record and into the second round of the playoffs, Tolliver said he also liked LSU because of its location. "It's not too far from home, and after we looked at everything my parents thought it was a great idea and I also thought the same. It feels real good knowing that I am a Tiger." Tolliver leaves Rayville with 170 career receptions for 2,789 yards and 32 touchdowns.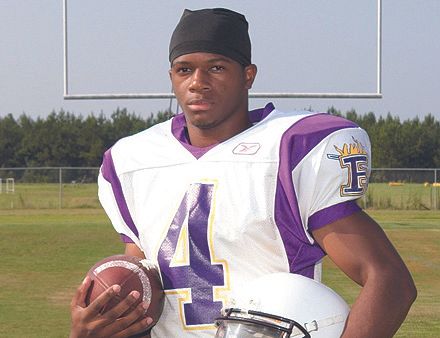 Brandon Taylor 5-11, 176, 4.5 Cornerback Franklinton HS (Franklinton, La.)
The No. 17-ranked cornerback in the nation, Taylor is a four-star prospect by Scout.com. He and his brother Jhyryn will join older brother Curtis Taylor at LSU next season. The elder Taylor is the starting free safety for the BCS National Champions. The Taylor brothers were early commitments to LSU, having pulled the trigger on April 5 last spring. Brandon Taylor was a Class 4A All-State selection and earned the state's top honor on the defensive side of the ball in his class. He finished the year with 89 tackles and five interceptions after leading Franklinton into the third round of the state playoffs. Brandon Taylor was known as a hard-hitting cornerback in high school, but he could play either defensive back or wide receiver in college. "I can catch on real quick and I am a fast learner," Brandon Taylor said. "On the field, I have a good burst of speed and I have great range. Coaches say I could play corner or safety, and some say even running back or receiver, but they will know more when they see me during the spring."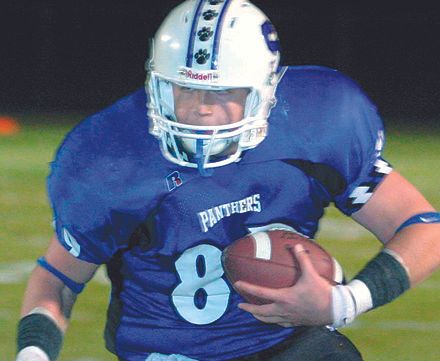 Matt Branch 6-7, 240, 4.8 Offensive Tackle Sterlington HS (Sterlington, La.)
Branch was a standout tight end/defensive end at the North Louisiana 2A program in Sterlington. But it appears the LSU coaching staff wants to take advantage of his 6-7 frame and move him to offensive tackle. Branch is a four-star prospect as ranked by Scout.com and is the 22nd-rated offensive tackle in the nation. Branch chose LSU after considering Arkansas, Tennessee, Alabama, Florida and Ole Miss. "My whole family has been big LSU supporters all my life," Branch said. "I have pictures of me as a little kid dressed in a Tiger's uniform." He said several factors went into helping make his final decision on LSU. "LSU's facilities are top-notch," Branch said. "Academics will be big, too. I talked with some of the tutors while I was there and they were real nice, and it just seemed like they really wanted to help you get your degree. LSU has a beautiful campus, and I'll be looking for a place that I can be comfortable and live for the next few years that isn't too far from home." As a senior, Branch was a first-team Class 2A All-State selection. He had 30 receptions for 312 yards during regular season.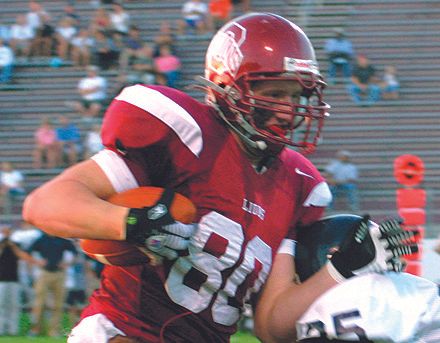 Tyler Edwards 6-4, 238, 4.7 Tight End Ouachita HS (Monroe, La.)
The Edwards legacy continues at LSU. Following in the footsteps of older brother Eric, Tyler Edwards will be a Tiger. The No. 14-rated tight end in the country and a four-star prospect by Scout.com, Edwards chose the Tigers over Alabama, Arkansas, and Florida. "I was born a Tiger," Edwards said at the Under Armour All-American Game in Orlando, Fla., just after New Year's. "But the reason I waited so long was to make sure it was the right decision. But LSU is where I want to be; where I need to be." Once his mind was made up, Edwards said it was a no-brainer. "It wasn't tough at all," he said. "I had to figure out what program was going to use me the best, and LSU utilizes the tight end a lot." Edwards was a first-team All-State pick for the second year in a row. His numbers were down because opponents chose to double-team him, but he still caught 19 passes for 213 yards and two touchdowns.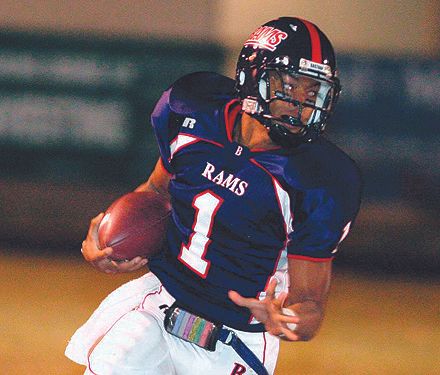 Randall Mackey 6-0, 180, 4.7 Quarterback Bastrop HS (Bastrop, La.)
During his career with the Rams, Mackey was 36-0 as a starter while spearheading the team's run to three consecutive Class 4A state titles. He was a three-time MVP of the state championship game. As a senior, Mackey threw for 3,103 yards and 33 touchdowns and rushed for 1,087 yards and 17 scores. In December, the Louisiana Sports Writers Association recognized Mackey as Mr. Football. In his career, Mackey passed for over 10,000 yards and over 100 touchdowns. He also rushed for over 3,000 yards and was three times named to the All-State team. Mackey was also named to the Parade All-America team, one of only 57 players chosen for the squad. While ultra-talented, the Bastrop gunslinger said the recruiting process has been difficult because of academic issues. "Most schools have backed off because of my grades," he said. "I've been talking to a lot of junior colleges, but mostly with Pearl River, Hinds and Jones. Grambling wants me to visit and they talked about offering, but they want to talk with my parents first."
DeAngelo Peterson 6-3, 195, 4.4 Wide Receiver Desire Street Academy (Baton Rouge, La.)
Peterson isn't going to have to go far when he reports for duty at LSU. A four-star prospect by Scout.com, the nation's No. 38-ranked wide receiver will only have to drive across town to be a Tiger. "You could say some people know who I am and that I am going to LSU," Peterson said. "I'm used to it really, though. You have to stay humble, though." As a senior, Peterson caught 39 passes for 698 yards and 10 touchdowns and also recorded 104 tackles, four sacks, and picked off four passes from his safety spot. He was voted first-team Class 1A All-State on offense. "I'm going to get to LSU as soon as I can. I can't wait to get there."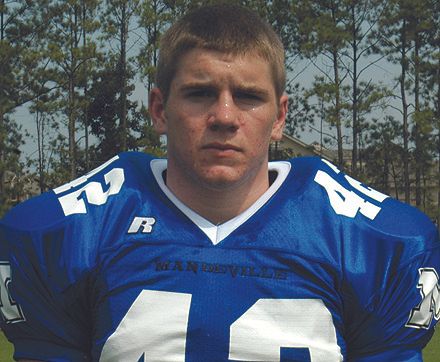 Michael Mauti 6-2, 220, 4.6 Linebacker Mandeville HS (Mandeville, La.)
A four-star prospect and the nation's No. 9-rated middle linebacker, Mandeville's Michael Mauti will head north to join Joe Paterno's Penn State Nittany Lions. The state of Louisiana's top linebacker, Mauti left the Northshore the first week of January for early enrollment at Penn State. "I am incredibly excited about getting to Penn State. I'm flying up to State College on Thursday for school and class starts on Monday, so I'm pretty excited about that." With a 6-2, 220-pound frame, Mauti likes his chances in the Big Ten following in the footsteps of linebacker greats like Paul Posluszny and Dan Connor. "I'm always going towards the ball," Mauti said. "I move well sideline to sideline and have a nose for the ball. I never stop going and play hard through all four quarters. I play hard and hit big. I need to work on wrapping up on tackles and not missing any tackles. I'm also working on improving my open-field tackling and technique."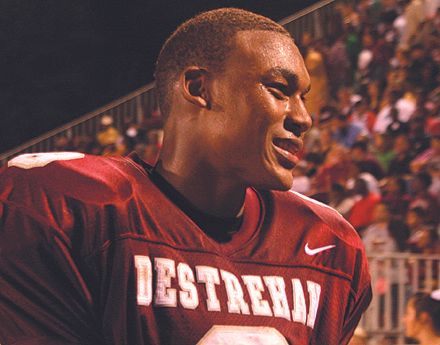 Jordan Jefferson 6-4, 198, 4.6 Quarterback Destrehan HS (Destrehan, La.)
Considered the best quarterback prospect in the state of Louisiana in 2007, Jefferson is a three-star prospect by Scout.com and registers as the 19th-rated quarterback in the nation. Despite impressive size and a state championship to boot, Jefferson is a raw prospect who could grow into a major college quarterback at LSU. "They (LSU) like the fact that I have a strong arm and I can also run," Jefferson said. "I don't run a lot because of our offense (at Destrehan), but I'm a 4.6 guy (40) and I don't mind running at all. I'm looking forward to working with (LSU assistant) Coach (Gary) Crowton because I think we can do some good things together." Voted the Gatorade Player of the Year in Louisiana and a first-team All-State selection along with several other awards, Jefferson finished the season with 2,846 yards and 24 TDs with only three interceptions. He completed 188 of 290 passes.
Jhyryn Taylor 6-0, 176, 4.5 Wide Receiver Franklinton HS (Franklinton, La.)
Jhyryn Taylor teams up with brother Brandon as the Franklinton duo heads to Baton Rouge to continue their careers as LSU Tigers. Once in the capital city, Jhyryn and Brandon will join their oldest brother, Curtis, who is the starting free safety for the Tigers. "It would definitely be fun to play with him because it's something we've never done," said Jhyryn. "But, I think once that wears off, I'd want to kind of make my own spotlight and be my own player." Jhyryn Taylor is a three-star wide receiver prospect by Scout.com, but he was recruited by LSU to play either wideout or defensive back. "I can read defenses well," said Jhyryn. "I can find the spots in the zone and go sit in them, or I can break away from the line and run a good route. I know how to take what the coverage gives me." Jhyryn said he chose LSU over Florida. As a senior, he was named a Class 4A All-State selection after hauling in 47 passes for 826 yards and 14 scores during the regular season in leading Franklinton to the state quarterfinals.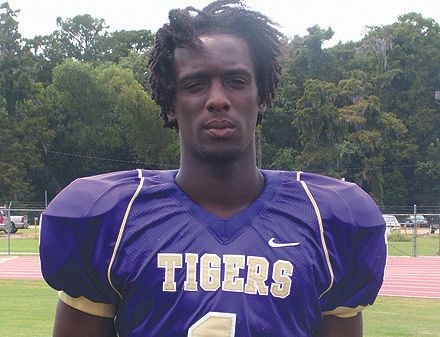 LaRon Byrd 6-3, 210, 4.4 Wide Receiver Hahnville HS (Boutte, La.)
Rated a three-star prospect by Scout.com, LaRon Byrd helped lead the Hahnville Tigers to a 9-3 record and into the second round of the Class 5A playoffs. At 6-3, 210 pounds and 4.4 speed, Byrd has a physical presence that college coaches love. He presents serious problems for the opposition whether he is using his skills to pull in passes on the offensive side of the ball or to pick them off from his safety spot. As a senior, Byrd finished with 50 catches for over 630 yards and 13 touchdowns. He also picked off three passes at free safety. "I have nice size and decent speed," he said. "I have good hand/eye coordination, too." Byrd has offers from Auburn, Miami, Tulane, Miss. State and Nebraska and is leaning heavily toward Auburn. LSU did not offer the Hahnville product. It looks as if it is a three-way race between Auburn, Miami and the Huskers.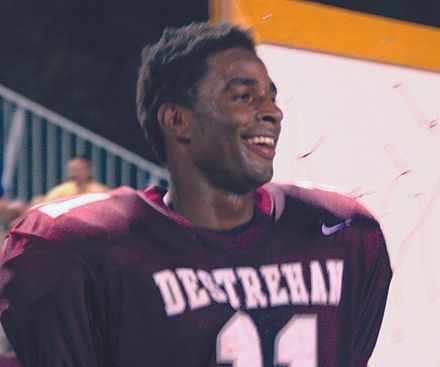 Timothy Molton 6-2, 176, 4.5 Wide Receiver Destrehan HS (Destrehan, La.)
Molton joins teammate Jordan Jefferson, as both Destrehan products will be LSU Tigers next season. Molton is a three-star prospect by Scout.com, and while a bit thin at 176 pounds, he can stretch a defense vertically with his speed and also has a knack for taking the short pass and turning it into a big gainer. As a senior for the Wildcats, Molton hauled in 49 passes for 937 yards and 10 touchdowns in helping lead Destrehan to the Class 5A state title. Molton caught the eye of the LSU coaching staff at a camp in Baton Rouge last summer. "I went to camp with something to prove and I think I proved it," Molton said. "I worked hard to show Coach Mac (D.J. McCarthy) and Coach Miles that I was worthy of an offer, and I did." And when the Tigers offered, Molton jumped at the chance. "I always wanted to stay home and play at LSU and now I can," Molton said. "LSU is at the top of just about everything and they're going to be there for a long time. I'm just happy to have this behind me."
SECOND DOZEN
Jordan Free
6-3, 280
Offensive Guard
Parkview Baptist School
(Baton Rouge, La.)
Free was a Class 3A All-State selection for Parkview Baptist. He helped lead the Eagles to the 3A state championship. Free is showing high interest in Ole Miss and TCU, but he also has offers from Louisiana Tech, Southern Miss and Tulane.
6-2, 175, 4.5
Wide Receiver
Calvary Baptist Academy
(Shreveport, La.)
Cooper was a Class 2A All-State performer at Calvary Baptist, helping lead the Shreveport area school to the state semifinals. He was voted to the Class 2A All-State squad after totaling 60 receptions for 1,037 yards and 16 TDs during the regular season. It looks to be a race between Arkansas, Florida, LSU and Nebraska for Cooper.
6-3, 290, 4.9
Tight End/Fullback
Desire Street Academy
(Baton Rouge, La.)
A monster tight end/fullback prospect, Edwards, an LSU commitment, logged over 400 yards receiving and 12 touchdowns as a senior for Desire Street Academy. Edwards chose the Tigers over offers from Alabama, Florida, Oklahoma and Tennessee.
6-6, 285
Offensive Tackle
Parkview Baptist School
(Baton Rouge, La.)
An LSU commitment, Spencer helped pave the way for Parkview's run to the Class 3A state championship. A mammoth tackle prospect on the offensive side of the ball, the 3A All-State selection committed to the Tigers last spring.
6-4, 290
Offensive Guard
Archbishop Rummel HS
(Metairie, La.)
Coming from an LSU family, Lonergan became LSU's first commitment of the 2008 class, pulling the trigger last February. A Class 5A All-State selection from the New Orleans Catholic League, Lonergan helped lead the Raiders to a 10-3 overall record and a trip to the state quarterfinals.
Ryan St. Julien
6-0, 162, 4.5
Cornerback
Catholic High-New Iberia
(New Iberia, La.)
St. Julien, an LSU commitment, is a cover guy that has good hips and good instincts. As a senior at Catholic High-New Iberia, he started at quarterback and played some in the secondary. St. Julien was also a dangerous return man and earned first-team Class 3A All-State honors as a return specialist. He chose LSU over an offer from Nebraska.
Rocky Duplessis
5-11, 186, 4.5
Safety/Wide Receiver
Belle Chasse HS
(Belle Chasse, La.)
Duplessis, who was an early commitment to the Tigers, was an All-State selection for Belle Chasse and helped lead them to a 7-5 record and the second round of the Class 4A state playoffs. He chose the Tigers over offers from Louisiana Tech and Ole Miss.
6-0, 205, 4.5
Linebacker
Scotlandville Magnet HS
(Baton Rouge, La.)
An outstanding student (3.8 GPA), Lathers is an undersized linebacker prospect who uses excellent speed (4.5) to make up for what he lacks in height. Lathers finished his senior season at Scotlandville with 108 tackles, seven sacks, five fumbles caused, one rushing touchdown, and one interception returned for a score. He is entertaining offers from Tennessee, Ole Miss, Tulane and Baylor.
6-2, 175, 4.5
Cornerback
Clinton HS
(Clinton, La.)
A first-team Class 2A All-State selection at Clinton (La.) High School, Waggner is headed to Tennessee. In his senior season at Clinton, Waggner logged 33 tackles and nine interceptions as a cornerback. He also recorded 13 touchdowns and 750 yards as a wide receiver. Waggner chose Tennessee over offers from Auburn, Minnesota, Ole Miss, Nebraska and North Carolina.
5-9, 150, 4.5
Wide Receiver
Destrehan HS
(Destrehan, La.)
Undersized at wide receiver, Johnson was a speed burner for Class 5A state champion Destrehan. A first-team Class 5A All-State pick, Johnson snared 81 passes for 1,228 yards and 12 touchdowns in 2008. He is attracting offers from in-state schools Louisiana-Lafayette, Louisiana-Monroe and La. Tech, as well as from TCU and Memphis.
6-0, 170, 4.5
Cornerback
John Curtis Christian School
(River Ridge, La.)
After a standout career at John Curtis that ended with the Class 2A state title, Green will embark on his college career playing for Nick Saban at Alabama. As a senior for the Patriots, Green logged 45 tackles and four interceptions, landing a spot on the Class 2A All-State team.
6-4, 190, 4.6
Safety/Wide Receiver
John Curtis Christian School
(River Ridge, La.)
A versatile athlete that will play wide receiver or safety in college, the 6-4 Smith recorded 74 tackles and three interceptions on his way to earning Class 2A All-State recognition. Smith sports an impressive list of offers from Arkansas, Nebraska, Alabama, Arizona State, Baylor, LSU and Tulane.