Today's rundown shows Michigan staff rounding further into shape.
-- First, in the expected news category, Sports Illustrated Pete Thamel confirmed the retention of Greg Mattison.
Source: Michigan's Greg Mattison has agreed to stay on staff and work on defense under DJ Durkin.

— Pete Thamel (@SIPeteThamel) January 7, 2015
-- We previously reported the arrival of San Francisco 49ers assistant secondary coach Greg Jackson in Ann Arbor on Sunday. He remains in town and multiple sources have confirmed will be a secondary coach for Michigan. The question now is will he be the only one?
-- GoBlueWolverine has confirmed Michigan's plan to hire an assistant to coordinate special teams exclusively. (Stay tuned for commentary from Marcus Ray on this).
-- GoBlueWolverine has confirmed that Jim Harbaugh himself is slated to coach quarterbacks.
And last regarding Tuesday night rumors that Buffalo Bills RB Tyrone Wheatley had been hired... that is an overstatement
The photo of him posing with Harbaugh isn't what people think it is.

I've made it a point to cover the process while being as careful as possible not to affect it. That's how I always go about things, but I've been extra cautious in Wheatley's case because it's not a secret that he's a friend from well before he became a candidate for an assistant coaching job at Michigan.

That's why I was mum on his scheduled interview with Harbaugh for a week.

That's why I was mum during Wheatley's time on campus yesterday.

Last night word began making the rounds that Wheatley to Michigan was a done deal. I reached out to him at that time and he was adamant that the deal was "far from (done)." He stated quite clearly that his interview had not happened yet.

The presence of a photograph of him, Harbaugh, and a Michigan fan fueled belief to the contrary.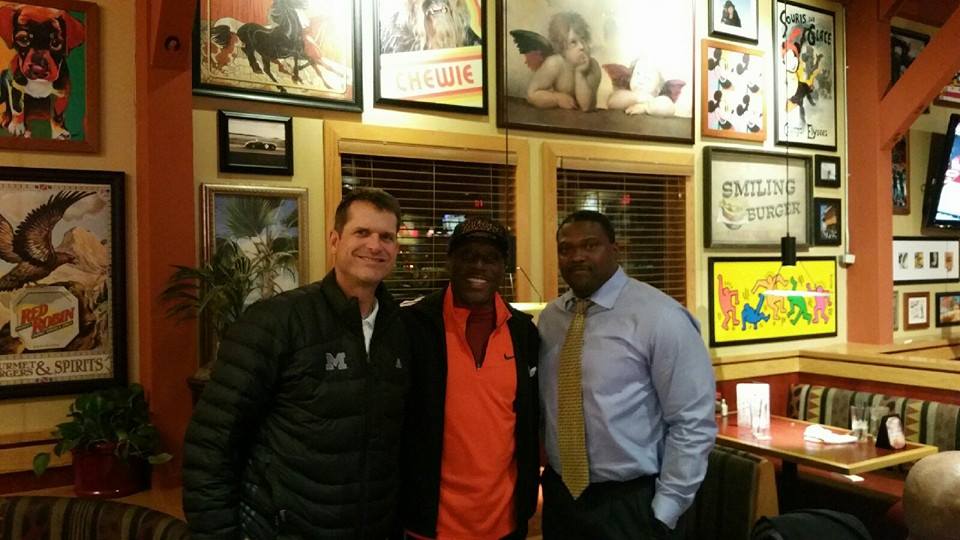 Ordinarily I wouldn't go in depth into what's going on until the process was over, but the fact that they took a photograph in public has given me a some latitude to provide context.

Wheatley arrived later in the afternoon.

He met with the offensive coordinator.

It got late so he didn't have the chance to interview with Harbaugh, so they caught dinner.

The interview with Harbaugh was then pushed to today.

This is directly from Tyrone Wheatley himself. Not guess work, Not speculation based on what I heard from other sources. This is from THE source.

No contract. No done deal yet.

Could that change today? Absolutely.  If/when it does we will certainly report that. 

I'm sensitive to the fact that heads are spinning with all that has been put out there. I think I've established that I don't just throw things out. If I'm citing sources I'm going to seek more than one for confirmation, unless it's THE source. And again, in this case the information comes from THE source.

He's a very quiet/private guy that has a way of going about his business... and all the attention on his interview process is diametrically opposed to his way of doing things.  So I want to make it clear that he is not trying to bring greater attention to this. At the same time he isn't keen on having false information out there.

We'll have more on this matter until the process is over.
Premium members if you missed our commentary in yesterday's musings on why talk that Michigan missed on three coaching targets is a false narrative, click here.