In the aftermath Michigan's double overtime loss to Ohio State Saturday Jim Harbaugh didn't hesitate in calling out the officiating imbalance that helped determine the outcome of the game.  It was a refrain that has seemingly occurred with increased frequency this year in both college and the pros.  The Big Ten responded this evening the way that the governing bodies always do…  with a public reprimand and a fine.
The lesson here should be that sometimes there is a cost associated with being right.
"The Big Ten Conference expects all contests involving a member institution to be conducted without compromise to any fundamental element of sportsmanship," the league statement said.  "Such fundamental elements include integrity of competition, civility toward all, and respect, particularly toward opponents and officials."
"Integrity of competition."
"Respect toward all including officials."
http://www.scout.com/story/1733103-what-did-jim-harbaugh-s-rant-really-c...
How is the "integrity of competition" compromised by discussing the performance of those that officiate it? Why is it disrespectful to call out their mistakes? And why do fans and some in media accept that narrative?  Coaches, players, and officials all impact the outcome of games, but to many only two components of that dynamic are considered fair game to critique.  Officials are the protected class. Discuss their impact on the game and risk being labeled an "excuse maker" or "a whiner" and being admonished for "bush league" criticism.  The question again is why?  Why do they deserve such deference? Because their jobs are hard? At last check coaching and playing aren't exactly easy. Maybe they get the benefit of the doubt because of the "human error" quotient?  Well I'm pretty sure officials aren't out there refereeing games played and coached by automatons.  The guys in stripes don't have a monopoly on human imperfection.  Lastly, and maybe most importantly, officials aren't unpaid volunteers.
We think the way we do about officials because we've been conditioned to.  The consequence of turning that relative blind eye is a level of accountability not commensurate with role they play in games.  If you've been around here long or have listened to my show for any period of time you know I've been talking about the officiating problem for quite a while now.  I talked about it earlier this year after the WIN over Michigan State. I talked about it last year after blowout WINS in the non-conference.  I talked about it this year with OTHER teams (Oklahoma State, Florida State, Utah).  Chalk those occurrences up as being "part of the game" and it's harder to weed out poor performance since the official evaluation process lacks transparency.  That in turn makes it easier to maintain the status quo. Billion dollar businesses on the college and pro levels pinching pennies with part time officials.  As it the case with most things, you get what you pay for.  If fans and media took the kid gloves off when it comes to referees maybe the NFL and college football would have dig into their stuffed coffers and increase salaries.  Maybe the embarrassment would force them to hire full-time officials and deepen an undoubtedly shallow candidate pool.  Some might find that last comment a bit presumptuous, but I'd bet those that feel that way are assuming the crew in Saturday's Michigan - Ohio State game did NOT include an official that had been previously fired by the Big Ten.  I bet those same people would assume the crew did NOT include a member that had previously been barred from working the Michigan – Ohio State game in 2006 because of his known affinity for the Buckeyes.  Both assumptions are wrong.  (Fired B1G ref / OSU fan ref)  Those revelations would seem to undermine "the integrity of the competition" much more than anything Jim Harbaugh said, but let's give the Big Ten the benefit of the doubt.  Maybe that crew was the absolute best the league has to offer? Besides, it's doubtful anyone at Michigan had prior knowledge of the résumé blemishes. Harbaugh's comments were based strictly upon the merits of performance, and rightfully so.
http://www.scout.com/college/michigan/story/1733226-peppers-collects-thr...
So far most of the attention has been focused on the controversial spot on J.T. Barrett's crucial 4th & 1 run in the second overtime, but the bigger issue was/is the pattern that play appeared to be a part of. Maybe there'd be legitimacy to the "whining" characterizations if the spot was Harbaugh's only beef.
Maybe they'd have a point if his wide receiver getting body slammed out of a route (Darboh in the second series) with no PI getting called was the only other beef...
https://twitter.com/TaylorTwellman/status/802638701750845444
Or maybe they'd have a point if his tight end getting held all the way to the end zone (Butt on the third series) with no holding being called was the only other gripe...
Or maybe they'd have a point if Mo Hurst hadn't gotten incorrectly flagged for being offsides when the OSU center flinched thereby committing a false start (i.e. the call that caused to toss his play-sheet)
Or maybe they'd have a point if him getting called for unsportsmanlike conduct while the coach on the other side got a pass for his histrionics and blatant cheap shots like Mike Weber's on Brandon Watson going ignored was the only other issue...
https://twitter.com/MarlinW/status/803077232747053058
Or maybe they'd have a point if the only other problem was a pass interference against Grant Perry going ignored after Ohio State got that call against Delano Hill earlier on a strikingly similar play on a ball that was uncatchable...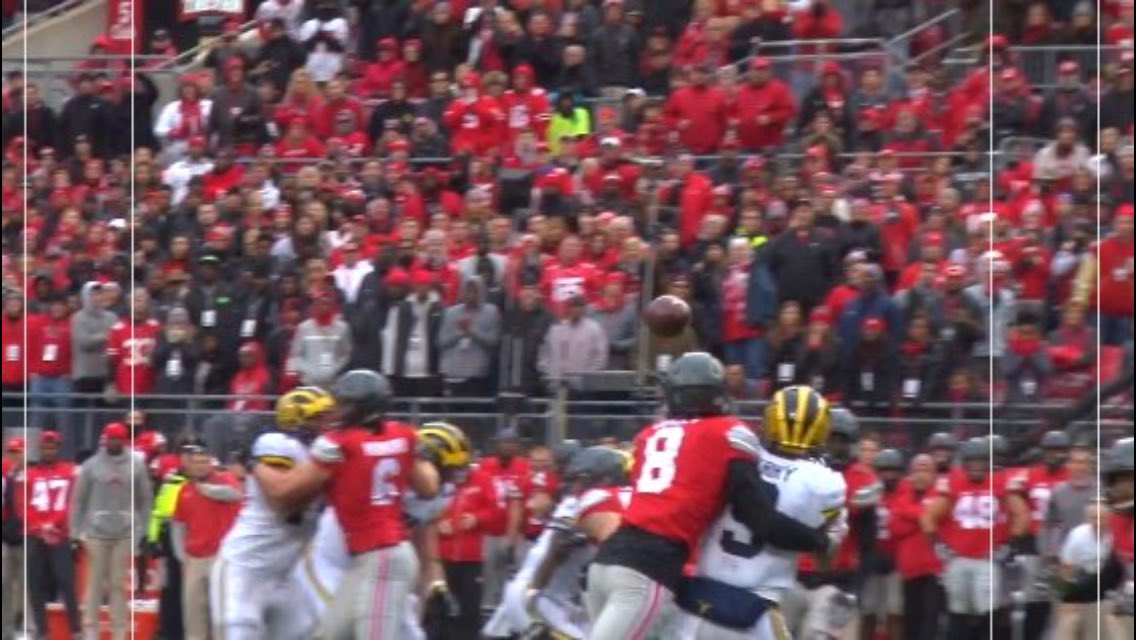 Or maybe they'd have a point if the downfield hold on Jourdan Lewis on Curtis Samuel's 3rd down run in in the second OT (the play before the controversial spot play) was the only other call missed...
https://twitter.com/wooty84/status/803400428050350080
The final tally was two penalties for six yards against an Ohio State team that had eight or more in five games this year, including 11 against Oklahoma. Michigan finished with seven penalties for 59 yards.  The Wolverines were penalized that many times in only one other game this season (Penn State). 
For Harbaugh to ignore that kind of imbalance would be doing a disservice to this team. It's in Michigan's best interest to shine a light on the ridiculousness shown above because the Wolverines' still existent playoff hopes.  The participants will be determined by people, and people can be influenced.  The more the message is hammered home that Michigan was treated unfairly last Saturday, the more its covered, and the more its referenced.  If Colorado beats Washington, it benefits Michigan in subsequent analysis of contenders if some on the playoff committee believe the Wolverines were screwed in a three-point, double overtime road loss to the #2 in the country.  There are already a number of media allies for Michigan on this front, including the following surprises...
https://twitter.com/WhitlockJason/status/802619071380406272
https://twitter.com/jemelehill/status/802727073970167808
If those two are saying Michigan got a raw deal then either the world is coming to an end, or Michigan really does have a legitimate beef. Harbaugh and company shouldn't stop lending voice to it!