LINCOLN, Neb -
In the final game at the Bob Devaney Sports Center, the
Nebraska
Cornhuskers (14-16, 5-12) upset the
Minnesota
Golden Gophers (20-10, 8-9) 53-51, in front of over 12,000 fans.
ALMEIDA LEAVES LASTING IMPACT
In his final home game, senior Andre Almeida may have made his biggest impact of the season in the win against Minnesota. While he had just four points, Almeida collected three crucial offensive rebounds, leading to second chance points. Almeida also completely sealed off his man, leading to two Brandon Ubel and-one plays, leading the Huskers to victory.
"I didn't say a word to Andre," said Miles. "I think he just rose to the occasion, and its pretty cool stuff. Andre played his 18 best minutes of the year I'd say."
But despite everyone giving him the praise, Almeida knows it was all about the team.
"I just try to play my best and help the team," said Almeida. "We feel like we had to give them (the fans) something good, last game in the Devaney, they've been nothing but great. It was a pretty sweet game."
Photo: Stewart Photography
TALLEY ENDS IMPRESSIVE CAREER
After transferring from two different colleges early in his career, Dylan Talley finally found a home at the University of Nebraska. Despite a coaching change after his first season, Talley stuck with Coach Tim Miles and ended his career at home with a spectacular two game stretch.
"It was great, I looked up, waved to my family. It was an excellent feeling," said Talley.
After hitting the game winning three pointer against Iowa with eight seconds left in the game, Talley finished with 12 points and one of his favorite wins of his career against Minnesota on Wednesday night.
"I didn't think I was going to top that moment," said Talley. " It definitely topped it, I was able to hit a shot, but this game, we all played well."
UBEL LEAVES DEVANEY WITH A BANG
In his last game at the Devaney Center, senior Brandon Ubel totaled 15 points and six rebounds, leading the Huskers to the 53-51 win over the Gophers. It was three-point plays the end of the game that lifted the Huskers to the big win.
"I wanted the ball, I wanted to make plays for our team," said Ubel. "I kind of lost my mind, I was just so excited, I wanted to let the crowd know, we were going to do this."
Ubel has had many great moments at the Devaney, but this one may have been sweeter than all.
"That was unbelievable, last game in Devaney, last game in Nebraska, that was unbelievable," said Ubel.
The Huskers will finish off the regular season at Iowa, before they travel to Chicago for the Big Ten Tournament at the United Center.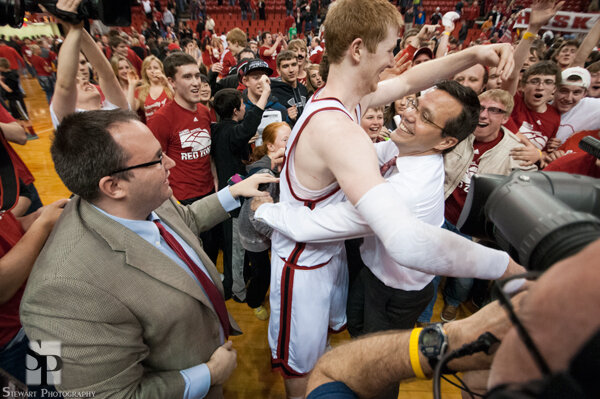 - Josh Harvey -