For the full-recap story:
http://nebraska.scout.com/2/1342406.html

Just another ho-hum win. Those were the words of Nebraska head coach Bo Pelini when he walked to the podium to address the press on Saturday night. Pelini, who's reaction after the Hail Mary touchdown was almost disbelief, still didn't look like he had fully realized what just had happened.
"I just told our team I'm proud of them. They kept fighting. I believe that there wasn't a loser in a game like that," said Pelini. [Northwestern] is a class-act program. I have a lot of respect for them. Those kids played their butts off. That's a hard way to lose a game. It wasn't pretty, but I'll take it."
It's amazing what a little luck can do. Most media members had the first couple sentences of their story already written in their head. My headline was going to be "Meltdown in Lincoln." Instead, Nebraska will head to Michigan 6-2 overall and still have a shot at winning the Legends Division.
"I hope it keeps them believing and keeps their energy up," said Pelini. "I shouldn't say keeps them believing because I know they'll believe. At the end of the day, it sounds crazy, but sometimes a win or even a loss masks things one way or another. Whether we caught that ball in the end zone or didn't catch the ball, we're still the same football team coming in tomorrow. The same challenges lie ahead. It's just a little easier to handle. It's easier to go in tomorrow. Hopefully the momentum will carry over into next week and, hopefully, help propel us forward as the season goes on."
Bo Pelini press conference video: (Courtesy of Huskers.com)

Just seconds after the game, after shaking Coach Fitzgerald's hand, Pelini went over to a bunch of Northwestern players. Most of them had their heads hanging. Others were screaming in anger. Bo told them great game. He was giving guys hugs, telling them they played hard, that he had a lot of respect for them, and that they played well enough to win. It was a very classy moment and one I won't forget.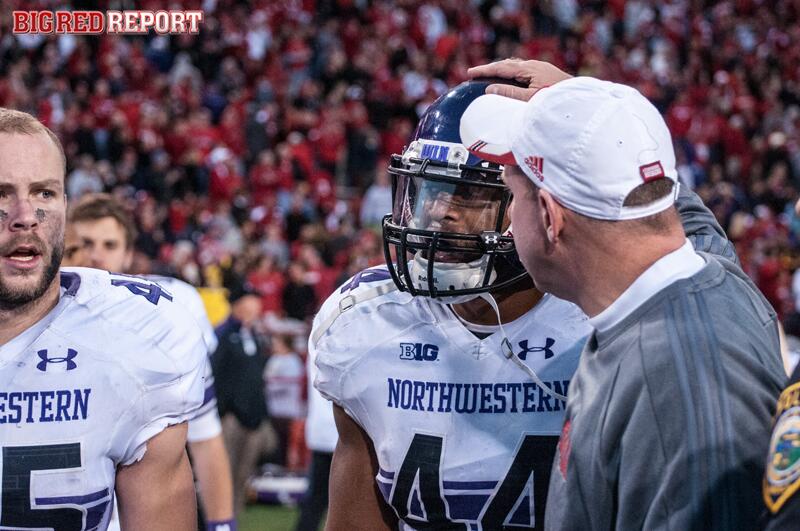 Was the second-half a defining moment for the Blackshirts? Northwestern's offense is closer to that of Purdue and Illinois, compared to Ohio State or even a UCLA, but there was something special about the way the Huskers' defense played over the last 30 minutes of the game.
Defensive coordinator John Papuchis said it wasn't a magical pep talk and it wasn't yelling that fired his squad up. From the sounds of it, it was more his team looking in the mirror and figuring out what they wanted to be.
"I think the guys always a reflection of how their coaches are," said Papuchis. "I give Bo a ton of credit. He was very poised and calm when he addressed the group. I was being more of a talker opposed to yelling. 'What are we doing and why are we doing it. Who are we going to be? We have to make a decision, is this who we are? Or is this not who we are?'
"I think the guys responded well. I think they said, 'we are tired of this.' And what happened was, we started to get some positive momentum and kept building on itself."
Nebraska only allowed three points and 104 yards in the second half, in reality, the defense outscored the Wildcats by themselves, 7-3 with Avery Moss' interception.
Before getting the interception late in the fourth quarter that set them up on the 7-yard line, Nebraska forced 11 straight punts.
Just go for the tackle. With 2:25 on the game clock, the Nebraska defense was backed up on their 7-yard line. They responded with possibly the biggest defensive stand of the season. I was on the field during that drive and not too far away from the defensive huddle when Papuchis was addressing them on first down. About every other word out of his mouth was "field goal."
"I was worried about telling them to strip the ball out, because they aren't going to tackle the guy then," said Papuchis. "The first guy has to tackle, because he's going to get run over for a touchdown if he doesn't."
The injury report: Kenny Bell pulled his groin according to Coach Pelini and didn't have a fifth-gear. He's day-to-day according to the head coach. Jake Cotton has a sprained MCL, we will find out more on him Monday likely. Jamal Turner and Jake Long are day-to-day and are probable at this point for Michigan next Saturday. As far as Taylor Martinez, he's been battling the flu the last couple of days and still being bothered by his injuries. He's beat-up and the thought of him playing on Saturday seems very unlikely.
Jeremiah Sirles has a panic attack: The senior offensive lineman is claustrophobic, so when he found himself on the bottom of a pile of celebrating Nebraska players, he started to freak out – literally. Listen to the audio as he describes it best.
Harvey's Donuts:
* I see you Ameer Abdullah. That first down catch for 16 yards on fourth down and 15 was salty. Nobody is talking about it because of Westerkamp's catch, but Abdullah could have maybe saved the season.
* As someone who wasn't here during the Suh era, it's always fun to see him back in town and people's reaction to him. Those chants of Suh are awesome and I wish I could have heard them when he was throwing Big 12 quarterbacks around.
* Good to see a lot of former players back today to support the Huskers besides Suh. Mike Rozier, Ricky Simmons, Ralph Brown, Kyler Reed, Marcus Mendoza, Dejon Gomes, and Prince were just some of the guys I saw today.
* Three years I have been on the beat, today was the loudest I have ever heard the stadium after the touchdown grab.
* Hell of a game award goes to Avery Moss, who had a sack and a tackle for a loss. He also had one of those defensive lineman interception touchdown things.
Josh Harvey has covered college football and recruiting for Fox Sports & Scout.com since 2008. He is now the Publisher of Big Red Report, covering Nebraska athletics.
Facebook |
Twitter
|
E-Mail |