Do you see anyone committing this weekend? Or do they only take the best of the best between now and Big Red Weekend? – Wigs1
There isn't anybody that jumps out like in previous years, but you never know what might happen when a first-time visitor gets blown away in Lincoln. Most of these uncommitted prospects coming in are also guys that are talking about taking other visits down the road. Now the spring game might solidify some their experience with Nebraska and we see a commitment come of it in May or June, but I don't have a prediction of any guy committing this weekend. That said, there will probably be three or four commitments. I'm probably most interested in Jackson Perry from Bishop Gorman. It will be interesting to see how his connection with Nick Gates plays out. Perry is a guy who could really blow up this spring when the coaches get out during the evaluation process.
Nebraska isn't usually one to rescind offers from guys, unless the position fills up. Besides quarterback, if a guy has an offer and wants to commit, they will take him. It's one of the things I appreciate about Nebraska. Very rarely does a kid get an offer to get it taken away later. The reason being how the offer process works at Nebraska. Bo has to sign off on a kid and there isn't any confusion later. They actually ask the question, 'can this kid help us' before he gets an offer. Not all schools do that.

Barring any early departures in 2014, do we have a firm number on the number of offers NU can give for 2015 class? I've heard everything from 16 to 22. – Bullfrog
It's very possible I'm wrong, but I'm reading 81 current scholarship players. I would have to think that juniors
Alex Lewis
and
Sam Burtch
each get one going into next season; means the list grows to 83.
By that math, it gives Nebraska 12 scholarships to give away in the 2015 class. The number will be much higher. BUT, it's so hard to project out a number 10 months before National Signing Day. Nobody would have guessed Nebraska could have taken a near full class last year. If I had to project, I would say around 20.
The Huskers can over-sign by three and I wouldn't be surprised to see some attrition after this semester. Bo Pelini made it pretty clear on Wednesday some guys really are not stepping up.
"There are some guys who haven't figured it out. They haven't put the necessary time in to better themselves...bottom line, I told them, when I turn on the film everyday and I see repeat errors, you send a message to us coaches. It's either not important to you or you don't show the ability to execute out football."
To me that signals a few guys will be on their way out.
(21) True freshman: Akinmoladun, Brown, Bush, Darlington, Farmer, Foster, Gates, Gifford, Harrison, Irons, Jones, Kalu, King, Mosley, Newell, Pierson-El, Stoltenberg, Tolbert, Walton, Wilbon, Wills.
(13) Redshirt freshman: Gladney, Hannon, Hart, Johnson, Joseph, Knevel, Love, Martinez, Natter, Newby, Singleton, Stanton, Taylor.
(17) Sophomore: Alexander, Armstrong, Banderas, Carter, Collins, Cotton, Gerry, Maurice, McMullen, Miller, Moore, Newby, Rose, Thurston, Valentine, Westerkamp, Whitaker.
(20) Junior: Allen, Bondi, Cockrell, Cross, Curry, Davie, Finnin, Gregory, Jackson, Janovich, Keels, Kondolo, Pirman, Price, Reeves, Rose, Santos, Sterup, Sutton, Williams
(10) Senior: Abdullah, Anderson, Bell, Cooper, Cotton, Evans, Mitchell, Moudy, Pelini, Turner.

Do the players like the every other day format or would they prefer to go every day for 2/3 weeks? - bigredtxtoks
I'm guessing the players would say everyday for a few weeks, evident of some comments from Kenny Bell on Wednesday, but the coaches have to like the new format. It allows them to really break down practice film and work on things to make the squad better, instead of doing it in a whirlwind. The new schedule makes it easier as well for the team to continue with their strength and conditioning program and get more scrimmages in. The staff isn't going to have the guys hit everyday, and this means they have gotten three scrimmages in this spring. That would be a little harder over a three week period.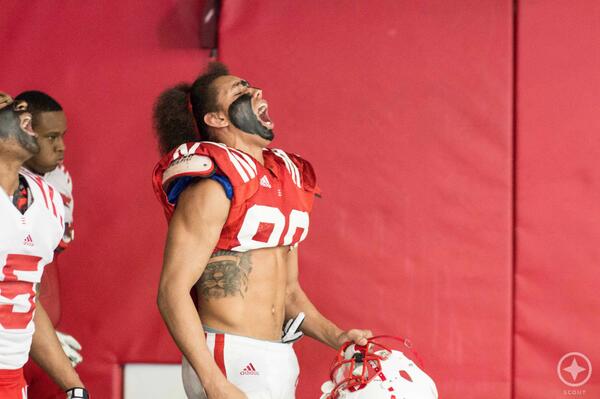 We've talked about the starting db's, but who will be #2 at each corner? How is Boaz playing? – hardhuskerfan
As of right now, I'm projecting Josh Mitchell and Jonathan Rose as the starting cornerbacks with Corey Cooper and LeRoy Alexander as the starting safeties. As far as the No. 2 CB, it's juco transfer Byerson Cockrell and Joseph. Now I think Cockrell is a guy that could potentially beat out Rose, so that's one to watch. Joseph has had his ups and downs this spring, getting a chance to get first-team reps at various times. One practice he looks a shutdown corner in the making. The next, he's giving up back-to-back 20+ tosses. We have to remember he's still pretty young, this was his first spring. I think he's going to be a good player down the road, but he's still growing. I have heard he's a guy who really does a good job jamming at the line. It will be interesting to see if a guy like Mosely is able to make any noise in August as a possible second-team corner.

How many more OTs are we going to take and which one do you think Nebraska will take? Also, are we taking any more DT and who do you think they will take?
Depending on numbers, I would guess Nebraska takes one more offensive tackle and one prospect who could potentially play both guard/tackle. The last few years, the staff has really shown they like that type of prospect (examples: Nick Gates/Dwayne Johnson). They are telling prospects only three offensive lineman will be taken, but I have hard time believing it will be less than four. As far as who it might be, there isn't a guy that jumps out on the offer list that I say, 'he's got Nebraska in his top two.'
When it comes to defensive tackle, I would say they snag one more. Peyton Newell was the only true defensive tackle they took last year. That being said, I think they will be pretty select with the next guy.