After a heavy laden visitor weekend, the Nebraska coaching staff hits the road for the final week of in-home visits – no closer to finishing their class than last Monday.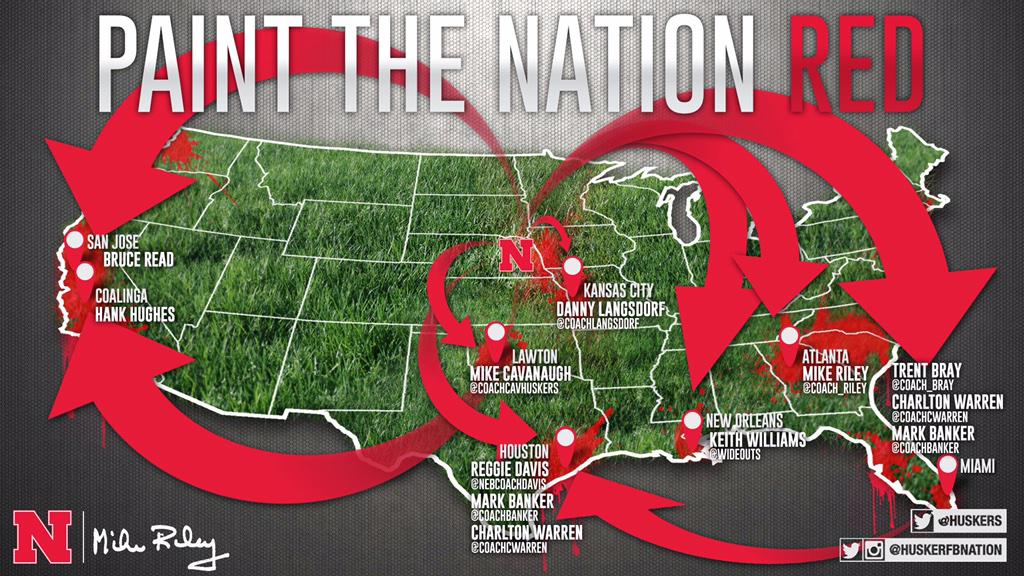 With 14 commitments, two of which being soft verbals, Nebraska will likely have a big week of recruiting news, especially the weekend.
First, let's recap. What happened on Fri./Sat./Sun. with a double-digit visitor list.
(All links below are for Big Red Report members)
* '16 offensive tackle Matt Farniok, a Scout Top 300 player, hit Lincoln for the first time since Mike Riley and crew took over.…FARNIOK STORY
* '15 running back commitment Devine Ozigbo was blown away by his first experience in Lincoln.…OZIGBO STORY
* '15 offensive lineman Michael Decker has been a long time commitment, but made his official visit to Nebraska over the weekend.…DECKER STORY
* South Carolina linebacker Kaiwan Lewis plans to graduate in the spring and transfer. The former SEC starter hit Lincoln over the weekend.…LEWIS STORY
* Georgia LB Mohamed Barry can see the fit at Nebraska.…BARRY STORY
Will be announcing my final decision on Thursday night ??

— Mohamed Barry (@BarrySwavey) January 26, 2015
* Nebraska made a surprise offer to a long snapper after quietly getting him in for an official visit. What were his thoughts?…GLUHAICH STORY
* Commitment Tyrin Ferguson had never visited Lincoln when he committed. He was a fan. …FERGUSON STORY
* Omaha Central DE DaiShon Neal was in attendance and looked like he was having a great time at Huskers hoops.
#Huskers commits @DaishonNeal90 and @tferg__ at #Nebrasketball. #Huskers pic.twitter.com/e1k6ZajnCY

— Josh Harvey (@JoshHarveyScout) January 24, 2015
On Sunday, he eliminated
Oklahoma
and
Oregon
from the equation but on Monday….
Michigan just offer! #GoBlue pic.twitter.com/P5xFzbgm0l

— DJ (@DaishonNeal90) January 26, 2015
* Other visitors who were in attendance over the weekend included Houston DB Willie Sykes, offensive line commit Christian Gaylord, defensive line commits Carlos Davis and Khalil Davis, and 2016 commits Jared Bubak and John Raridon. Stories on the last five prospects will happen in the coming days, but were not high priorities at the moment. They aren't going anywhere.
According to multiple Big Red Report sources and multiple reports, Sykes will have an in-home visit with the Nebraska coaching staff on Monday night.
How it look who in Lincoln right now #GBR fans follow me ?? pic.twitter.com/k3SGjDR5rM

— #?7? (@williesykes11) January 25, 2015
OTHER NON-VISITOR NEWS
* Nebraska soft verbal tight end commit Matt Snyder visited Michigan over the weekend. We projected going into the weekend that it would take a LOT for the Wolverines to flip the verbal. Now we aren't as confident. ….SNYDER COMMENTS ON MICHIGAN
Wondering who the coaches are visiting across the country? We have a thread and will be tracking their movement each day.
Josh Harvey has covered college football and recruiting for Scout.com since 2008. He is now the beat writer for @NebraskaOnScout and the publisher of Big Red Report magazine.