With seven days until National Signing Day, Nebraska is still at 14 commitments, but locked up a big one on Tuesday morning and expect more later in the day.
First off - where are the Huskers coaches today?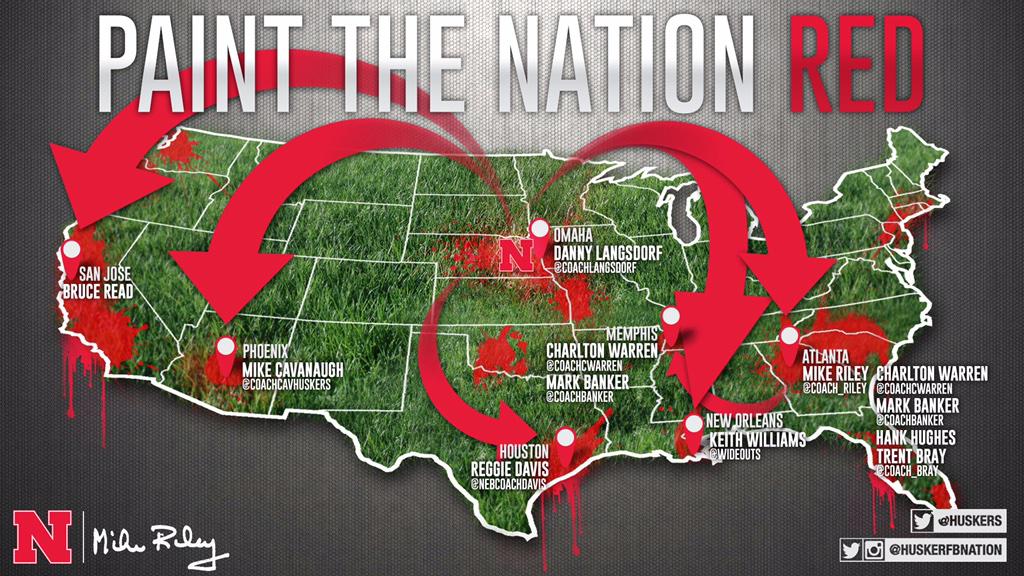 Just like yesterday, Big Red Report will have a thread in the Red Zone breaking down each stop on the trip.
Huskers land Neal

Earlier this morning, Omaha Central defensive end DaiShon Neal, the nation's No. 41 player at his position, reaffirmed his commitment to Nebraska.
Read the story here: Huskers fend off Oregon, Oklahoma, Iowa, and Michigan
"I will be taking my next four years at the University of Nebraska. Go Big Red," said Neal. "There is no place like Nebraska, so I have to stay home."
Nebraska stops in to evaluate Omaha WR

Nebraska offensive coordinator Danny Langsdorf was in Omaha on Tuesday morning evaluating Omaha Central wide receiver Marquise Lewis. The news was first reported by Rivals.com.
A South Dakota State commit, Lewis participated in a morning workout at his school.
"Zero drops and I felt I ran great routes," said the senior. "I'm confident, I know what I can do if I get a chance."
Lewis says the Nebraska coaching staff would be in touch with him in the coming days if an offer might be in the cards.
This season, the 5-foot-11, 185-pound prospect was named to the Omaha World Herald's All-State team as a defensive back, but recorded 43 catches for 952 yards and 11 touchdowns.
Other notes from the last 18-hours
* Nebraska long-snapping prospect Grant Gluhaich will take a preferred walk-on spot at Cal after visiting the Bears yesterday.
* As Nebraska secondary coach Charlton Warren was leaving Houston last night, he tweeted the Blackshirts got better. We really believe it was because Spring high school defensive back Willie Sykes committed to the Huskers. We expect to hear an announcement on Tuesday afternoon regarding his recruitment.
* Hinds Community College defensive end Peter Bailey visited with the Nebraska staff yesterday. The Middle Tennessee State commit doesn't have any official visits left, but if he gets an offer, could still commit without visiting. "Basically they were here to get my transcripts and grades," said Bailey. "The staff told me I would be clear." Similar to Lewis, he expects to hear from the staff in the coming days.
* Nebraska's Hank Hughes visited West Hills junior college on Monday and invited defensive end Maurice Daniels on an official visit to Nebraska. No offer was extended, but appears to be another option if certain targets fall through. He will be in Lincoln this Friday.
Josh Harvey has covered college football and recruiting for Scout.com since 2008. He is now the beat writer for @NebraskaOnScout and the publisher of Big Red Report magazine.