By now the 3-3-5 defense has gotten enough publicity everyone thinks they have a pretty good idea of just what they are going to see.
Basically putting it, it's an unconventional defense which relies on confusion and a lot of movement at the line to try and put a kink into the plans of the offense they are facing.
If you want an example of just how much movement you are likely to see just on the defensive line alone, realize that on the entire New Mexico State roster they have only two defensive tackles, and of every single player on that side of the ball, the two heaviest players (Redshirt fr. E.J. Cannon – 292 pounds, Jr. Sioeli Fakalata – 313 lbs.) are listed as defensive backs.
Yeah, that's how crazy this system is.
The heaviest player listed to actually play on the line comes in at just 276 lbs, and the average weight of those listed as defensive ends is just over 238 pounds.
Back to the philosophy of this defense, which is the baby of new Defensive Coordinator, but long-time college coach Joe Lee Dunn, it's a system designed to keep a quarterback guessing and offensive coordinators on their heels, because of all the things you can do out of this set up.
The three down linemen aren't traditional linemen you see, weighing around 300 lbs., expected to be run-stoppers with the ability to get pressure up the field. What you will see out of these defensive linemen isn't going straight ahead off the snap, but stunting laterally, perhaps as far to their left or right as the gap between the tackle and the guard.
Filling the gap left by them could be a host of players from the linebackers to safeties to corners.
Part of the illusion of the 3-3-5 simply comes from the name, implying that you are going to see primarily a 3-man front. But just as you have seen with Nebraska defenses who have often used a linebacker on the line such as Demorrio Williams in 2003 or Stewart Bradley during most of his time with the team, the base defense belies what you will see as the actual alignment at the snap, you are likely to see.
One example of what you are probably going to see is pictured to the right, and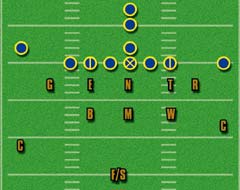 comes from the web site of Georgia Military Academy, one of the top junior college football teams in the country. It shows what appears to be a five-man front, but it's just an illustration of the many variations of formations you will see off this base three-man philosophy.
You could say that of any defense, but how many defenses do you see stay in basically a nickel package for the entire game? Given good enough athletes, that can be a very effective defense against the spread offense, which has taken over much of college football.
The effectiveness against the run simply comes from trying to disrupt offensive linemen, confusing them as to just which what they should go, and players coming up filling the gaps.
With the obvious disparity in size between Nebraska's front-five versus The Aggies base three-man group, the first inclination is to believe that the run is there for the taking. But size aside, one can usually only block one effectively, which is where all the stunting and blitzing with heavy numbers coming in from the second level. We'll  see if they can take advantage of any gaps within or just outside the edge of the line.
While you can say that the battle between New Mexico State's offense and Nebraska's defense is more key, simply due to the fact that the Husker-D hasn't proven too much thus far. But this might very well be one of the oddest defenses you'll see, which is exactly what NMSU Head Coach Hal Mumme wanted when he hired Dunn to take over his team's defense this year.
Look for a lot of stunting, the interior defensive linemen moving laterally into gaps and a lot of backers and safeties coming up to fill gaps and/or blitz. You are not likely to see as much of a frenetic defense as you are going to see today from New Mexico State. It's still considered somewhat of a gimmick defense, because the old-fashioned beliefs look at all this deception as a way to make up for a lack of talent, size, speed and strength, to do what everyone else does.

I think someone may have said that about the spread offense at one point, and it seems to be doing OK.
Can this defense regain some momentum and find itself going from prominence at the prep level and amongst some powerful junior colleges? It's hard to say. Only time will tell, but enjoy watching it. It's probably something you aren't likely to see in Memorial again, any time soon.