It was a little over a year ago that Craig Neal was named the head coach of the University of New Mexico. Neal was the #1 candidate for the job when Steve Alford took the money and ran to Westwood and millions at UCLA.
In a whirlwind of activity and support by then Lobo basketball players included then Soph. Alex Kirk saying he and possibly other players would leave if Neal was not hired. Here is a quote from a story that was on CBSsports.com "I'll graduate in August and transfer to UCLA," the 7-foot Kirk told Krebs, according to a source.
A photo of Lobo basketbal players wearing and displaying T-shirts saying "UNM Hire Noodles", multiple Facebook pages were created and Lobo websites, local radio, and the newspaper was afire with rumors of a "mass exodus" if UNM did not hire Craig Neal.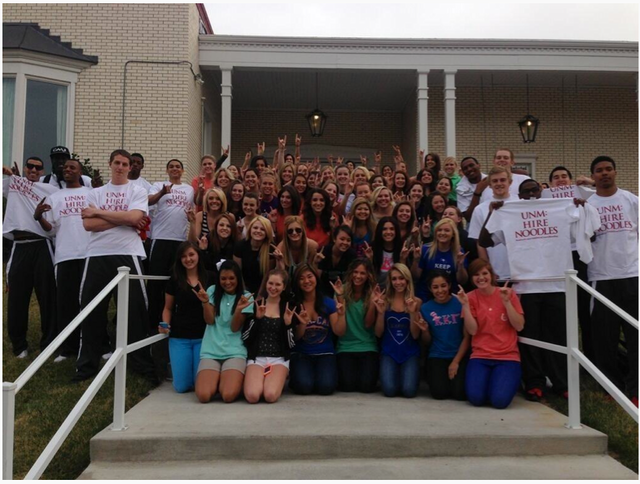 Eventually Paul Krebs named Craig Neal the Lobo basketball coach and a year later of those players pictured have now left New Mexico.
Tony Snell leaves for the NBA and 1st round draft pick status.
Cameron Bairstow, Kendall Williams, and Chris Perez ran out of eligibility
Nick Banyard
Tim Myles have both elected to leave UNM
Alex Kirk declared for the NBA Draft
And news broke yesterday that Cleveland "Pancake" Thomas has also asked for and was given his release. (Official release below)

ALBUQUERQUE, N.M. –
University of New Mexico head men's basketball coach Craig Neal has announced guard Cleveland "Pancake" Thomas has been granted a release from his scholarship. Thomas, who completed his sophomore season, will transfer after appearing in all 34 games last year for the Lobos, starting the first 10. He will pursue opportunities to spend his final two years of eligibility in a starting role with another program.
"I would like to thank Cleveland for everything he's done for our program," said head coach Craig Neal. "He's been a big contributor to our program and an integral part of two conference championships here at New Mexico. He has come in and excelled on the court, in the classroom and in the community. We are sorry to see him leave our program but will continue to support him as he explores other playing opportunities Thomas, a native of Baton Rouge, La., played in 67 games in two seasons at New Mexico.
The 6-fooot-3-inch guard averaged 3.9 points, 2.4 rebounds in 15.2 minutes of action as a sophomore in the 2013-14 season.
The New Mexico coaching staff is now out on the recruiting trail trying to secure talent for the 2014-15 season as this class is the most important for Craig Neal and this basketball program.

---
Inside The Lobos

Top Stories