I'm so happy. A smirking clam couldn't hold a candle to my joy today…or any other day, without arms …but here's to many more pearls in a great Lobo football season. Cheers everybody! Remember to celebrate your evolutionary limbs in moderation and never while operating heavy equipment.
I understand if you have to settle for a coffee cup toast at work. Just don't do it alone! It's weird. Huddle in the break room (and don't get yourself caught) reading the 2014 UTEP Miners preview from TRM's Lobo Points of Interest. Quick! Boss! Hit the spreadsheet!
Head Coach Sean Kugler has got through the "experience year". Like many programs looking for momentum, Coach Kugler's first year was one of little victories in individuals and away from the final scoreboard. UTEP ran 2 teams out of a win in 2013 and fielded a team that resembled a junior varsity version of UTEP's successful 90's and 00's rosters. Charm and growing pains don't win football games (or contract extensions) but UTEP is attempting to grow their brand by going "the long way around". All while asking their fans to enjoy the trip with them.
"C'mon. It'll be fun. I promise."
It's at least admirable. Junior college rosters won't be gouged with openings anytime soon. UNM has a recruiting year in front of the Miners, along with a year of development chalked on the wall. The three shove-y amigos: ABQ, Cruces, and Paso are all slowly vesting their football alums and taking their time....hopefully for a crescendo that collides at the end of all school's four year classes. The opening to the 2014 season is the last game technically scheduled until at least 2016; although there's still space to be filled in 2016 and onward for UNM.
UTEP has made a defensive shift away from last year's 4-3 and to a - surprise, surprise - 4-2-5. C-USA contains some spreads (notably Marshall and some more prolific teams in UTEP's own division) so they've narrowed their linebacker core and converted tweener players to "heavy" safeties. Speed. They're chasing speed and chewing up field space in hopes of attacking the ball much more aggressively. Coach Scott Stoker is in his second season with the team (from Sam Houston State, during the DeBesse years) and trying to adjust to their roster as defensive coordinator. With actual time to set up his system he might be finally settling in. Stoker was a last minute relief hire at coordinator and met his players for the first time at the first fall practice of 2013. Now that's rough.
Still, hiring directly from Sam Houston State (and in contrast to our own coordinators) seems to solidify UTEP's response to this rivalries future. Kugler leaves no doubt in the media or on the chessboard: we're always going to be wrapped to El Paso in some way. Just don't forget to bring the gloves.
UTEP's offense is still a pro-style, two tight end, blocking fun run of a team with a dash of play action bootleg and shotgun heaves on the side. A lot of balance overall but they're going to run it first if at-all possible. Jameil Showers (Texas A&M transfer) is the definitive starter and hasn't taken a single hit at spring or fall camp. His position is so defined that he's donned a red QB's jersey at practice while freshman QB's are relegated to green.
UTEP's offense is still a pro-style, two tight end, blocking fun run of a team with a dash of play action bootleg and shotgun heaves on the side
Green lights are for hitting and red lights tell you stop in UTEP Miner football camp. Amazingly some of the kid QB's have taken live hits in scrimmaging. I guess they'll have time to heal while Showers tries to make it rain this season. Whether anything grows from his efforts is yet to be seen. To blossom this squad UTEP recruited 11 lineman total this year (4 offense 7 defense) and have made the promise of similar years for a Kugler led team. Will their seed spout any roots in El Paso?
Also, this guy is the closest I could come to another flower analogy. I checked for a "Flowers" or a "Potter" on the roster. You can call him flower if you want to....in fact you probably should.
Aside from the X's and O's, UTEP's media guide alludes to some new, slightly retro, but fresh helmet stickers this year. They're all sold with curiosity and shadowy glamor shots. We may see them break out something to help morale on the road. Here's to flying into the sun with new wings and new wrinkles to the uniform leaves. Why not. It's almost fall, after all.
Fun fact: The UTEP staff has a former Lobo coach, Cornell Jackson, leading the running backs. Coach Jackson was here in 1995 as a linebacker coach and oversaw Dontrell Moore and Rodney Ferguson in 05'-06'. Welcome back coach! TRM doesn't forget you. Sorry to your backs in advance but business is business. You'll like what we've done with the joint as soon as you hit the field.
UTEP has installed a brand new scoreboard in the Sun Bowl and it's pepped up fan interest quite a bit. They've taken a play from a lot of programs and culminated the excitement in a fan appreciation day. Just check out the line! I might expect some sore autograph wrists for our game if they're not too careful.
As previously reported in this thread, UTEP has taken more than two weeks to prep for the UNM option and also gathered some strange new traditions. A coordinator has started using a buffalo call - you can't make this stuff up guys - and it's a new player rally cry; according to the El Paso Times:
Miner players have a new rallying cry, which sounds like a cow mooing. Actually, offensive coordinator Patrick Higgins came up with it and it is the sounds buffaloes make.
"It's a buffalo call, because we stick together like a herd of buffalo," Jeffery said.
If you hear this sound coming ANYWHERE NEAR UTEP's team bus, be careful. A confused herd of lusty buffalo may have lovingly sniffed out the team....or it means Jerel (Watkins) just got back from Sonic with dessert. Shakes? I'm terrified. When coach gave you shirts that say "finish" on the back, he didn't mean pie Jerel.
Speaking of inspiration: UTEP's new mantra in 2014 is "Make History", harkening back to the program's years on the wagon and tapping into the names of the past to help build it's future. UTEP is 100 years old now. They made it! Somehow! Here's their new FB poster complete with #Makehistory hash tag.
Pretty impressive! Not bad at all. Pyrotechnics in the background...getting Jim Beam on board must have some perks. I wonder who hooked up the sponsorship? So risque...that's going to stir up some controversy for a university sports team. Where are the players? No coaches? And the stadium is flooded? That's strange.
Wait, hold on a minute.
There we go...that's better. This is why you don't drink when you're creating your mantra folks. Inspiration can come in "many forms" but I do hope they do a twitter search next time. Jim Beam is just going to have to remain an unofficial sponsor for now. You can tell they've been around football for years. Example? The "Make History" graphic was clear when the printed it...at least, to them. Look at it now. It's like a need new glasses.
Happy 100 years Miners. You'll find that pot of gold eventually but it'll (sadly) never look like Mila Kunis. Keep on keeping on and fight the power.
C'mon, it'll be fun. I promise.
I picked the defense first because of the new scheme. There's little that can be pulled from a brand new head master on that side of the ball. Needless to say we've already played many MWC squads that run this flavor of personnel. First the basics.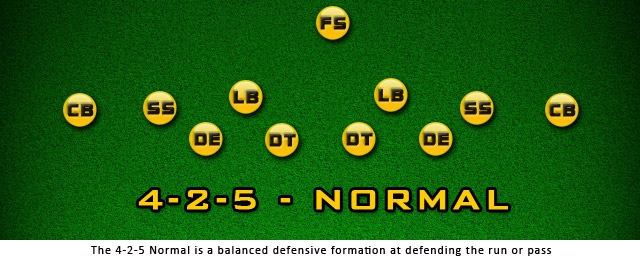 The graphic above is a stock formation, in case you forgot. The example is a position identification exercise if anything else honestly. With so many DB/safeties out there you're almost guaranteed to never see this, as most of them will play man typically and form up accordingly.
The flexibility of this group is one of the style's perks, along with the confusion created by blitzing if you have switching assignments in the secondary down. You can see a lot of switching in a permanent nickel defense and the trade off of size creates a lot of real estate covered if you play up on the line. It's harder to read and has many more options to attack from, though you're sending a smaller guy to do it and it's easier to block in a pocket.
It's a good defense to throw at a spread or someone that uses a lot of receivers. If the offense goes large though, look out, there's not enough concentration for help or size to win one-on-one assignments. 4-2-5's lose when they get run over. If your D-line can't break through by itself you're also sold up the river. The 3-3-5 at least has some backers in place to protect the middle (hypothetically). Here you're banking on your line and the reaction of their rush. That "four" better be damn strong.
It's hard for these kinds of styles to hold up against dedicated size and power football. During camp, Kugler gave the defense some time off for winning most of the scrimmages. Given UTEP's style (which we'll get to in the next post) it's fairly contradictory.
It's hard for these kinds of styles to hold up against dedicated size and power football
I take that as UTEP getting more aggressive with sending players and overwhelming younger QB's with errant blitzes. The good news: you can't blindly attack when you're locating the ball and the option accommodates a good deal to that end, given a good read.
Cole Gautsche is bigger than some of UTEP's linebackers. Let that sink in. Not by a ton, but there's an edge. He's bigger than seven of them (including starters) @ 235 lbs. That's linebackers too; not safety-like linebackers in the nickel defense. You don't have to dodge someone all the time certainly but the 4-2-5 reveals a one-on-one hole that's larger when it happens. Add the option's stop-and-look qualities and the benefits start to pile up.
So let's take a look at their personnel.
The story of their roster is found in their two leading tacklers, both DB's, and both now true sophomores.
Devin Cockrell and Dashone Smith both hovered slightly over (or close to) 70 tackles for the squad and it's spread out very evenly amongst the roster. The defense, as a whole, didn't stop many people in 2013 and that's a good indicator. A few INT's between the two above and not many passes defended. These guys were the last line of defense from a front seven that struggled.
UTEP recruited heavily on the line and for good reason. Two of their leading sack producers have graduated, leaving 6'7"; 255 DE Roy Robertson-Harris on the line with a couple sacks under his belt. Three new faces there. In an attempt to get some more size, Kugler has moved some DE depth to linebacker before and has to get a lot out of the linebackers back there, especially SR Anthony Puente (5-11; 225). Lots of freshman and not a lot of size in the middle...only a few scraping at 300lbs, straight from junior college. The line is filled with guys that look like DE's, with less gap filling nose tackles. They're going to be very good with their hands (for young players) or they'll fail miserably.
These guys are going to have a hell of time against Texas Tech for their home opener. They have the heads to run a four man front but it'll take a while before it's a living, breathing animal on all four legs.
So here come the DB's. It doesn't look like they have a choice. UTEP's squads will still be picking up a new system and building themselves for the future on our watch. They're playing a lot of underclassmen still and have to get around our bigger receiver's blocks. Prognosis it fairly good in that regard and UTEP might be mining for turnovers as a last resort.
Protect the ball. Run the offense and pick your battles. UTEP will help win the one-on-ones. They're going to gamble quite a bit and directing the ball early will kill them. Their scheme amplifies our blocking effectiveness every time we win the play. It's that much more damaging. If they can't gang tackle they're kaput.
Identifying linebackers to safeties is slightly harder, but if they sub in heavier personnel at this defense's weak point, the weak side safety, the getting is good for pulling the rug out. Reading whether the weak side spot actually has a safety (or something closer to a linebacker) can be a good sign for when the time is right.
Compensating that side of the field with girth gives the offense something to flip on the next play. Running at that side of the field is where a lot of the end results of the game will revel themselves.
Next we'll look at the skill positions on offense. The Miners' only hope. Come on back. -LTFF