The Aztecs run it right at you and put as many blocks in front of the ball before you can watch it pass you by.
If the Aztecs aren't using tight ends and fullbacks (eeee! a fullback!) there's usually something wrong. You're not in a time warp, the power I-form is really happening in front of you and SDSU runs the ball into the ground, along with your stamina and yards per catch defense averages.
Traditional is the understatement of the year in this case. Toledo does have some ways to color up his standards and uses a rotating list of "gotcha" plays to go with play action. Those "gotchas" cost UNM an early lead in last years game and were sprung on the very first play!
Don't be surprised to see the QB under center a lot. SDSU uses as much size as it can to throw blocks around. The above play is an example of the bread and butter the Aztecs do time and time again, but also an example of the outlets that Toledo has installed into his offense. From the UNC game: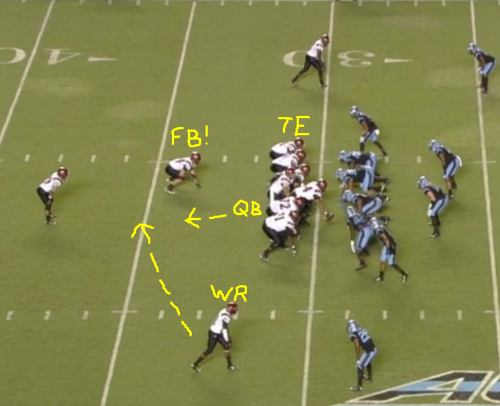 From this unbalanced I set, the power running blocking scheme of SDSU implies with blockers. This style demands the defense give up position to get in front of its blocks, by either selling out the gaps to get penetration or blitzing creatively. There's enough cost spent by the defense that Toledo's outlets can create options where the defense can no longer defend...the alternative being stayi where you are and trying to fight through blocks and leverage.
The Z receiver above goes in motion pre-snap and crosses between the RB and FB as the play begins. Note that the corner's role is man coverage in this instance. Look at how many the Tar Heels are inside to stop the run. Straight eight! This is going to get busy fast:
If there's one obvious drawback to this play at this stage, it's that the QB is a slave to the play call. There's no real read on handing off the ball. He does, however, have two main directives at the OC's discretion. The TE, FB and pulled right guard are now clearing a path for a weak side power run convoy....or the QB can easily bootleg towards the motioned WR for the hypothetical play action pass.
Not only is the X receiver above clearing his defender for the motioned "Z" WR (via his route to the middle of the field), but play action here has this motion guy in open space PLUS freezes the defense. The corner's assignment (circled) is already blown at this point. Now there's a favorable safety match up one-on-one if this play goes pass.
This particular play went to the back (OC called dive) but the WR was all alone in space above at the thirty yard line. Some bad luck, but repetition can sell this pass better late in the game and large chunks of play action pass yards are ways the Aztecs get ahead. And who knows, if all the blocks hit the mark, the back has no one to stop him from scoring. It just has to come together once.
Because it takes so much personnel to block in this offense, the number of options are more limited to make the defensive momentum pay. But if it works, who cares? A conservative defense will yield the small chunks of rushing yards that will make 3rd down more difficult and eat up the clock.
Let's take a look at personnel.
SDSU puts a lot into their
O-line
, surprise surprise. The sheer size of some of their guards (obvious power running benefit) puts this group above near the 310-315lb mark across the board. Topping out at 335 at tackle, these guys have a lot of girth to pound the ball. Does that make them susceptible to speed rush? If they need anymore help there's plenty of 240-265 tight ends and 235lb fullbacks to also clear a path. Both of the run support units are viable pass threats, despite any blocking size drawbacks. One of the tight ends is a former DE.
So many classic fullbacks! Rocky packs five on the roster. FIVE!
The fullback lives on! I'm never going to say he has too many, but it's weird that two of the five are both from Fresno. When your main purpose is to hit someone bigger than you on every play, the constant fight must really resonate with kids in that area. Former wrestlers (and one sweet mullet) fill the fullback corps.
QB
is an eye popping big deal folks. Usually it's the name of the game anyway but SDSU is starting a true freshman with one FBS game of experience under his belt. He's so new that I had to find
high school highlights just to take a look at him.
Nick Bawden (6-3; 225) looks to be a pocket prone quarterback but is quicker than the regular starter (Kaehler). Bawden looks to have enough speed to scamper if need be. This is of course a hypothetical and a complete educated guess with such a tiny sample size.
How much poise can he possible have? Unless he's a natural there
will
be growing pains...the number of plays he's comfortable running could also paint the coaching staff into a corner in their playbook.
RB
goes between Donnell Pumphrey (5-9; 170lbs sopping wet) and Chase Price (5-8; 200). Pumphrey is a surprisingly physical speed/scat type back, that has shown excellent cut shiftiness. Price is a slower dive back that is wide as he is low to the ground in stature.
As far as this skill position goes, both backs are used by committee to replace last year's bell cow (
Adam Muema
) which showed gifts in both areas Pumphrey/Price cover. It's worth noting the short size of the backs and the 6-2 to 6-4 height of the O-line blocking for them. Sometimes they can get lost in the crowd while they follow blocks.
WR
has a good bunch of unproven talent, with averages above 6'-0" and good separating speed. It's a healthy theme for the group. The aforementioned Senior WR Ruffin will be out for this game and looks to carry the most explosiveness from the unit. He's close to leading the team in some stat categories even though he's missing games with a collarbone injury.
The leading receiver,
Eric Judge
(Soph. 6-1; 190) may be questionable for this game too but SDSU has a mix of three receivers all hovering around the 120-160 receiving yard mark. The leading receiver title is slightly dubious with such a razor thin lead. Three guys are all averaging over ten yards a catch and the Aztec play action game is very much a cause. Lots of underclassmen and they outnumber experience drastically..
Next up, we look at the SDSU defense...