These new concepts are built on in 3-3-5 and 4-2-5 systems today and Rocky's teams continued to prey on many condensed and pocket reliant offenses into the 2000's. Even as spread teams started to take over and flip the script on offense, this nickle defense was already equipped to counter.
The front six of SDSU's defense is really it's own animal, although the entire line of scrimmage should be called a front in this system. At the sacrifice of size, push and stability defending the middle of the line, the linebackers in the front six blend into the gaps with room to move around. This can cause a lot of chaos for O-lines not ready to block speed players properly and can surprisingly stun the run on a lopsided playing field.
Rocky proved that no matter how big your guy was wearing the helmet, just getting enough hats into the gaps to temporarily occupy them could break down the majority of rushing plays with smaller personnel to a man. In turn this helped teams that recruit smaller, faster guys to play defense and Coach Long's number of exotic blitz combinations increased with five DB's as a safety net: it could release a corner to attack more easily than other systems. Attacking the ball has always been the basis of this defense as it accentuates speed and good tackling.
Over time, the differences between clashing schemes can still be rubbed advantageously and blitzing has been combatted in a lot of ways in the past couple decades. We'll get to that in a minute, but let's start to look at what SDSU will probably look like during the game.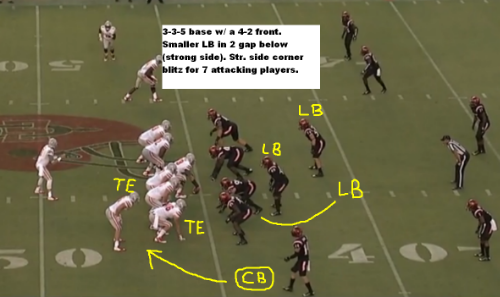 You have a 4-2 front going on this running play, which is away from your normal base defense. Because of the 3-3-5's natural weakness in the middle, this is probably what SDSU will do to make it more stable against dedicated running teams. Notice though, they're not using another fill in end (or tackle if it was available) on the D-line: that's a linebacker. The formation uses only one true nose tackle (300lb) and everyone has a hat on a hat with
UNLV
's extra tight ends in.
UNLV's X receiver is in motion towards the pocket.
Rocky still uses hybrid safety positions in this defense but some of
the terms have changed
. There's two "warrior" positions that use safety like players and the free safety is known as "Aztec". Not one of them resembles a linebacker type stature and the biggest safety they have is under 210lbs. You'll remember that Brian Urlacher made Rocky's "Lobo" position famous for being all over the field as a safety that acts like a linebacker.
In the play above everyone was matched up a hat on a hat and the corner strolled in and got a sack. Both TE's took off on routes and the corner (unhindered with his receiver assignment picked up by a safety) weaved into the backfield and sacked the QB before the pocket could open in front of him.
Some teams spend a lot to send five players into the backfield. This SDSU defense doesn't even blink at five....can send all six when needed...and got up the seven when UNLV started to gain field position on 1st down.
Next, we'll show an example of bluff. On passing situations SDSU employs a common block assignment mask. All six players stand up to disrupt O-line blocking assignments as you don't know who's blitzing and who's dropping back into coverage. For the sake of the commentator calling this game (which was former Fresno coach
Pat Hill
actually) we'll call this look what Hill called it....SDSU's "Radar" look.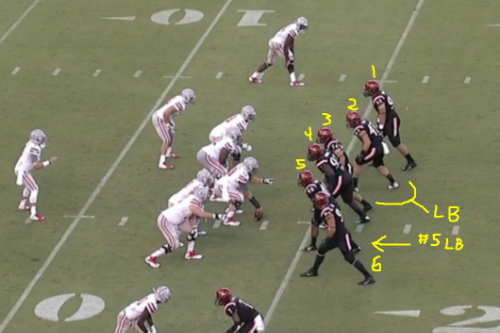 On 3rd down and in passing situations you'll see this. I've identified the 'backers among the lineman. Everyone has eyed a gap and everyone is threatening. The O-line has to decide who is blocking whom (you can see them pointing this out above) and who is dropping back...if anyone.
As the play starts...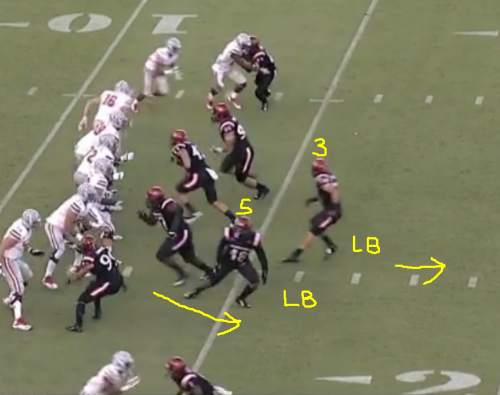 The third and fifth guys on the line (in this case both 'backers...which isn't always what happens) drop back into zone coverage from their threatening gap spot. SDSU's bluffs make obvious formation positioning meaningless and they're not bashful about sending everyone either. Normally you'll see a different guy show that he's coming just to watch him fall back as the other 4-5 attack. Notice that the same space of a 3-3-5 is now giving four guys room to try to make a move.
I'm not sure if the late corner (on top) was intentional. It looked like he made a mistake and stormed into the frame to pick up his man. SDSU is using extremely young corners in this game and the defense has underclassmen through out.
Now to personnel.
This SDSU squad has ten different guys with at least one sack. (1 DB on the list: the sack against UNLV in the 1st example). Rocky has it spread out a lot but there are some definite overachievers when looking at the roster.
Secondary
includes some strong safeties over 6-2; 205lb which can second as a pseudo linebacker. J.J Whittaker is a sure tackling senior leading at corner but the rest of the group is checker boarded with young starters at the other CB and safety positions. Tre Lomax leads the team in tackles from a DB role, but sometimes that's not a good thing. People have gone at him a lot lately to stay away from SDSU's run defense.
Interesting note: Stan Sedberry (JR DB from La Cueva; 6-2; 210) is still on the roster and was recruited by another former lobo on Rocky's staff, Zach Arnett. Arnett is the linebacker coach at SDSU.
Linebackers
have converted defensive ends playing the MLB role but still have some injuries to report. Senior Derek Largent (240lbs) might still be out for this game with appendix complications. Cody Galea (6-3; 255) played speed DE last year and holds down the middle amongst the chaos.
After watching three of their games I though their young sophomore Calvin Munson
Opps,
I mean Munson
:
has done an impressive body of work for his young career and seems to be ahead of schedule for a true sophomore. Already 235lbs, he's one of the young bucks stepping up and producing. He's a viable weapon and has multiple sacks and an INT from the weak side.
Lineman
are lighter in size but quick. SDSU has a
USC transfer
and a few guys in the 290-ish side to help out the lone tackle in the formation. The 'backers are the pretty Betty of this scheme's mix but several ends weave in and out of the attack to make a difference. Lots of DE's with tweener weight here. Rocky weaves heavy linebackers and light D-lineman on both sides of the roster rather liberally.
He just lines them up and sends them. Let the other team figure it out.
So what do we do?
Believe it or not, old ball coaches don't always completely stick to their guns. They're always in the room of "their guns" and sometimes they hold "their guns" a little differently but slowly you start to realize that you're paced for the river your swimming in and things change. The most dangerous thing about facing Rocky Long is making the material you know about him, make up your mind for you.
Yes, there's tons of case history and repetition with both the OC and DC on SDSU's team. Yes, everyone is going to have a pretty good idea of what to expect on Saturday. But even now we've only seen slights of how Coach Long has adjusted since 2008. Just one look at his depth chart (which isn't immune to gamesmanship anyway) shows how what we all got used to in the 00's is starting to get away from us and change.
Underneath what we think we know, you must identify constants.
First off, we know that if the 3-3-5 doesn't tackle utterly and completely, the entire system will just not work. SDSU's unit repetitively tackles well and flies to the ball. Running the option will counteract this attack in more reading, but in general the Aztecs will be better at containing on the edges once they have the ball sniffed out. SDSU will line up as many people at the line of scrimmage as it can to try to make up for the smaller guys it has to throw at us.
UNM isn't going to give the Aztecs any gaps. We're compact, motioned and have a comparable blocking scheme to go with pretty good size. SDSU is weighed down with identifying where the ball is and has enough of a problem firing the tackle trigger on an assignment, let alone timing the snap count.
SDSU's nickle defense has the advantage of covering a lot of field laterally and they have speed. If we can't go around them we have to go through them. To break a 3-3-5 you have to attack it's size disadvantage and direct the blocks of a play fast enough to an edge that the other side of the LOS can't disrupt it.
We have good match ups when SDSU sells out the middle and if we zone block well enough, combing through their blitz/bluff combinations will be meaningless against a contained and controlled directional combing. That's how you rake the leaves.
SDSU went ahead of us early with trick plays with great skill positions at RB, speed at WR and a versed enough QB to connect to most of them. They maintained their lead while we were unable to overcome their blockers AND their skill players at once.
Our defensive roster has improved while theirs is now recovering and adjusting. They're on the road. We are trending up and with today's standards and rosters in last year's circumstance, that lead might have not been enough.
Welcome to this year: We have a good scheme to counter SDSU's strengths and core methods.
I believe that we will win?
Thanks for reading. GO LOBOS!