With the holidays and all I wanted to save a lot of this for all to listen to as Christmas came early for all Lobo fans this year as the University of New Mexico blanked the Nevada Wolfpack in the New Mexico Bowl.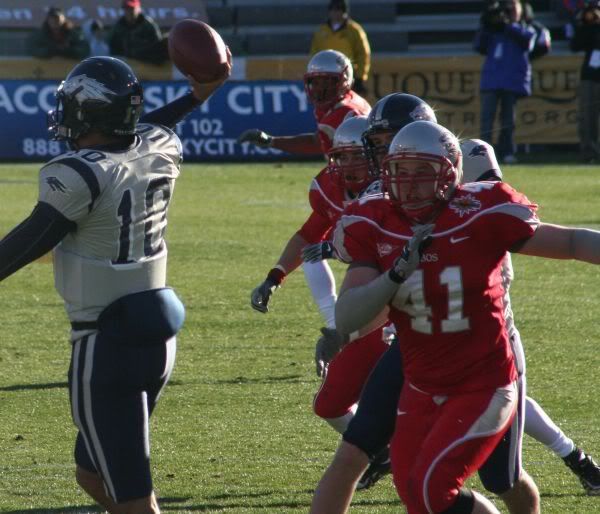 Pistol?

The game was won in Rocky Long defensive style as the Wolfpack famed "pistol" offense fired blanks while the Lobo offense did enough to win including a pair of touchdown passes to WR Marcus Smith and Travis Brown, and Lobo JR Paul Baker showing anyone that doubted him up with his huge day.
Paul Baker on the run!

After the most amazing Lobo Leap of all time fans streamed on the field and tore down the goal post, followed by an on the field ceremony where the New Mexico Bowl trophy was handed to Coach Long and the players.
During that time Rudy C. had his microphone out and was talked to a few players and assistant coaches.
Before listening to the coaches we wanted to talk to the 2007 Red Menace Fan Appreciation Award Winners. You never want to say never, but I don't know if we will ever see a pair of wideout like Marcus and Travis!
Click here to listen to Marcus Smith
To the end zone Marcus!

Click here to listen Travis Brown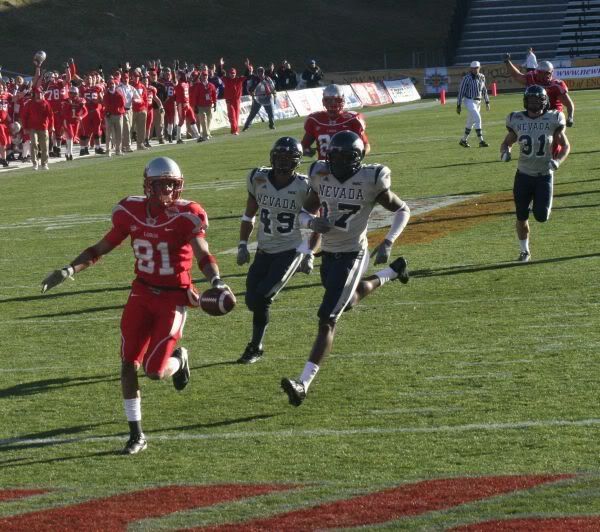 Travis Brown TD

Like I said we may never see a pair of young men like Marcus and Travis again! Humble young men with tons of talent. How could you not be a fan of these two young men? Impossible I say!

Now a few assistant Coaches!

pics by newmexicosportsnews.com and Mike S. aka The Anonymous One!