I'm been struggling what to write after 70-7 victory by the Lobos. Seriously, I had this historical thing about the ancient Aztecs (in Mejico) ripping the hearts out of their sacrifices for their gods and how the Lobos ripped the current Aztecs of San Diego State's hearts out in the 1st quarter… But that is a little gory… But it does sound kind of cool. Then I thought, who wants a break down of every drive… Well we've seen those in the local rags and we never want to sound or look like the local rags! So with that being said…
So with that being said I think I'll just talk about Rocktober! You know… October and Rocky equals Rocktober… Okay we could try that…
Earlier this year Coach Rocky Long talked about this team being talented but young and that as the season progressed they would get better. As they learned what they needed to do they would continue to grow as a team and hopefully realize their talent.
One thing we know for sure about any Coach Long team is that they know how to adapt and overcome adversity. Lose Donovan Porterie… Gruner and now Tate have stepped up. Ferguson goes down, Baker steps up, Baker goes down, and Wright becomes a huge part of the offense. Jenkins and Bustos go down, in comes Konte and Hooks. Clark and McPeek suffer through nagging injuries, Bowe really steps up his game… This week it was C Erik Cook went down and Ben Contreras steps up.
Rocky keeps saying no bye week has really limited the Lobos practice time and hitting time and every player is suffering from some sort of nagging injury to bumps and bruises. Yet, by the looks of Saturday afternoon's thrashing of the Aztecs you couldn't really tell.
It was U-G-L-Y for the Aztecs as the Lobos jumped on them 21-0 in the first quarter as Brad Gruner scored his 1st of three touchdowns (2 with his feet, 1 in the air) Rodney Ferguson scored the 1st of his four TDs and Jaymar Latchison scored his first touchdown of his career as budding DL star Brett Kennedy caused a huge fumble that Jaymar scored with, and the route was on…

Jaymar with the TD!
After that it wasn't a matter of how much was scored as who did it and how. The Lobos opened up a 49-0 lead and the only negative had to be that James Aho had a field goal blocked…
How dominating were The Hitmen? Well the Lobo offense rolled 419 yards rushing, 28 first downs, and giving up no sacks! It was total domination by not only the 1st team Hitmen, but at times every position was loaded with backups as starters received some valuable rest as this team turns around for Air Force on Thursday night.
Brad Gruner quite possibly had his best game as a Lobo. His passing was on target going 8-11 and a TD to Chris Mark. His legs were even better!
What can you say about the running backs? 2 one hundred yard rushers and 8 rushing touchdowns… How does it get any better then that?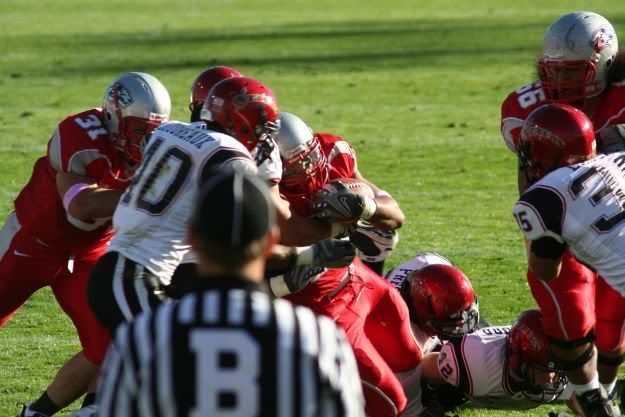 Rodney Ferguson for a Touchdown!
On the defensive side of the ball the only negative had to be they gave up 1 touchdown in the 3rd quarter. Otherwise it was a thing of beauty as the Lobo defense front was credited with 16 quarterback hurries and a pair of sacks. When the SDSU QB's did get a chance to toss them Lobo defensive backs were there to provide a solid wallop or just defend the pass being credited with 8 pass break ups. Seriously the Lobo defense was a stone wall and how many Aztecs were carted off after suffering a Lobo pounding…
I do want to mention the 4th quarter as a pair of cool things happened. The Lobos were driving with Matt Quillen running the ball. He was pounding the SDSU hapless defense and as the 3rd quarter was running out I told Wes… "I just hope that they don't score until they come to The Red Menace Zone… I wanted the fans to celebrate "Q'" first Lobo TD! Thank the football gods as the 3rd quarter ended with the Lobos on the 6-yard line. We immediately broke out the Got Syrup sign, as every Lobo Hitmen was a backup! We wanted them to receive TRM love as well… Q didn't pop through his first time but did his second and only on TheRedMenace.com will you find the video of Quillen's first TD run!
Click here for the Quillen TD video
Click here for an interview with Matt Quillen

Click here for an interview with Frankie Baca

Click here for Rocky Long Post game!


The scoring didn't end for the Lobos there as little used Terrence Brown took off up the right side for a 37 yard score…
And thankfully the scoring was over as we were throwing kids up in the air for every score the Lobos had… That was 350 "push up" if you will…

Things that went right
Ummm… Everything!

Things that went wrong!
Searching high and low all I can come up with is giving up the one TD!
Offensive Player of the Game
The Hitmen!
I know Rodney scored some great touchdowns but every member of Coach Lenz's Hitmen squad has to be happy for the holes they blew open for their RB's! So for all you big fellas that don't get the recognition well, you know your boys in The Red Menace have nothing but love for you!

Defensive Player of the Game
Clint "The Killer" McPeek
Not only was he laying the lumber but Clint also showed some really nice coverage skills with 3 pass break ups to go with his 6 tackles and pair of QB hurries. Nobody wants to see #11 coming up at you… They tend to cringe…
Special thanks to all the Lobos that came up for the Lobo Leap! Have to mention big Matt Streid coming up and making the Leap! Talk about a mass of humanity! I'll tell you what though…
Nobody and I mean NOBODY loves their Lobos like us mutts in The North End Zone!