So Saturday's game vs. BYU was big in the fact the Lobos crushed the hated Cougars, but also in the fact that Section 26/Howl Raisers along with TheRedMenace.com host their first ever Lobo Hoops Tailgate Party!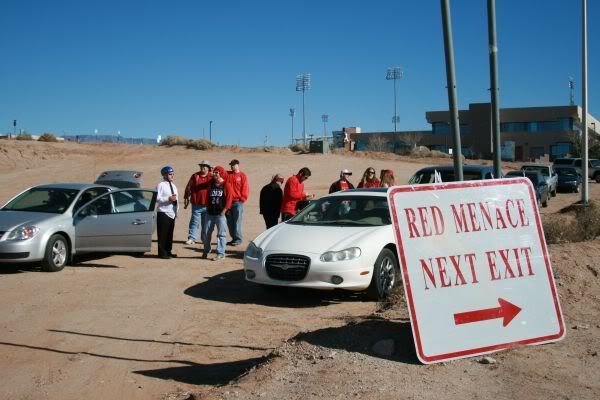 Look for this sign for the tailgate vs.
UNLV
... 4 hours before the game!
So I took off to be a part of new "Lobo Tradition". Of course I felt like an old man as these youngsters were tearing it up, listening to Wes and Jeff talk about the plans and ideas they have to help promote Section26/Howl Raisers. It was so cool hearing young minds think how they can promote and get more people excited. It reminded me of countless conversations that Dom and myself had ten years ago when thinking up The Red Menace. However, I digress…

Click here to listen to El Presidente and Lobo13


The changing of the guard?


TheRedMenace.com has been approached by a couple of Lobo student groups before and while we have tried to get involved and helped, it never seemed to "happen" as the students involved just couldn't get it off the ground… That has changed as TRM's very own Wes Henderson has been named President of the Howl Raisers/Section 26 gang and in true TRM fashion immediately started looking for help and putting all his effort and ideas into not only forming this group but growing it.
After the tailgate party on a beautiful day one complete with brauts, cervezas, sodas, football game, and good old partying the students of Section 26 headed into the world famous Pit and started in on the hated Cougars.
Check out the photos as the Section 26 guys hand out the Howl Sheets to help fans be able to taunt the Cougars "cough cough" cheer on the Lobos J They start the minute the opposition walks on the floor and it is never ending. Yes, there is that sold loudmouth that can't think of anything smart so resorts to vulgarities, but that person is quickly drowned out as students chant, cheer, taunt, and come up with smarter and much cleaner fan/player interaction
Here are some photos for you to enjoy:

Let the taunting errr... Cheering begin

Check out that ladies face on the lower left hand freaked out by the Section 26 "missionary"
The BYU starting 5 is named... Section 26 could care less!
Now for your Lobo starting 5!
BYU wants to shoot a free throw?
Not in our house!

As the Lobos continued to take a commanding lead the Students were the catalyst to bring The Pit to noise levels not seen in many years in Albuquerque.
I spoke with the leaders of Section 23/Howl Raisers and just like The Red Menace, they are desperate for your ideas on how to improve things, and grow this. I'm hoping you will contact Wes and Jeff as they have nothing but UNM's best interest. Help them help you UNM students both current and future!